SEVENTEEN llora por su primera victoria en un programa musical con "Pretty U", Presentaciones de VIXX, Lovelyz, entre otros en "Show Champion"
¡SEVENTEEN ha ganado su primer trofeo en un programa musical!
En el episodio del 4 de mayo de "Show Champion", SEVENTEEN se enfrentó a Block B, VIXX, Jung Eun Ji y TWICE por el primer puesto. Su último sencillo "Pretty U" les consiguió la victoria y el grupo estaba absolutamente sorprendido cuando ellos escucharon los resultados.
Ellos saltaron juntos de alegría y el anfitrión Kim Shin Young les dice que se tomen un turno cada uno para decir algo. Muchos de los miembros del grupo soltaron algunas lágrimas mientras agradecían a sus fans, agencia, equipo y familia.
Ellos luego intentaron formar una pirámide humana en el escenario para agradecer a fans y algunos intentaron bailar y cantar la canción ganadora mientras que otros están llorando mucho.
A continuación, ¡mira la presentación y emocional primera victoria!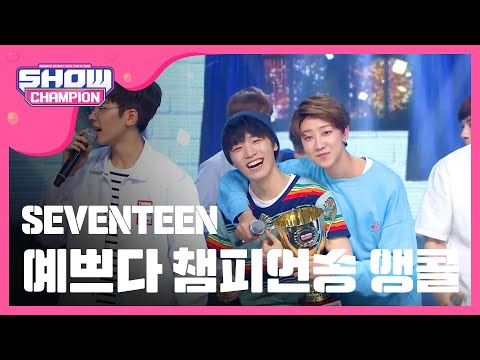 Las presentaciones de esta semana incluyen a SEVENTEEN, VIXX, Laboum, Lovelyz, April, HISTORY, Cosmic Girls, Berry Good, Jeon Youngdo and Jenny, Boys Republic, Lou.de, MIXX, CoCoSoRi, Cra'Beat y Jang Mi.
¡dale una mirada a las presentaciones de esta noche!
VIXX – "Dynamite"
Laboum – "Journey to Atlantis"
Lovelyz – "Fondant" and "Destiny"
April – "Jelly" and "Tinkerbell"
HISTORY – "Queen"
Cosmic Girls – "Mo Mo Mo"
Berry Good – "Angel"
Jeon Youngdo and Jenny – "Say I Love You"
Boys Republic – "Get Down"
Lou.de – "Disrespectful Breakup"
MIXX – "Oh Ma Mind"
CoCoSoRi – "Exquisite"
Cra'Beat – "W8"
Jang Mi – "Honey"
¡Felicidades a SEVENTEEN!
¿Cómo te hace sentir este artículo?