[màj] Les performances du Inkigayo du 6.01.13
Découvrez la dernière émission musicale de la semaine.
Glam, Baek Ji Young et les SNSD ont terminé leur cycle de comeback stages. Kim Sori faisait aussi son retour après une longue absence. Dal Shabet et Spica ont fini la promotion de leur plus récent titre. Sunhwa et Youngjae ont offert un special stage pour leur duo. Yoseob et Juniel étaient également présents, tout comme 24K, Bigstar, Led Apple, December, C-Clown, Sunny Hill, The Seeya et Hello Venus.
L'article sera mis à jour en fonction des vidéos disponibles.
2Bic (à venir)
Baek Ji Young – Hate

Hi.Ni – Legend of Tears

Sori – Dual Life

24K – Secret Love

Lee Yeon Ah – You Can Love

Hello Venus – What Are You Doing Today?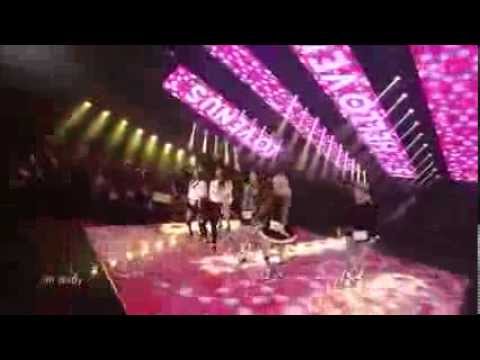 BIGSTAR – I Got A Feeling

Led Apple – Let The Wind Blow

December – Don't Go

C-Clown – Far Away

The SeeYa – Poison et Be With You

Spica – Lonely

Glam – I Like That

Juniel – Bad Person

Sunny Hill – Goodbye To Romance

Dal Shabet – Have, Don't Have

Sunhwa et Youngjae – Everything's Pretty

Yoseob – Caffeine

SNSD – Dancing Queen et I Got A Boy

La semaine prochaine, Infinite H et Boyfriend sont attendus :