Back To School: Dramas That Will Get You Hyped For The School Season
Back to school season usually brings out a variety of emotions, ranging from excitement to being nervous to trying to play it cool. The best advice we can give you is to spend the last few days of summer vegetating and binging on some dramas! Here are some dramas that can get you in the mood for going back to school!
Ever wondered what it would be like to go to school with your parent (or child)? Then what happens when you throw in a spouse and an old flame into the mix? "Twenty Again" isn't your traditional school drama (starring Choi Ji Woo and Lee Sang Yoon), but it's definitely full of drama that occurs because of school. Maybe it's not always about high school sweethearts; keep your eyes peeled open for them college cuties!
Catch the first episode of "Twenty Again" below!
It may be too late for some of us (for those who still have a chance – go for it!), but we can live vicariously through these six characters (Kim Soo Hyun, Ham Eun Jung, Taecyeon, IU, and Wooyoung) as they chase their dreams of becoming an idol. It's a great drama, especially if you want to see some of your favorite idols demonstrate their superb acting skills!
Catch the first episode of "Dream High" below!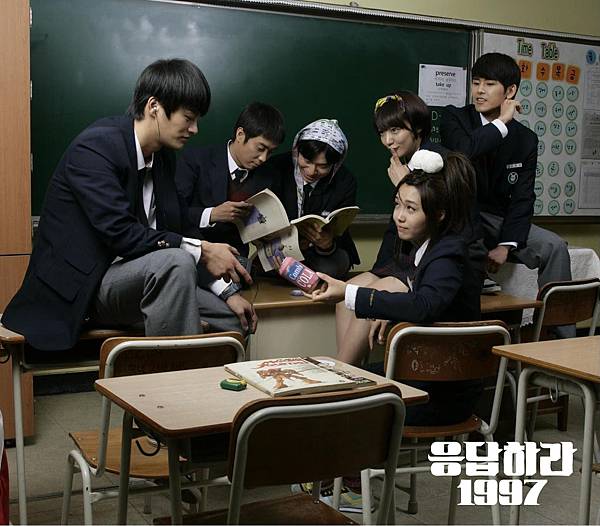 In many ways, this drama (starring Seo In Guk and Jung Eun Ji) can be seen as an educational documentary since it informs you on how to balance school and the life of being a dedicated K-pop fan. Follow the adolescent years of these friends who stick with each other through thick and thin. You can even learn some tips on how to get your parents to understand your passion for K-pop!
Catch the first episode of "Reply 1997" below!
The name of this drama (starring Lee Hyun Woo, Seo Ye Ji, and VIXX's Hongbin) is a little misleading in that it gives no insight to the magical dwellings in which you are about to enter. What starts off as a story about a bunch of misfits who are forced to interact with each other (which is nothing new to schools) develops into a wild adventure you cannot predict, which is also nothing new to schools!
Catch the first episode of "Moorim School" below!
This drama (starring Seo In Guk, Lee Ha Na, Lee Soo Hyuk, and Lee Yul Eum) will make you wonder how the main character does it all? While this would definitely be an impossible task in real life, the characters make it seem possible and on top of it, enjoyable!
Catch the first episode of "King of High School" below!
This is another drama that might give some insight into what it would be like to go to school with your mom. "Angry Mom" (starring Kim Hee Sun, Ji Hyun Woo, and Kim Yoo Jung) examines some dark issues going on inside the education system and empowers us to do something about it!
Catch the first episode of "Angry Mom" below!
There's something about rebels in a school that makes dramas that much more entertaining. The bad boy vibes are real in this drama (starring Sung Joon, Jo Bo Ah, Kim Min Suk, and INFINITE's L) and the group of bandmates is sure to make you swoon.
Catch the first episode of "Shut Up! Flower Boy Band" below!
While we may never be able to go to a fancy school like the F4 (Lee Min Ho, Kim Bum, Kim Hyun Joong, and Kim Joon), and we hope we never have to witness the same horrors that Jan Di (Ku Hye Sun) did, "Boys Over Flowers" is definitely a drama that you have to watch. It has all the tropes needed to make a good drama: an evil mom, bullies at school, a heroic male intervention followed by sacrifice, and the list goes on!
Catch the first episode of "Boys Over Flowers" below!
9. "Sassy Go Go"
"Sassy Go Go" is a lighthearted drama (starring Jung Eun Ji, Ji Soo, and Lee Won Geun) that is full of laughter and warmth. It's a delightful pick-me-up with some fierce (but healthy) competition between groups, which later evolves into an unimaginable friendship. The eye candy is also fairly enjoyable!
Catch the first episode of "Sassy Go Go" below!
While this drama is over 10 years old, and Prince Shin (Joo Ji Hoon) and Chae Kyung (Yoon Eun Hye) have been out of high school for way too long, the premise of the drama is based on two high schoolers getting married and still figuring out themselves in their late teens. The drama covers all the bases of high school from first love, to rejection, to school trips.
Catch the first episode of "Goong" below!
Which drama are you planning on binging before school starts? Let us know in the comments below?
amycwang93 loves eating, sleeping, and reading. She's keeping herself busy these days by rewatching one of her favorite dramas of all time, "Strong Woman Do Bong Soon," to empower herself and admire Park Hyung Sik.
How does this article make you feel?