20 Years Of Chaos, Laughter, And Brotherhood: Shinhwa's Most Memorable Moments
In two months, we will witness the very first idol group in K-pop history to reach their 20-year anniversary. The legendary idol group Shinhwa debuted on March 24, 1998, which may be a time before many of you reading this article were born. They have been recognized widely for their talent, humor, and perseverance. Here's just some of the group's most memorable moments from the past 20 years.
1. Their greeting (and extended introductions)
Even though they came up with their greeting and member introductions 20 years ago, they're still applicable and as relevant as ever. Their greeting and introduction are a sure way for new fans to learn their names and faces, so definitely show this clip to your friends who haven't discovered Shinhwa yet, because it has been an introduction that many entertainers still reference in this day and age.
2. The 10-year milestone
I'm cheating a bit with this one since I'm going to talk about various moments during their 10-year celebration. It was a huge moment in K-pop history when Shinhwa reached their 10-year anniversary in 2008. They were the first group to reach such a milestone and it was definitely celebrated accordingly. They had a jam-packed concert that involved cake, videos from their loved ones, and lots and lots of tears from the members. This was also during the time that Andy was on "We Got Married," and his then-TV wife Solbi, stopped by and surprised the members with homemade food!
3. The leader's marriage
For a few years, even the members would comment that they weren't sure if they would be getting married, but our beloved leader is now a devoted husband to actress Na Hye Mi. We hope the newlyweds are doing well!
4. The return
How could the reunion of the members in 2012 not be on this list?! After Shinhwa's 4-year hiatus, given the members' military enlistments, their return was not guaranteed, and many fans and the members wondered when Shinhwa would reunite. They came back with a full album and promotions that reminded us just why they're so incredible. Here's their title song:
5. Shinhwa Broadcast
As a part of their comeback, they gave us "Shinhwa Broadcast," their very own variety show that had us rolling on the floor laughing. We got to see the many sides of Shinhwa, including what they're like in the car…
or how much some of the members like or don't like each other, such as Eric and Hyesung, otherwise known as water and oil,
and that one time they took on the challenge of cheerleading.
6. Farting chorus
Another moment that came from "Shinhwa Broadcast" was their infamous farting chorus, and we think this deserves special attention. This musical piece by the members shows that they're pretty comfortable doing absolutely anything with each other and somehow, their bodies have magically synced together.
7. Intimate descriptions
Another time we can't forget farting coming up in relation to Shinhwa is when Minwoo could describe exactly other members' farts. Perhaps that is the true sign of longevity among a long-running idol group.
8. When they became their own bosses
Not only are the members idols, but members Eric and Minwoo are CEOs of Shinhwa Company. These men have proven that they're not only brothers, but there also businessman, and not just any kind of businessmen, but they're their own bosses! Additionally, maknae Andy is a founder of his own entertainment company that manages groups like Teen Top and UP10TION.
9. The grand prize
Shinhwa is a group that has gone through trials and tribulations and has come out from them stronger than ever. This has been proven in many ways in the past, and one of those ways was when they had recently changed to a new company and won their first grand prize in 2005. This was a victorious moment that they truly deserved!
10. "Do you smell something burning?"
This is a line that is burned into the memory of anyone who has seen Eric's famous scene from "Phoenix." Will the members ever let him live it down?
We're pretty sure Eric's 100 percent done with this line.
11. Kiwi prince
This costume will never escape the memories of fans and the members of Shinhwa. Our beloved maknae went from shy guy Andy to the infamous kiwi prince. And of course, like everything else, the members had to remind him of it.
12. All the pranks
This group of jokesters cannot be stopped. The number of times they have pulled pranks on strangers, on each other, on the world, is way too high to count. Here's a few examples of these elaborate, out-of-control pranks.
13. Their "fights"
Shinhwa is also widely known for their fighting. Now, these kind of fights can range from playful horsing around, to legit arguments about trivial things such as burping or sharing underwear. Regardless, they've been able to move past these fights and have shared them on TV on numerous occasions. They also partially deem their secret to longevity to moving past disagreements.
14. When they got the rights to their name
This was a journey that the members had embarked upon for 12 years and had finally won. This is no easy feat and demonstrates their love and dedication to the name Shinhwa. You can read more about it here.
15. Their amazing mentorship
Being a first general idol means they have a lot of wisdom and advice to pass down to younger artists. They really are humble human beings and have helped and supported other artists in the industry in many ways.
16. Nude photoshoot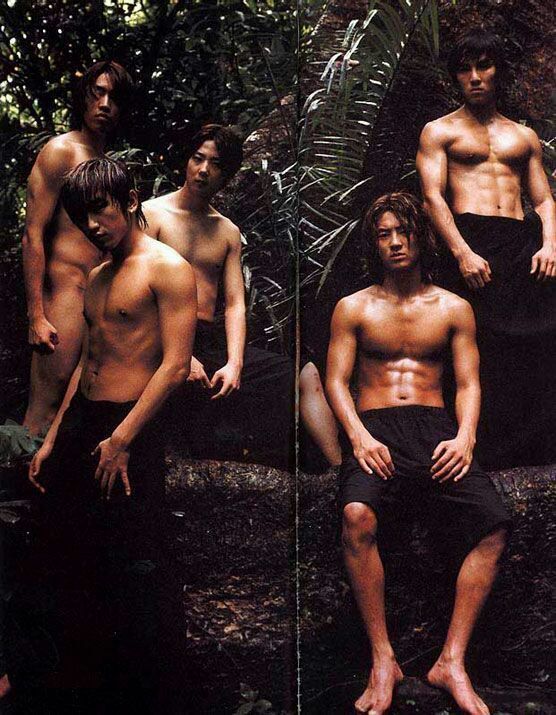 What better way to show off their bodies and gain the recognition as the original beast-dols than doing a nude photoshoot. This is still something we haven't seen repeated in the K-pop industry and definitely makes Shinhwa one of a kind!
17. Skinship
There are idols who love skinship, and there are members of Shinhwa who seem pretty fond of giving each other smooches!
18. The wildest interview
Deemed as one of the wildest groups to interview, this interviewer definitely got some unique experience interviewing the members. We've got dancing, wild appearances of random items such as cakes, karate kicks, and imitations of body guards all in 5 minutes. We can't help but ask, "what exactly was the focus of this interview again?"
19. "Shinhwa is not responsible for your lives"
This line has definitely become a memorable one. It's a good perspective that we all need to be reminded of! Here's the full story of how this famous quote came about:
20. Their group pictures
Last on the list is the group's oddball poses that are so unique and are a display of their unique colors as individuals and as a group. It is easier to find a funny photo of them than it is to find a serious one.
We can't wait to see what's in store for their 20-year anniversary! What's your favorite Shinhwa moment? Let us know in the comments below!
amycwang93 loves eating, sleeping, and reading. When she's not catching up on BTS's V-Live shenanigans, she is watching "Good Morning Call."
How does this article make you feel?