7 Times "My Dear Boy" Had A Meme For Life Moments We've All Experienced
Taiwanese drama "My Dear Boy" has proved to be super adorable, with a puppy love romance like no other! While the drama does delve into very sober subject matter at times, it keeps the overall feel light-hearted and fun, perfect for days when you just feel like kicking back and de-stressing.
There are so many humorous moments (and some precious ones, too) that are just too good not to share!
When your friend tries getting deep and you're not sure what got into them
While trying to decide what to do with his life in order to prove (mostly to himself) that he is a grown man, An Qing Hui (Derek Chang) shares his internal struggles with his best friend, who promptly asks him the question I think many of us have felt like asking our friends before, especially if they're kind of killing the mood…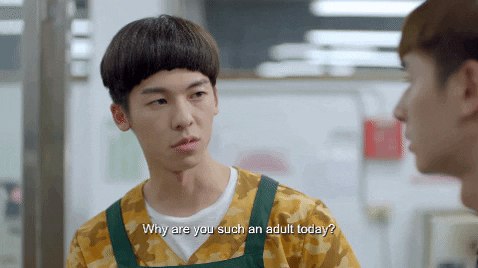 When you follow a trend because you saw it in a drama
Who hasn't done this? I feel like my answer for basically all my fashion choices is "because I saw it in a drama." (Or a K-pop music video, let's be real here.)
While Luo Xiao Fei (Ruby Lin) is recruiting An Qing Hui to be her fake boyfriend for the day (which turns into more than one day — you'll see if you watch!) she is appalled by his attempts to look suave. Immediately dragging him to the nearest bathroom, she shoves his head under the sink and starts to wash the product out of his meticulously-curled hair.
When your friends embarrass you…but you love it anyways because they're the best
Before leaving for his military service, An Qing Hui's two best buddies (Greg Han and Zhang Guang Chen) come to see him off…dressed as cheerleaders. His grin is priceless. These three are such precious friends!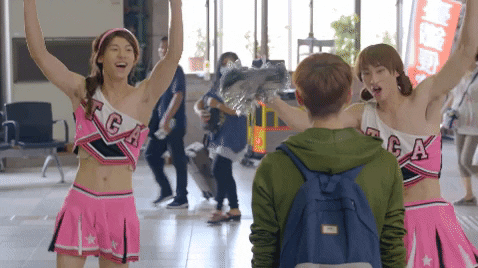 When you use your friend to make your ex jealous
Luo Xiao Fei already planned for An Qing Hui to be her fake boyfriend for an event that she knew her ex, Xiao Ye Shi (Archie Kao), would be at. But when he walks through the door with a beautiful woman on his arm, she refuses to be outdone, and makes sure everyone knows the adorable An Qing Hui is hers.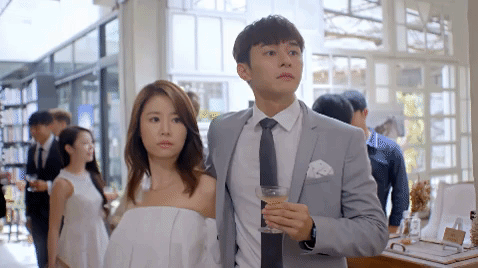 When your parent/guardian decides you are old enough to be making your own meals
…But you're not mentally prepared because adulting is hard.
Before heading to school, An Qing Hui asks his mother what he can take for a meal, and she yells that he's old enough to make his own meals from now on. His response is just too accurate.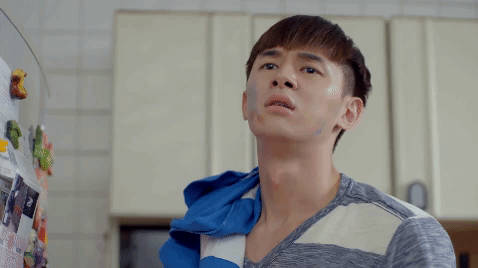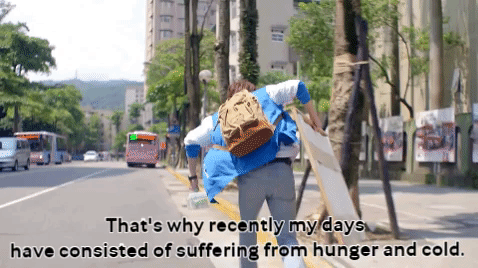 When you share a deep and personal story, only to find that your listener has fallen asleep
I have to admit, I've been both the talker and the listener for this one. I'm not sure which is worse…
When An Qing Hui escorts her home, Luo Xiao Fei confides in him what's been going on with her and her ex-boyfriend. She makes some good points in her unintentional monologue, and suddenly comes to a pretty neat realization: no matter what, she can't sit around for her whole life, waiting for him (her ex). Glancing over at An Qing Hui, she's a bit miffed to see he's been asleep the whole time.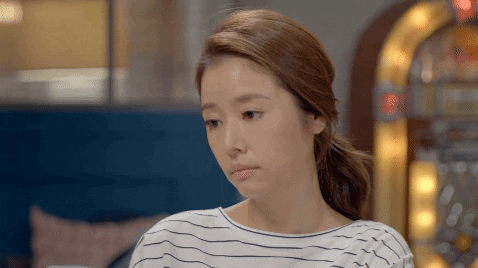 When you get the chance to smell your crush's stuff
Who isn't in love with how their crush smells? Thankfully, the sweet Derek Chang makes this look incredibly adorable instead of flat-out creepy.
On an impromptu overnight trip together with Luo Xiao Fei, An Qing Hui asks her if he can borrow her shampoo before heading off to take a shower. Thinking nothing of it, she tosses it to him. We then cut to him sniffing the suds and smiling triumphantly that this is the smell he always smells on her. And he couldn't be happier.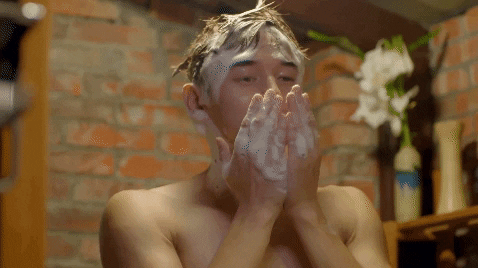 What do you guys think — do any of these sound like something you've experienced? Let me know in the comments below! I think I relate most with following a trend because I saw it in a drama.
If you're curious to see more, you can start watching "My Dear Boy" right now!
actualeleven is an Asian drama enthusiast who loves a good cup of coffee almost as much as she loves KARD, INFINITE, and MONSTA X. She hopes to spread her passion for Asian dramas to her readers!
All-time favorite: "Shut Up! Flower Boy Band"
Currently watching: "Only Side By Side With You" and "Tempted"
Looking forward to: "Meteor Garden"
How does this article make you feel?