4 Things We Loved About The Premiere Of C-Drama "The Journey Of Chong Zi"
Adapted from Shu Ke's eponymous novel, "The Journey of Chong Zi" stars Yang Chaoyue of "Midsummer is Full of Love" and "Dance of the Phoenix" as an orphan girl who decides to try for admission at the prestigious Nanhua Sect in order to learn cultivation. Cultivation is the study of martial and mystical arts to obtain supernatural powers and attain immortality. But the sect refuses her entrance because of her evil aura, and she's instead taken in by Luo Yin Fan—played by Jeremy Tsui of "The Autumn Ballad" and "Legend of the Phoenix"— who is the prestigious leader of the Immortal World.
Chong Zi: a good female protagonist
The problem with many coming-of-age dramas is that the protagonist can often start out as immature. They grow through their adventures into a powerful, wise figure, which of course means there's a risk of them being extremely annoying in the first few episodes. Thankfully, Chong Zi gracefully avoids this pitfall: she may be a bit mouthy, but she's also very brave and won't hesitate to help anyone who needs it, be they friend or foe.
A patient, gentle main lead
Luo Yin Fan deserves a medal, really. Confronted with the agent of chaos that is his new disciple, this powerful, respected leader of the cultivation world only ever shows infinite patience, and his gentle personality will make you want to wrap him up in bubble wrap and hide him away to spare him all the pain he no doubt has coming his way. It's a standard of the xianxia genre, in which couples must always endure a thousand torments before ending up together (or not). And although his training is certainly unconventional, his decision to take in Chong Zi when nobody else would definitely earns him brownie points from the get-go.
Another thing that makes Luo Yin Fan amazing is his love for makeovers, be it for people or interior decoration. He constantly uses it to pretty up everything around him. He's precious!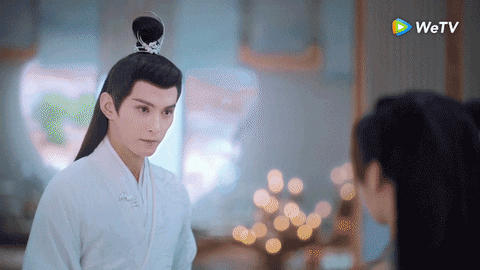 Qin Ke vs. Chong Zi
A strong personality and good heart are what gives Chong Zi such an excellent dynamic with both Qin Ke, who is played by Deng Wei of "Miss the Dragon," and Luo Yin Fan. She and Qin Ke start off on the wrong foot, a byproduct of their very different upbringings since Chong Zi's a street orphan while Qin Ke grew up as a rich family's heir, but they also work very well together and have astronomical potential to grow into the best frenemies.
Beautiful opening credits
Sung by Liu Yu Ning, the show's song "Sky Light" offers a nice contrast to the beautiful illustrations that make up the show's opening credits. It's cheerful, full of energy, and will make you feel ready to take on the world.
Check out "The Journey of Chong Zi":
Those in Southeast Asia can watch here!
Are you watching "The Journey of Chong Zi" or are you planning to? Let us know in the comments!
A long-time nerd and hot-chocolate addict, karoodramas enjoys watching and writing about dramas, fangirling over way too many things all at once, and falling down the Genshin rabbit hole. You can follow her ravings on Twitter and check out her drama reviews on her website.
How does this article make you feel?