Album Review: Zhang Li Yin / Jang Ri In – Timeless
Zhang Liyin/Jang Riin – Timeless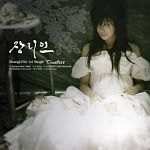 1. Timeless (Feat. Xiah Junsu of TVXQ)
2. Y (why…)
3. Timeless (Feat. Xiah Junsu of TVXQ) (Instrumental)
4. Y (why…) (Instrumental)
Zhang Liyin is a female solo artiste from SM Entertainment and the first Chinese solo artiste in Korea. Her debut was on Sept 9, 2006 with her hit single Timeless. She has been called by many, and even Lee Sooman himself, as the leader of the Hallyu Wave. Although only a rookie singer, she has already won the Mutizen Award on SBS Inkigayo and the Best New Solo Artist Award at the 2006 MKMF Music Video Awards. Han Geng and Choi Siwon of Super Junior, and Lee Yeonhee, an actress under SM, starred in the MV for her title song, Timeless.
Her title song, a duet with Xiah Junsu of TVXQ, is Timeless, a remake of Justin Guarini and Kelly Clarkson's song of the same name. The Korean lyrics were written by Kenzie, who has written many other hit songs. The title song talks about a love that is ultimately timeless in the face of challenges. In Timeless, there are many high notes and on her debut, she was heavily criticized for her inability to reach the notes. However she improved significantly in her later live performances. The two-part music video for Timeless features Liyin singing in Korean in part I and Chinese in part II. The second song on her Timeless single is another remake, this time of Jamelle Fraley's Powerless.. Liyin's version of Powerless (called Why (Y…) on her single) is a song that further showcases her R&B voice and talent.
Although she had a shaky start in her career as a singer, she definitely has a voice to be reckoned with. She has a unique voice that is able to reach those difficult high notes. Although she has been called the "Chinese BoA", her singing is quite different from BoA, as heard in this single. I believe this single is really worth trying out. (credits to starry_nights)
Rating: 4/5
Ratings breakdown:
5/5 – Even if you're not a fan of this artist/group this album is a must buy.
4/5 – If you're a fan of this artist/group, you must buy this album.
3/5 – If you're a fan of this artist/group, you might want to add this one to your collection.
2/5 – I don't think a fan would even buy this.
1/5 – You might as well just flush your money down the toilet.