2008 Korean Music Festival tickets go on sale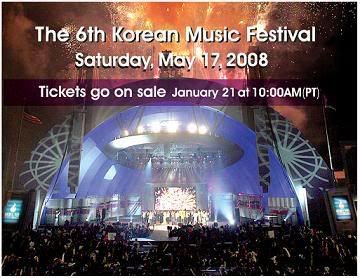 About the Festival
It was the year 2003 when The Korea Times presented the inaugural Korean Music Festival at the world-famous Hollywood Bowl in celebration of the centennial anniversary of the Korean immigration to the United States. The Korea Times, as the representing news media in the Korean American community, stepped up as the leader in setting up a variety of plans to commemorate the anniversary and boldly decided to present a grandeur show that no one in the community had ever imagined.
The inaugural concert, featuring more than 18 top-tiered artists from Korea, drew an overwhelming support from the community selling out the entire 18,000 seats in mere 14 days. As a single concert, it was the largest in its scale and the perfect demonstration of cohesive marketing effort that had never been tested in major venues. With an enormous support of corporate sponsors and the community, Korean Music Festival at the Hollywood Bowl continued to gain undisputable popularity and reputation as it records a sellout every year.
Concert for all generation
One of the key elements that have led the concert to a series of success was the all-star casting whose fan base virtually covers all generations. In close cooperation with its broadcasting partners in Korea, The Korea Times has been able to bring the artists who were chosen to reflect the balance between the generations. From traditional trot singers to the teenage idols, audiences could watch the best ensemble of contemporary Korean music with spectacular fireworks.
How does this article make you feel?