Korean idol pop group's new album gains massive fan base even before its release: chart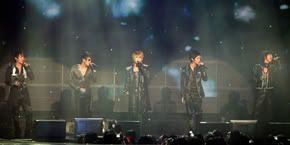 Korean pop band Dong Bang Shin Ki carved out a massive female fan base in Japan with their upcoming new album "T", which has received top name recognition among teen girls, a leading Japanese music chart revealed Sunday (Jan. 20).
The five-member male K-pop group, called Tohoshinki in Japan, is the only group whose pre-release album was recognized by more than 90 percent of teenage girls, according to Japan's best-known Oricon Charts. Ninety-six percent of teen girls said they knew about T, set to be released on Wednesday. Its name recognition overall was 67 percent.
Oricon Style, the weekly that publishes the best-known music chart using data from over 3,000 Japanese retail outlets, said the high recognition will have a significant impact on T's sales performance. The group's popularity was also expected to shoot up among teen boys, the report said, with their 38th single "Last Angel" featuring Japanese pop female singer Koda Kumi.
The quintet Dong Bang Shin Ki, meaning "God has risen from the east" and called Tong Vfang Xin Qi in China, debuted in Korea, Japan, Taiwan and China in 2003 specializing in singing, dancing and a cappell