If you're making a comeback, do it in 6 years!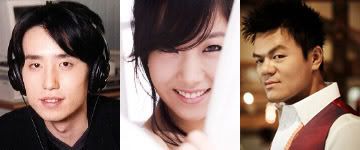 From left to right: Toy, Yangpa, Park Jin Young
pictures credit: naver.com
"If you're going to make a comeback, do it after 6 years!" Or so the saying goes, considering the success of artists who returned in 2007. Yangpa, Park Jin-young and Toy all made comebacks after 6 years and experienced huge success. Yangpa arrived on the scene last May and her song, "Love? What's That?" was a hit. Park Jin-young returned to fans not as a producer, but a singer with his 7th album. "That House You Live In" and "Kiss" are doing really well. Also, Toy returned with a 6th album – "Passionate Goodbye" – and is enjoying explosive popularity. We hope these returning artists, whose major success puts to shame their time off, continue to shake up the music biz!
How does this article make you feel?