Pop Idol Becomes Model for New Car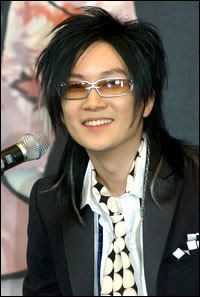 Popular Korean singer Seo Tai-ji is the new model for GM Daewoo's new sedan "Tosca Premium 6."
By Cathy Rose A. Garcia
Staff Reporter

Seo, 35, is making a comeback in the Korean entertainment industry this year. The singer recently signed a contract with GM Daewoo and has finished shooting the commercial.
Although details of Seo's contract have not been disclosed, industry insiders speculate the value of his contract would not be less than 1 billion won.
The GM Daewoo commercial is Seo's first since 2005, when he endorsed the shopping mall "Space 9." "Tosca Premium 6" is GM Daewoo's latest mid-sized sedan with 6-speed automatic transmission.
Seo had previously endorsed brands such as Prospecs and KTF. His contract with Prospecs was worth 1.5 billion won, while the KTF contract was worth 3.2 billion won.
Seo is scheduled to release his 8th album in March. Anticipation is running high for his new album. His last album sold 482,066 copies in 2004, making it the year's best-selling album.
Last November, he released a commemorative 7-disc 15th anniversary limited edition album, which sold out immediately.
Seo was one of the most popular and influential musicians in K-pop in the 1990's. He first gained popularity as a member of the group Seo Tai-ji and Boys, with members Lee Ju-no and Yang Hyun-suk. After much success, the group disbanded in 1996. Seo released his first solo album in 1998, selling more than a million records.
How does this article make you feel?