Farm music genre marks 30th birthday
The traditional Korean percussion music "samulnori" celebrates its 30th anniversary this year.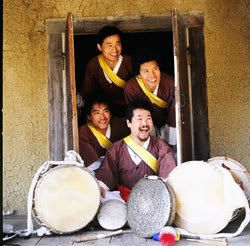 The milestone is partly a surprise to those who believe the play has a history dating back centuries. They are probably thinking of "nongak," or farm music which samulnori is derived from.
Samulnori is composed of four instruments — kwaengari (small gong), jing (large gong), janggu (hour-glass shaped drum) and buk (brass drum) — that are readjusted to perform indoors, unlike nongak. Folk arts scholar Sim Woo-sung came up with the name "samulnori," which literally means "four-object play" in Korean.
The first samulnori performance opened in 1978 at a small theater in downtown Seoul. The performers were Kim Duk-soo (janggu), Lee Kwang-soo (buk), Choi Jong-sil (jing) and the late Kim Young-bae (kwaengari), who died in 1986.
Old members of first Samulnori Troupe
Since then, the troupe has recorded hit after hit both at home and abroad, making history in Korea's cultural sphere.
In 1983, samulnori camps opened in Los Angeles, New York, Tokyo and Berlin. Encyclopedia Britannica included the term "samulnorian," referring to one who enjoys the genre.
Starting music at an early age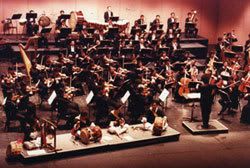 The original members of the samulnori troupe share similar stories, beginning their music careers at an early age.
Kim Duk-soo joined the troupe at the tender age of five in 1957. Two years later, he won a presidential prize at the National Farm Band Contest and was recognized as a child prodigy. He now teaches at Korea National University of Arts and also holds classes for the general public.
Kwaenggari player Lee established the Academy of Korean Music in Yesan, Chungcheongbuk-do (province) to foster more samulnori performers.
Samulnori performance with orchestra in L.A.
He also joined the troupe in 1957 at age six and left in 1993. Last year, he began a project to systematically organize traditional Korean music.
Choi entered the world of farm music at the urging of his father, also in 1957, at age four. His father led a farm music group in Samcheonpo, Gyeongsangnam-do (province).
In 1982, he began promoting samulnori at a world percussion contest in Dallas, and performed in Japan, Canada, Britain and other countries.
After leaving the troupe in 1989, Choi became a director for the Seoul Performing Arts Company. In 2001, he became a percussion professor at ChungAng University in Seoul and established the Chung –Ang Percussion Group.
Perform until death
To commemorate their 30th anniversary this year, the three surviving players will reunite along with new members for a two-day performance March 6-7 at the Sejong Center for the Performing Arts in Seoul. Nam Ki-moon will take over for the late Kim Young-bae.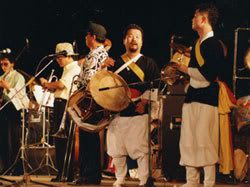 The "samulnori dream team" will also hold concerts in seven to eight cities nationwide and also in the United States and Europe.
"A cultural center for samulnori is necessary to help the genre grow big in the world," Choi told reporters after holding a memorial performance Monday (Jan. 21). "The center should also encompass a samulnori theater and memorial hall."
"Samulnori was our destiny, the first hallyu (Korean wave) in the world. We will work to establish a strong foothold for samulnori to emerge."
Samulnori performance with jazz
Lee Kwang-soo, a professor of traditional banquets at Daebul University, said. "Samulnori should have been included as part of gugak (traditional Korean music) in the last century. It would have revitalized that part of the music genre by now."
Troupe leader Kim Duk-soo agreed, saying, "To help Korean percussion make its name in the world cultural market, we need to work harder to upgrade the spirit of exhilaration within our play. That's the only way to establish a true hallyu."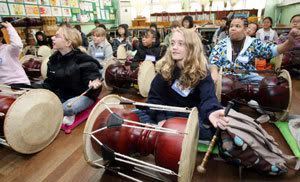 The newest member of the troupe is Nam, who works for the National Center for Korea Traditional Performing Arts. He recalled how he envied the four original members on stage 30 years ago.
Critics of the group say its performances have altered the true meaning of the Korean percussion play, which is supposed to be done strictly outdoors instead of on stage. But samulnori's creators say that had they stuck to the original nongak and never experimented, the genre would have gone extinct during the country's rapid industrialization.
Foreigners learning to play samulnori.
The troupe's original performers said they started a new tradition without losing the true
meaning of the traditional play.
Samulnori continues to evolve through experimentation like coordination of percussion instruments of other countries or fusion with other genres like jazz and hip-hop.