Music news
featuring artists: Kim Dong Ryul, Lee Min Woo, Park Jin Young, tradional music, Rain, Monotonic (debut next month)
Talk Show 'Beauties' Get Title Song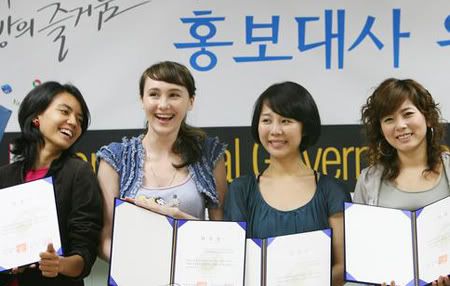 Date: February 14, 2008
Source: http://english.kbs.co.kr/
KBS TV's popular global talk show "Chatting of the Beauties" will get an official theme song.
The selected song is 'Crazy' by project group Monotonic, who will release their debut album next month.
The electronica band was created by MC The Max's Jay and former Wittgenstein member Vink. News of their project band attracted significant attention, drawing 5,000 blog visitors.
Monotonic's management agency said, "The talk show's producers believed Crazy's addictive electronica sound fit in well with the program's image. Gavy NJ's Sihyeon will sing the song with DJ Rex.
Crazy will be released on online music sites from Thursday and be featured on the TV show starting from the Monday edition.
=================================
Singer Rain grabs leading role in Hollywood film
Rain (center) poses with William Morris Agency vice chief John Mass and his agent.
Date: February 14, 2008
Source: http://www.korea.net
Rain, Korea's foremost entertainer recently dubbed one of the world's most beautiful people, has clinched a leading role in a Hollywood flick scheduled to begin shooting later this year, his U.S. promotion agency said Wednesday (Feb. 13).
"Ninja Assassin," to be directed by James McTeigue, will mark the first time for the 26-old singer and actor, whose real name is Jeong Ji-hoon, to play a leading role in a U.S. movie. He will make his official Hollywood debut in May with a smaller role in "Speed Racer."
"This is such a huge opportunity for me. It seems like a dream," he said at a press conference in Seoul.
Rain emerged as a worldwide star when South Korea's pop culture, especially its pop music and television dramas, became hugely popular several years ago in Asia and other regions.
Riding on the "Korean Wave," known in Korea as "Hallyu," Rain was named one of the "100 Most Influential People" by Time Magazine in 2006 and one of the "100 Most Beautiful People" a year later by People Magazine.
Rain recently concluded a contract with the William Morris Agency (WMA), a New York-based talent agency that represents entertainers such as Britney Spears, Jennifer Lopez and Russell Crowe.
"We're a business with a number of artists who are really international artists, and we look at Rain as the same," said John Mass, a WMA vice chief. "He's not just popular in Korea or Asia, but he's popular throughout the world."
Rain began his singing career after releasing his first solo album, "Bad Guy," in 2002, a huge success that was followed by other popular albums. He launched his acting career when he starred in the South Korean television drama "Full House" in 2004 and the movie "I'm a Cyborg and That's Okay" in 2006.
McTeigue co-directed the hit Hollywood film "V for Vendetta" with the Wachowski brothers, who also directed "Speed Racer."
=================================
Learn traditional Korean music online!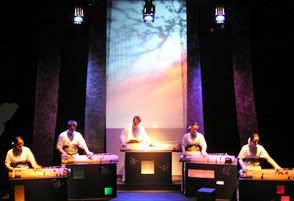 Date: February 14, 2008
Source: http://www.korea.net
Starting Feb. 14, you can learn about Korean traditional music online.
The National Center for Korean Traditional Performing Arts has opened a website (http://egugak.go.kr) to provide a chance for people to get to know traditional Korean music (called gugak) online free of charge.
On the website, visitors can learn about the history of gugak, how to play some of the popular traditional instruments such as gayageum, a 12-string traditional Korean zither and geomungo, a six-string zither. Also, visitors can listen to various gugak songs online.
The National Center for Korean Traditional Performing Arts says it will constantly update online contents and will also provide a chance for non-Korean speakers to access the site in different languages in the near future. Currently, only Korean is available.
The National Center for Korean Traditional Performing Arts is the governing body established to preserve and promote traditional Korean performing arts.
By Han Aran
Korea.net Staff Writer
=================================
Park Jin-young Top Celebrity Shareholder in Korea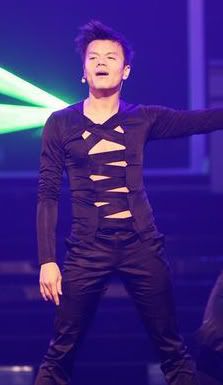 Date: February 14, 2008
Source: http://english.kbs.co.kr
Korea's top music producer Park Jin-young, who helped the Wonder Girls rise to stardom last year with their song 'Tell Me,' is the richest celebrity shareholder in Korea.
According to a recent assessment by Chabul.com, CEO of JYP Entertainment Park Jin-young held the largest shares out of all celebrity CEOs and celebrity shareholders of listed and unlisted companies in Korea, with shares worth 28 million dollars.
Hallyu star Bae Yong-jun who owns 4,344,602 (34.36%) shares of Keyeast Inc. came in second with shares worth 20.4 million dollars.
Coming in at number three in the rankings was Lee Su-man, the largest shareholder of SM Entertainment, a KOSDAQ listed company. His shares are worth 9.2 million dollars.
Following close behind was Joo Byung-jin with 8.7 million dollars and singer Rain with 8.3 million dollars.
=================================
'Shinhwa' Lee Min-Woo, Prepares Jewelry's New Title Song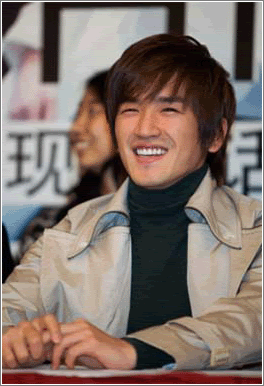 Date: February 11, 2008
Source: http://english.tour2korea.com/
Shinhwa's Lee Min-Woo is in collaboration with Jewelry once again, as the popular girl group brings on new members, Kim Eun-Jeong and Ha Ju-Yeon.
Lee Min-Woo, who previously helped write Jewelry's 4th album title song 'Superstar' in 2005, will collaborate once again, this time writing the lyrics for Jewelry's new album title song, 'One More Time'.
Jewelry is to make a come back featuring 'One More time' as their new single.
'One More Time' is a remake of one of Italian pop sensation In-grid's and features a catchy beat with the dreamlike visionary sounds of electronica.
Jewelry's management company, Star Empire commented, "We shot the music video for Jewelry's title song 'One More Time' on the 4th. Though the song was not yet officially released, we are already getting a great response. Former members Park Jeong-Ah and Seo In-Yeong, along with the new members Kim Eun-Jeong and Ha Ju-Yeon are all putting in grueling hours of practice for their comeback stage appearance, much to the delight and encouragement of their growing fan base."
Jewelry's 5th album is to be released on the 20th.
=================================
Kim Dong-ryul's Album Cover Designed by Younger Sister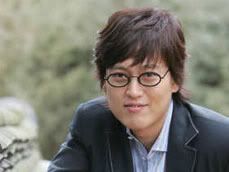 Date: February 11, 2008
Source: http://english.kbs.co.kr/
Music lovers are talking about the cover of singer Kim Dong-ryul's 5th studio album, which was designed by his younger sister. Kim's album has topped online and off-line charts since its release on January 25th.
The designer 'Ageha,' who designed Kim's brand new album, is actually his younger sister Kim Ji-hyun. Kim studied image design in Korea and went on to study fine arts using video and photographs in Paris, France. She has also designed the official websites for singer Lee Juck and vocal group Jaurim, and has designed Kim's Best Album in the past.
The designer said she realized how different she was from her brother while going through and choosing the photos for the album cover. She added that her brother is a little camera shy so she picked photos in which the singer looked more comfortable and natural.
The popular singer said the photos in the album cover represent his home as well as his workspace. He thanked his "sensitive and stubborn" sister for helping him make an overall serene album cover.