Music news
Featuring artists: Lee Jin – ex Fin.K.L, Andy (Shinhwa), Korean YouTube star (Im Jeong Hyeon), Epik High, Lee Juck, Kim Jung Hoon, SG Wannabe.
SG Wannabe to Sing Japanese Film Title Song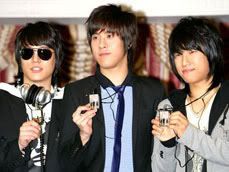 Date: February 15, 2008
Source: http://english.kbs.co.kr/
The hit group SG Wannabe, which has also debuted in Japan, will sing the theme song for the Japanese film "Hanakage (Flower Shadow)" starring Korean actor Kim Rae-won in the lead role.
The film, to open next month, is directed by Gawai Hayato, known for "Bayside Shakedown." Japanese actress Mirai Yamamoto will play opposite Kim.
SG Wannabe, active in both Korea and Japan, was asked to record the title song because the story of the romantic film takes place in both countries. The title song is SG Wannabe's hit 'Arirang.'
Ahead of releasing their original debut album 'I love SG Wannabe' on March 19, the group will hold special events for album buyers and begin earnest activities in Japan.
=================================
Kim Jung-hoon Releases Single Album in Japan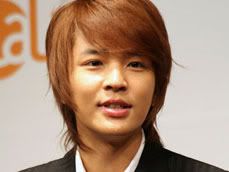 Date: February 15, 2008
Source: http://english.kbs.co.kr/
Actor/singer Kim Jung-hoon will resume his singing career by releasing his fourth single album entitled "Tears" in Japan on Feb. 20.
The album contains three tracks, two cheerful ones befitting the atmosphere of the spring and a melancholy one.
Kim will hold an event in Tokyo on Feb. 27 to mark the release of the album. On March 1, he will hold two fan meetings and high-touch events in Shibuya, Tokyo.
Kim drew attention for his excellent acting skills in the TV drama "Princess Hours" and in October last year released the album "Eternity." He also successfully held his first solo concert tour in Japan, which covered Fukuoka, Tokyo, Osaka, Nagoya and Sapporo and which brought him wider recognition as an artist.
After releasing his fourth single album and holding fan meetings in Japan, Kim will finally return to Korea.
=================================
Korean You Tube Star Performs in New York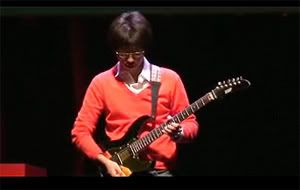 Date: February 14, 2008
Source:http://world.kbs.co.kr/
Guitarist extraordinaire Im Jeong-hyeon (online nickname Fun Two) opened You Tube's Videocracy in New York on Thursday.
Im wowed the world in late 2005 when the video of his amazing guitar performance of Parchelbel's Canon Variation was posted on America's largest video posting site You Tube. Im's video recorded more than 10 million hits on You Tube and won worldwide acclaim.
You Tube Videocracy is a global event where 5,000 of site users, advertisers and content providers gather to celebrate You Tube's enormous influence on the internet, the media, and even politics. Im was chosen to open the gala event because his guitar performance drew worldwide audience to You Tube and he was considered the most representative of You Tube users.
=================================
Epik High, Lee Juck Get Most Nominations for Korean Music Awards
Date: February 13, 2008
Source: http://english.kbs.co.kr/
Popular boy band 'Epik High' and singer Lee Juck have received the most nominations for the 5th annual Korean Music Awards.
The screening committee of this year's awards recently announced its list of candidates for each category. According to the list, Epik High received nominations for six categories, including the Best Album, Best Song, Best Musician, Best Hip Hop Album, Best Hip Hop Song and Netizen's Choice of the Best Musician of the Year for 2007.
Lee Juck also received six nominations, including the Best Album and the Best Pop Album of the Year.
Other pop artists, including Lee Seung-yeol, Huckleberry Finn and Hollow Jan each received five nominations. Wondergirls, who swept the Korean pop music market last year with their song 'Tell Me' was also nominated for five categories, including 'The Best New Artist' and 'The Netizens' Choice for Best Artist of the Year.'
The screening committee, expressing its genuine concern for the future of Korean pop music' said it tried its best to judge as fairly and as objectively as possible.
This year's awards ceremony will be held on March 5 at the 600th Anniversary Hall at Sungkyunkwan University.
=================================
Andy Gears Up for Solo Career in China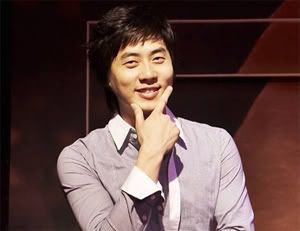 Date: February 13, 2008
Source: http://world.kbs.co.kr/
Former Shinhwa member Andy left for China Wednesday morning to launch his solo career in China. He recently released his first solo album "Love Song."
Andy is not a stranger in China and Japan, as Shinhwa already held super concerts and gained a huge following in both countries. Late last year he held his first solo fan meeting in Japan and plans to do the same in China in time for Valentine's Day. He also plans to hold a solo concert in China in April.
Andy's close associate says that Andy has been courted by the music industries of China, Hong Kong, and Taiwan while he was preparing for his solo album. The fan meeting in China is just the starting point for his career overseas.
=================================
Lee Jin of Fin.K.L. Rises to the Throne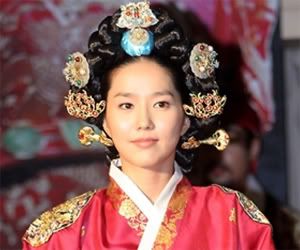 Date: February 11, 2008
Source: http://world.kbs.co.kr/
Singer-turned-actress Lee Jin, formerly of Fin.K.L., will be enthroned as King Seongjong's third queen in the drama "King and I."
Lee Jin's character, Queen Jeonghyeon, becomes the third wife of King Seongjong, after his second wife, played by Ku Hye-sun, was dethroned. Queen Jeonghyeon started her life in the palace as one of twelve concubines of the king.
In the grandiose ceremonial scene, Lee was dressed in the splendid traditional garb worn only during the royal wedding ceremony. Lee said that she was looking forward to this moment for a long time. Although "King and I" is Lee's first attempt at a historical drama and many expressed their skepticism at her lack of experience, her flawless acting and interpretation of this important woman in history was received favorably from both fans and critics.
How does this article make you feel?