weekly information about coming-up concerts
featuring aritsts & events: SangsangPlus, Lee Seung Hwan, Park Jin Young, Clazziquai, Shinhwa, Hollywood Bowl 2008, the 1st annual Peace Concert 2008 in US.
Sang Sang+ (Imagination Cross)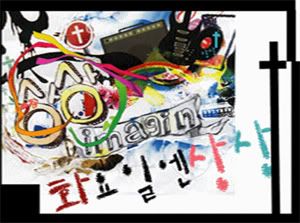 source: http://world.kbs.co.kr/
Date : Jan. 8 – Mar. 25
Place : Apgujeong Ye Hall
This unique concert is a showcase of Christian musicians who bring inspiration and faith to the people in search of religious comfort. The concert features noted Christian musicians in Korea – CCM modern rock band TiniBand; talented Jeong Jeong-in; powerful vocal Yu Hyo-rim; four-member male group E. R.; motivating Naked David; dynamic band The Play, stirring Hae-jun, and trumpeter Yesuah. These musicians perform to spread the Gospel and convey their deep belief in God. Those attending the concert are certainly to gain a sense of fulfillment and spiritual serenity.
————————————-
Lee Seung-hwan Concert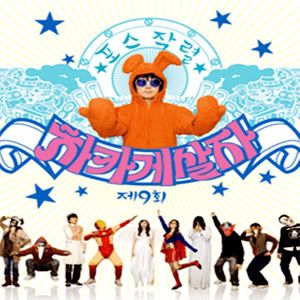 source: http://world.kbs.co.kr/
Date : Feb. 23
Place : Vista Hall, Walker Hill Hotel
The emperor of live performance is back with another dazzling and exciting concert. Lee Seung-hwan's concert always provides more than musical performances. It's a big, fun party. There is even going to be a coupon for one free drink on the ticket stub. So be ready to go wild. The dynamite guests and band members elevate the concert to another level and nobody knows where Lee will take you to thereafter. Thus Lee issues this warning for the audience – try to save up as much energy as you can because it's going to be a standing concert which will last for a very, very long time. So you'd better not expect to go home before dawn. Lee's concert is always sold out quickly, so you better move fast.
————————————-
Park Jin-young Launches U.S. Tour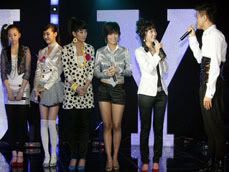 source: http://english.kbs.co.kr/
Producer/singer Park Jin-young and singers from his agency, JYP, have launched a U.S. tour.
Park as well as the girl band Wondergirls and singers Lim Jung-hee, Min and G-Soul will hold "The GYP Tour" Feb. 29 at the Wamu Theater at the New York Madison Square Garden and on March 8 at the LA Wiltern Theater.
The tour is the continuation of Park's solo concert that he staged in Korea under the title "Bad Party." He has organized the tour to bring together talented artists that are trained by his agency.
A manager of Madison Square Garden said Park's "rider" showed that Park has prepared perfectly for the concerts.
Park says though the upcoming tour will focus on himself, he wants to nurture the tour into an Asian music festival featuring top artists, and that he and his staff have been working day and night to that end. "I'll do my best to ensure good results," said Park.
In the future, the tour will cover Atlanta and San Fransisco as well.
————————————-
Clazziquai Project Robotica Club Party with Vincis Bench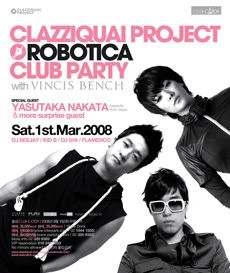 source: http://world.kbs.co.kr/
Date : Mar. 1
Place : Catch Light Club, near Hongik Univ.
Korea's top electronica unit Clazziquai is holding the coolest and hippest party at Seoul's hottest club. Fans of this refined and stylish trio will be treated not only to their mesmerizing live performances, but also those of special guests Ram Rider and Yasutaka Nakata. Ram Rider is known as the Japanese version of daft punk, a cross between pop musician and club musician. Nakata is a renowned music producer and remixer, characterized by his ingenious sounds and outstanding sense of beauty. In addition to these special guests from Japan, hot Korean DJs, such as DJ Quinn, Jinu, Gon, VJ the Maze, and Sin will join the party.
————————————-
Shinhwa Holds 10th Anniversary Concert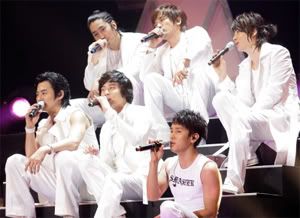 source: ttp://world.kbs.co.kr/
Korea's longest running idol group Shinhwa will hold a concert to mark the 10th anniversary of its debut.
Shinhwa first burst into the music scene back in 1998 and the group will celebrate this momentous occasion with "Shinhwa 10th Anniversary Live in Seoul" concert on March 29th and 30th at the Gymnastic Stadium in the Seoul Olympic Park. Shinhwa is the first idol group in the Korean pop industry to stay together for a decade without disbanding or changing its members.
Shinhwa's first Korean concert in two years, the 10th anniversary gala will be particularly meaningful for both the members and their fans, as it will be the last performance in Korea for Eric, Lee Min-woo, and Kim Dong-wan before they go off to serve the mandatory military duties. The tickets will go on sale on the internet starting on February 18th. Shinhwa is currently working on their 9th album due out in March, in addition to preparing for the concert.
————————————-
The 6th Korean Music Festival update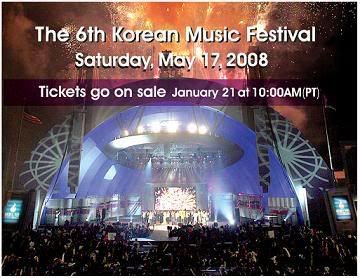 source: http://www.khype.com/
credit: khype.com, koreatimes
MESSAGES FROM KOREA TIMES:
Dear friends,
I hope this email finds you well, and thank you for all your grateful support and interest in our 2008 Korean Music Festival at the Hollywood Bowl.
This year's concert is set for 6:30pm, Saturday, May 17. Pre-concert festivity shall begin around 2:30pm on the same day in front of the Box Office. I trust that our corporate sponsors would distribute lots of giveaway items, so please come early and enjoy the benefits.
As you are aware, we activated web-sales system last month to better serve you and give everyone a fair chance in purchasing process. Fyi, we have increasing number of audiences, estimating more than 2,000 I believe, calling from other states and countries, and we felt that we had to give them the same chance that folks in LA receive.
Although there were some issues that we needed to improve, we plan to use the system as the main tool for ticket sales in the future. Our staffs have been working hard to facilitate any technical problem, so please do not hesitate to call ticket office at 323-692-2055/2068/2070 for inquiries.
Tickets will be available for pick-up in March just as last year. Since there is an ample time left until the show date and more importantly we keep all the individual records of sales transaction and seating assignment, you can trust us there should not be any problem on this. So please be patient.
As for the artists, we have locked in 12 top-notched performers so far. We are currently working on 4~5 additional artists and plan to release the names some point in March. Therefore any name or list you hear until then should be considered as "unconfirmed".
We will continue to check your posts and opinions on the websites regularly and will try to respond to them as promptly as possible. Thank you.
All the best,
C.S. Hah
Director, Special Events
The Korea Times U.S.A.
————————————-
The 1st annual Peace Concert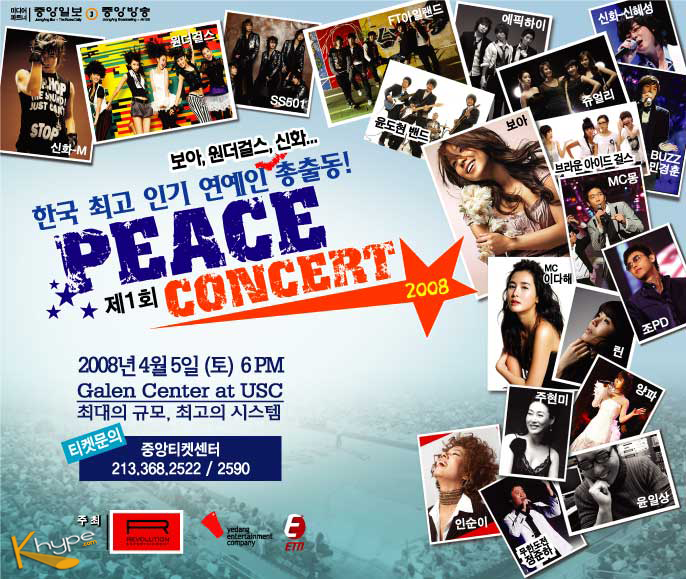 source: http://www.khype.com/
Credits: Korea Daily, Khype.com
LOCATION: Los Angeles, CA
DATE: Saturday, April 5, 2008
TIME: 6PM
VENUE: USC – Galen Center, 3400 S. Figueroa St., Los Angeles, CA 90089
PRICES: $120, $100, $70, $40
TO PURCHASE TICKETS:
Korea Daily: 213.368.2522, 213.368.2590
Revolution Entertainment: (213)-381-5411
PACKAGE DEALS:
VIP ($300):
R Seat ticket, $25 parking, Invitation + free admission to After Party with Stars (nightclub in Downtown LA, undecided), Invitation to cocktail party with Stars (Marriott banquet hall, next day).
VIP PLUS ($450):
VIP seat ticket, $25 parking, invitation + free admission to After Party with Stars, Invitation to cocktail party with Stars + VIP table seating @ cocktail party, Dress Rehearsal Pass, Brunch with the Entertainers.
LOCAL HOTEL PACKAGE ($300/night + package deal price):
3 nights minimum, $300 per room/per night, Marriott Downtown Hotel, April 4th thru 6th, Double Occupancy.
MC:
[] Lee Da Hae
Artists:
[] Shin Hye Sung
[] M
[] ss501
[] BoA
[] Min Kyung Hoon (Buzz)
[] Wonder Girls
[] JoPD
[] MC Mong
[] Epik High
[] FT Island
[] YangPa
[] Lyn
[] Yoon Do Hyun Band
[] Jung Jun Ha
[] Ju Hyun Mi
[] Jewelry
[] Brown Eyed Girls
[] In Soonie
[] Jung Jun Saeng (sp?)
EXTRA INFO:
[] Tickets may be picked up at the Korea Daily office, or at the Will Call window the day of the concert.
SEATING CHART:
[] Seating is still to be determined. TBA.