Music news
featuring artists: Ryu Shi Won, Super Junior, Harisu, Seo Taiji, KCM, YB (Yoon Do-hyun band)
YB to Appear at SxSW for Second Year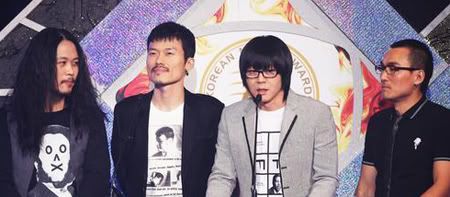 Date: March, 07 2008
Source: http://world.kbs.co.kr/
YB (Yoon Do-hyun Band) will be the only band representing Korea at the '2008 SxSW (South by Southwest) Music Festival,' which will be held in Austin, Texas from March 12th-16th.
The Korean rock band will perform at noon on the 13th for thirty minutes for the main section called 'SESAC Day Stage' held at the Austin Convention Center.
'SESAC Day Stage' is an important event at SxSW due to the great number of international music executives in attendance and open opportunities for tour contracts.
At 10:00 p.m. that night, YB will also be holding a showcase event at the center of festivities located at the Bourbon Rocks Patio on 6th Street.
YB lead vocalist, Yoon Do-hyun, said that they will be able to sing and enjoy themselves with the guests.
He added, "I plan to bring the international audience together as one through the sound of Korean rock. Since it's a global event, we're prepared to do our very best."
==================================
KCM to produce music videos for all the songs on his album
Source: http://www.arirang.co.kr/
Picture: http://www.naver.com
KCM created buzz with music videos for his 4th album featuring sophisticated story development and scenes of a building explosion, gunfire and more spectacular visuals. Now he will produce music videos for all his album's songs. Following his title track "Classic," he recently released music videos for "Daily Diary" and "Excitement." After presenting "Because I Love You" and "Grace" in March, KCM will produce music videos for his album's 14 songs by May, including "I Am," for which he wrote the music and lyrics, and "Conditions of Love," which he sang with Zia.
==================================
Look forward to Seo Taiji making a comeback with his 8th album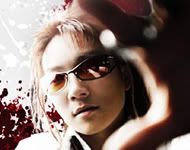 Source: http://www.arirang.co.kr/
Picture: http://www.naver.com
Singer/producer Seo Taiji is slated to release his 8th album during the first half of this year – in May, at the latest. His comeback started gaining visibility at the end of last year, through a concert commemorating 15 years since Seo Taiji's debut, and continued with a vehicle commercial earlier this year. Recent commercial footage shows the artist being confident about his 8th album, calling it pretty great. Seo Taiji has donated the clothes and props from the commercial to a charity auction. He's received bids for a bracelet going for $900 and a T-shirt costing $227.
==================================
Ha Risu to Publish Essay Collection in Japan
Date: March, 06 2008
Source: http://world.kbs.co.kr/
Entertainer Ha Risu, who was recently admitted to Jangan University's Entertainment Department with her husband Mickey Jung, will publish her collection of essays entitled 'Ha Risu Beauty' in Japan in late March.
The essay collection is a comprehensive guide to beauty, diet and fashion and contains photos of Ha shot by Japanese photographer Yamagishi Shin, who visited Korea in December last year.
Yamagishi said he was fascinated by her determination to pursue her desires. He said the four-day photo shoot with Ha in Seoul was a hectic experience but that he thoroughly enjoyed himself.
Fans of Ha are already excited about the pending release of her essay collection and have been leaving messages of support on her online fanclub.
Ha will release her sixth studio album in Korea in May and go on to release her autobiography in Japan in June.
==================================
Idols turned models
Date: March, 05 2008
Source: http://www.koreatimes.co.kr / Courtesy of Elle Korea
Five members of popular idol group Super Junior will appear in a fashion spread in the March issue of Elle Korea magazine. Super Junior members Si-won, Donghae, Han-geng, Lee-teuk and Ki-bum ditched their boyish image for a more manly look for the high fashion photo shoot. The March issue of Elle Korea magazine also features an interview with Super Junior.
==================================
Ryu Si-won Commended by Ministry of Finance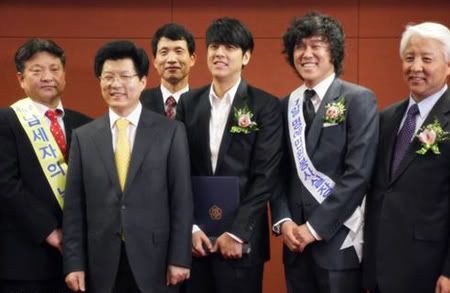 Date: March, 04 2008
Source: http://world.kbs.co.kr/
Singer and actor Ryu Si-won received an award from the Ministry of Finance on the 42nd National Taxpayer's Day. The award was in recognition of the actor as a model tax-paying citizen by the Seongdong district tax office.
On National Taxpayer's Day last year, Ryu Si-won was appointed as honorable section chief for the day at the Seongdong district tax office, where he received hands-on experience. Ryu announced that he was happy to have received an award this year and "proud to be a tax-paying citizen."
His management agency, RS Company, stated, "Ryu Si-won is admired by fans across Asia and he was commended for showing responsibility as a national taxpayer through all his work abroad."
How does this article make you feel?