Music news
featuring artists & events: Memorable concert for late composer Lee Young-hoon, Im Hyun Jung, Jang Yoon Jung, AhnJae Wook, Shinhwa, Hangeng (Super Junior)
Super Junior Hangeng Most Stylish Star in China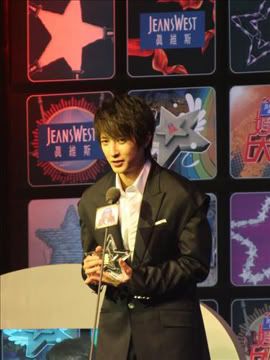 Date: April 1, 2008
Source: http://english.kbs.co.kr
Hangeng, a member of the popular idol group Super Junior, has been chosen as the most stylish star in China.
According to Super Junior's management agency, SM Entertainment, Hangeng received the Most Stylish Male Artist Award at the '2007 Entertainment Awards' held in Beijing on March 30. He also announced the recipient of the Best New Artist Award.
Upon receiving the award, Hangeng said he would like to share the honor with his staff members and fans. He also promised to keep up his style for his fans.
During the ceremony, female Chinese artist Zhang Liyin, a member of SM Entertainment who debuted in China in late Feruary, performed her dance number 'One More Try.' The upbeat number cheers on the 2008 Beijing Olympics and has been getting a favorable response.
The annual ceremony hands out awards to artists and production companies in seven different categories: film, drama, music, fashion, theater, charity and special service. Top Chinese celebrities, including actress Zhao Wei and singer Alan Tam, attended the event.
=================================
Fans Give Shinhwa Members Surprise Gift
Date: March 31, 2008
Source: http://english.kbs.co.kr
'Shinhwa Must Go On 10th Anniversary Live,' a special concert marking the 10th anniversary of Shinhwa's debut, was held at the Fencing Stadium at the Seoul Olympic Park.
After the three-and-an-half-hour performance, including encore numbers, Shinhwa members got ready to step off the stage when a large screen installed on the stage began showing a video interview of close friends of Shinhwa who had shared the ups and downs with the members during the past ten years.
Shinhwa members, who were completely taken off-guard by the surprise video screening, sat on the stage and watched the video. Deeply touched by the words of their closest friends, members openly shed tears.
The group was then presented with a cake with a single candle in the shape of the number ten. Fans and Shinhwa, all moved to tears, sang 'happy birthday' together.
The concert will be the last performance for Shinhwa members for the next three years as members Eric and Kim Dong-wan will soon begin their military services. The event was a memorable and touching affair for Shinhwa members, their fans and members of the group's management company.
=================================
12,000 Fans attend Ahn Jae-wook's Concert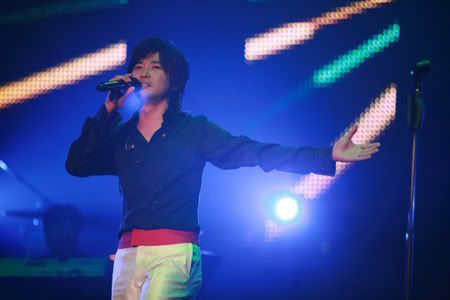 Date: March 31, 2008
Source: http://english.kbs.co.kr
Singer Ahn Jae-wook, who made his official debut in Japan in front of 3,500 fans at the NKH Hall on March 31, 2006, held a series of other concerts later that year in Osaka and Tokyo. Ahn also performed in four major cities in Japan in June 2007, including Yokohama, Sapporo and Nagoya, and personally met his fans later at the biggest concert hall in Japan. Ten thousand fans flocked to the Tokyo concert but even more fans gathered at this 2007 concert.
The concert was a celebration of the release of his single albums in Korea and Japan. In Korea, the album was released under the title 'To My Love' and in Japan, 'To You.' The album contained three songs: the title track 'Is This the End,' 'Goodbye' and 'She Is.' Ahn performed 'Goodbye' in Japanese specifically for his Japanese fans. The artist had previously released his best album in Japan.
Yiishima, who attended both the 2006 and 2007 concerts, said she is a ardent fan of Ahn, whom she says is a wonderful actor and singer. The self-professed long-time fan also expressed her excitement over Ahn's brand new drama series entitled 'I Love You.'
=================================
Singer Jang Yoon-jung Moonlights as Reporter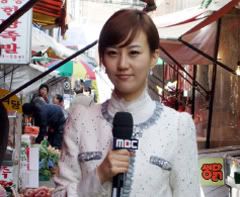 Date: March 28, 2008
Source: http://world.kbs.co.kr/
Singer Jang Yoon-jung appeared on Thursday's "News Desk" on MBC as an honorary reporter. This was the first time that an entertainer debuted as a reporter on a main news program.
Jang's first assignment was to interview the wives of former presidential candidate Chung Dong-young and Hyundai scion Chung Mong-joon, the two parliamentary election candidates representing the most competitive district in Seoul. Jang reportedly came up with the interview questions herself. The interview went on without a hitch, but Jang was surrounded by her fans while interviewing the candidates' wives on the street.
Following Jang as honorary reporters for the new corner "Election from My Point of View" of "News Desk" will be singers Insooni and Wonder Girls and musical actress Park Hae-mi.
=================================
Im Hyun-jung Helps Ahn Jae-wook's K-Pop Comeback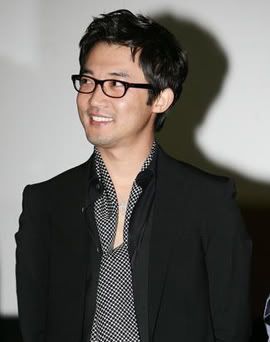 Date: March 28, 2008
Source: http://english.kbs.co.kr
Singer Im Hyun-jung showed her loyalty to friends by helping with the production of Ahn Jae-wook's comeback album.
In 2006, Ahn had been featured in "The Enticing Scent of Love," the title track to Im's 5th album, and when he asked her to help with the production of his album two years later, she postponed her plans to study abroad in the U.S.A. to work with him.
Im not only composed and wrote the lyrics for Ahn's "Is it Good-bye," "Farewell," and "She," the singer also sang in the chorus.
Ahn's mini-album will be released on April 1st. "Is it Good-bye" is his title track, a medium tempo ballad infused with the classic feel of a string quartet. Other songs include the poetic "Farewell" and the rock piece "She" with string instrumentals.
Along with his return to the K-pop stage, Ahn will also star in the TV drama "I Love You."
The singer will be performing live at the Saitama Arena in Japan tomorrow.
=================================
Memorial Concert for the Late Composer Held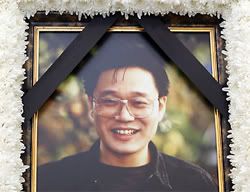 Date: March 28, 2008
Source: http://world.kbs.co.kr/
A memorial concert for noted composer Lee Young-hoon took place Thursday night at the Sejong Center in Seoul. Lee passed away on February 14th after a battle with cancer.
For two hours Lee's closest friends put on an unforgettable tribute for Korea's most reputed composer. Such star musicians as Lee Seung-hwan, Kim Jang-hoon, Sung Si-kyung, SG Wannabe, Bubble Sisters, Noh Young-shim, JK Kim Dong-wook, as well as actor Ahn Sung-ki and classical singer Park In-soo took part in the tribute concert.
But the most distinguished participant was Lee's longtime friend and colleague Lee Moon-se. He sang his timeless hit "I Don't Know Yet," composed by Lee Young-hoon, and said that he sang 90% of composer Lee's songs and the only way to keep the memory of Lee Young-hoon alive was for him to continue on singing his songs. Lee Moon-se broke into tears as he sang the concert's title song "Gwanghwamun Love Song."
How does this article make you feel?