Tribute to Turtleman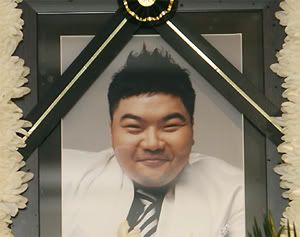 Profile.
Stage Name: Turtleman
Real Name: Im Sung Hoon
Hobbies: Driving, Games, Cooking
Date of Birth: September 03, 1970
Date of Death: April 02, 2008
September 03, 1970- April 02, 2008
Our artist of the week feature this week is a tribute to Turtleman, the heart and soul of co-ed trio Turtles, who passed away on April 2, 2008.
On April 2, Turtleman was found dead due to a heart attack during his sleep. His manager discovered him dead around 2.30 pm in his home in Kumho-dong, Seoul, when the manager went to pick him up for a schedule. Autopsy results suggested that he had been dead for five to six hours. Turtleman's death was a surprise to many since he was active and a good sunbae to all the juniors that came in. Many celebrities of the Kpop world attended his funeral, which showed he was loved by everyone.
Turtleman was part of a three-member hip hop group, Turtles, that consisted of him, female rapper Z-E and a female lead vocalist, Su Bin. The band debuted back in 2001 and caught the attention of the public with their first hit "Four Seasons", which was a remake of a traditional Korean folk song into their hip-hop style. This propelled them into the limelight and they gained much love from listeners of all age groups.
There was a change in membership for Turtles' second album, with Geum Bi replacing Su Bin, and the group also changed to a more pop-oriented approach to their music, and their energetic and cheerful music with catchy, sing-a-long melodies was well-accepted by the listeners. They scored their 1st top 10 hit with "Come On" at the end of 2003. In 2004, Turtles released their third album, with Turtleman and Z-E participating more in the vocal aspects and less rapping. The change was successful and the album produced two top-10 hits – "얼마나" and "Bingo". The members also became well known for singing live every time on stage.
Unfortunately, in April 2005, Turtleman collapsed after complaining of chest pains and difficulty in breathing. He had to undergo emergency heart surgery and was discharged after a month-long stay in hospital, but had to have surgery again in October that year. After a period of much-needed rest, he returned to help Turtles push out their fourth album, and their title song "비행기" (Aeroplanes) was a big hit with listeners and topped the KBS chart in September 2006. The group also won the grand prize at the Seoul Music Awards that year. And after a highly publicised feud with their former management company, Turtles managed to come back in 2008 with their fifth album, "Really Leaving", all thanks to the entrepreneurial skills of Turtleman, who'd set up his own entertainment business so that the album could be released. The lively title track, 싱랄라 (Sing La-La), is a Euro-style dance number with simple yet powerful beats that immediately captivate listeners.
Sadly, Turtleman will no longer be able to share his musical talents with us, and his passing has left a deep void in the Korean music industry. Soompi offers its deepest condolences to his family, friends and fans of the group. May Turtleman rest in peace and he will always be fondly remembered as a talented musician and wonderful person.
Discography
Turtles Vol. 1 (2001) Go Boogie – Four Seasons, Let's Go Boogie, 사랑하는 그대여, 순한 사랑
Turtles Vol. 2 (2003) – Come On, 왜이래
Turtles Vol. 3 (2004) – 얼마나, Bingo
Turtles Vol. 4 (2006) Buy a Turtle – Aeroplanes, Turtles Free 4-1, Remember Me
Turtles Best (2006) The Land of Turtles (Compilation album)
Turtles Vol. 5 (2008) Really Leaving – 싱랄라 (Sing La-La), My Name, Ggakajuseyo, Logo Song Collection
Credits: KBS World, xsimply juicy, edward1849, Aziraphale, yesasia for album images