Music news
featuring artists: Yurisangja (Glass box), Paran, Big Bang, Se7eN, "2008 Love Song" album, Jang Nara.
Jang Nara carried Olympic torch in Seoul and sings Olympics D-100 Theme Song with Asian Stars
Date: April 28, 2008
Source: http://english.kbs.co.kr/
Jang Nara participated in the special song entitled "Beijing welcomes you" – the special song to celebrate the 100th day leading to the opening ceremony of Summer Olympics 2008 in Beijing.
100 celebrities from China, Taiwan and Korea took part in the song and Jang was the only Korean singer. There were also Jackie Chan, Karen Mok, Nicholas Tse and Wang Lee Hom. The music video will be out on the eve of D-100 on April 30. On that day Jang will visit Beijing to celebrate this event.
Recently Jang Nara released her 6th album named "Dream of Asia" throughout Asian countries: Korea, China, Hong Kong, Taiwan, Malaysia, Singapore and Japan. In this album Jang Nara is singing not only in Korean, but in Japanese, Mandarin and Cantonese.
From the latest news, she also carried the Olympic torch in Seoul from the Jongno area on the afternoon of April 27. The Olympic flame was carried through 80 districts in Seoul by 80 citizens, including celebrities (Rain and Bada also took part in the run). Its last arrival was at Seoul City Plaza at 7:00 p.m. The torch left for the North Korean capital Pyeongyang at 11:00 p.m. Sunday.
========================================
"2008 Love Song" receives $5 million love calls from Japan
(Temporary image is not available)
Date: April 28, 2008
Source: http://www.arirang.co.kr/
Japanese business is having interest in the album "2008 Love song". This album is planned as a follow-up to the compilation album "Love song" which had top star Lee Mi Yeon as its front page model was released in 2001 and sold 2 million copies.
Big stars such as Song Seung Hoon, Park Yong Ha, Lee Yeon Hee, Ha Suk Jin and Lee Sung Min will participate in the said album. More than that K-1 fighter Cho Sung Hoon is also planning to sing the song "One love" of Park Sang Min. "2008 Love song" will contain around 70 R&B songs released between 2004 and 2008. Japanese businesses are proposing $5 million for a music video DVD starring Song Seung Heon and Park Yong Ha, album circulation and a large scale concert
========================================
Seven to Hold Hollywood Preview Party Before U.S. Debut
Date: April 24, 2008
Source: http://english.kbs.co.kr/
Seven will perform 3 songs live before his official debut in the U.S
In March, Seven held a preview party in the Hiro Ballroom of the Maritime Hotel in New York. Three songs of his first album were played by the DJ at the party. But in the next party at Highlands, a famous nightclub in Hollywood, LA on May 2, he will perform the songs live on stage with his backup dancers. Seven will be personally introduced by "Darkchild" Rodney Jerkins who is a renowned American music producer and also produced the song "Girls" in Seven's album.
Yang Hyun-suk, president of YG Entertainment and the YG staff will leave for Los Angeles on May 1 to attend Seven's preview party. According to the press, a number of famous musicians from the U.S pop music industry have been invited to the event. U.S mobile communications company Verizon will also take part in the party as Seven's official sponsor.
======================================
5,000 Thai Fans Gather to Meet Big Bang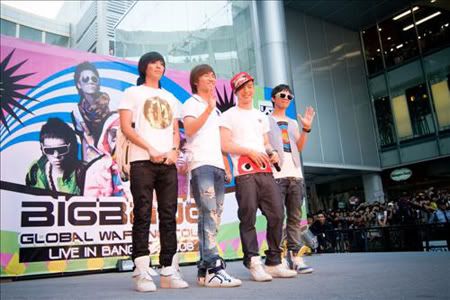 Date: April 23, 2008
Source: http://english.kbs.co.kr/
Big Bang had a successful press conference in Thailand.
The group visited Bangkok, Thailand to promote the live album of their Great Concert. They had a press conference and signed autographs for 300 local fans at special outdoor stage of Bangkok's Siam Tower.
According to YG Entertainment – Big Bang's management agency, despite of the heat, more than 5000 fans gathered to greet and meet them. Also over one hundred press personnel presented at the event.
Even though it is only nearly a year since the group released its album in Thailand, number of their songs, like "Dirty Cash", "Lies", "Always" and "Last goodbye" topped Thai MTV's international charts.
Meanwhile, Big Bang is having their first national tour in 2008 titled "Global Warning Tour" from April to June.
=====================================
Paran Concerts Requested by 9 Asian Nations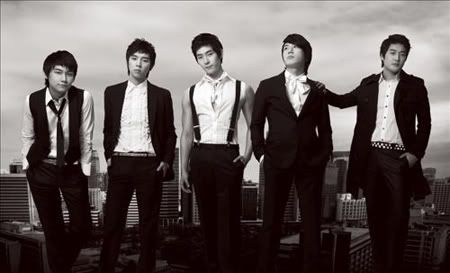 Date: April 18, 2008
Source: http://english.kbs.co.kr/
Paran – the male quintet is in a dilemma between working in Korea and abroad. Recently Paran is back to Korea with their third album "Don't cry" after a two-year hiatus. According to Paran's entertainment agency NH Media, with this new album they are planning to concentrate on activities in the homeland and hope to hold a concert to coincide with their comeback.
But right after their release, requests for overseas concerts from Thailand, Japan, China, Taiwan, Mongolia, Laos, Cambodia, Indonesia and Malaysia have been given out. So far, only concert dates for Japan (May 25) and Thailand (June 8) have been set. They are still considering the request from Mongolia because "the concert will be a national event", NH media representative stated.
========================================
Glass Box Marks Belated 10th Anniversary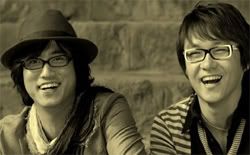 Date: April 15, 2008
Source: http://world.kbs.co.kr/
One of the longest duo of Korean music Glass Box (Yurisangja) has just celebrated their 10th anniversary by releasing their 10th album titled "10th and the Best". The duo debuted in 1997 but last August Park Seung-hwa got into a terrible motorcycle accident. Still, they released a digital single and had warm concerts with fans during Christmas last year.
Like the title states, their latest album, composed of two CDs and 30 songs, contains their biggest hits, like "To the bride", "Can I love you" and "If you ask me" as well as new songs. There are also songs the members sang as solos before they were Yurisangja. The title song of this album is "Honey moon" – an upbeat and light-hearted song dedicated to all newlyweds.
They mentioned that their dreams which are being steady-selling duo and sing live in front of sold-out crowds have been fulfilled thanks to their fans. And they also vowed to continue singing for 20 or 30 more years.
How does this article make you feel?