Album Review Biuret – Dreams Come True
Biuret Vol. 2 – Dreams Come True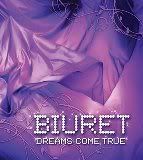 Tracklist
01 하루는
02 행복해
03 Dreams Come True
04 눈물과 고통과 무기력의 시간
05 If I Have
06 New Found Glory
07 No Pain No Gain
08 I Can't Stop Loving U
09 그레텔
10 잠자는 숲속의 공주
11 Diamond
Biuret, having performed over 600 times since the debut 2002, has just released their second album "Dreams Come True". The album opens up with the first track "Haruneun", a nice rock melody. Following that is "I'm Happy" with Jae Hyun's voice to compliment the song well. The beat is a light drum and guitar work that follows with a mesmerizing tune. The title track "Dreams Come True" is a playful rock song that is pleasant to hear, especially live.  "눈물과 고통과 무기력의 시간", track 4, is a slower song compared to the first three. It nicely showcases the voices well and is one of the best tracks from the album.

Even though the English tracks have very simple lyrics, the music itself was so much more beautiful than it already is. Although it's not considered a duet, if it were I would have to say that it would be one of the best duets I've heard. The voices blended perfectly, creating a wonderful track for the album. Most of the songs are upbeat with some great tunes. Overall, the album is great with strong songs that varies here and there throughout. It's a must listen, so hurry and add it to your music collection. You wouldn't want to miss it.
5/5
5/5 – Even if you're not a fan of this artist/group this album is a must buy.
4/5 – If you're a fan of this artist/group, you must buy this album.
3/5 – If you're a fan of this artist/group, you might want to add this one to your collection.
2/5 – Only a fan would buy this.
1/5 – Even a fan might be disappointed.