Album Review Seoul Electric Band – Life Is Strange
Seoul Electric Band Vol. 2 – Life Is Strange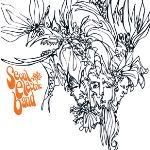 01 . 고양이의 고향노래
02 . 종소리
03 . 언제나 오늘에
04 . 따라가면 좋겠네
05 . 서울의 봄
06 . 나무랄 데 없는 나무
07 . 중독
08 . 섬
09 . 서로 다른
10 . 꿈속에서
11 . 라이프 이즈 스트레인지
12 . Unknown Track
Seoul Electric Band feels like 70's or 80's American hippie music at first, from the album cover to the music itself. Listening and understanding the lyrics is important to appreciate the music. The sound of the beating drums and the electronic music expresses the modern rock feel of the album. The tracks are somewhat upbeat and cheery songs that greatly illustrates the music behind the singing. It was a nice listen but I have to say it kind of bored me out throughout most of the album.
The tracks that kept me interested would have to be Track 6 "나무랄 데 없는 나무" and track 8 "섬". Track 6 is a very delightful song to listen to and might be my favorite from the album. Track 8 is a slow easy flowing song that is pretty nice to listen to, but clocks in at a whopping 6:23. The non-vocal part of the song is completely enjoyable.  Following "섬" is another similar song "서로 다른", which is 7:44 in length but also a nice listen. It is more upbeat and lively making it a pleasurable song. The rest of the album are like instrumental tracks, somewhat uninteresting yet possessing a nice feel, especially the last track "라이프 이즈 스트레인지", which seems like it tells story of its own without lyrics.
2/5
5/5 – Even if you're not a fan of this artist/group this album is a must buy.
4/5 – If you're a fan of this artist/group, you must buy this album.
3/5 – If you're a fan of this artist/group, you might want to add this one to your collection.
2/5 – Only a fan would buy this.
1/5 – Even a fan might be disappointed.