Dream Concert and other charitable ways
featuring artists and events: Dream Concert, Kim Jang Hoon, Korean celebrities take part in helping the victims of the recent earthquake in China, Voiture (Korean Acappella group), SHINee (new group).
14th Annual Dream Concert to be Staged June 7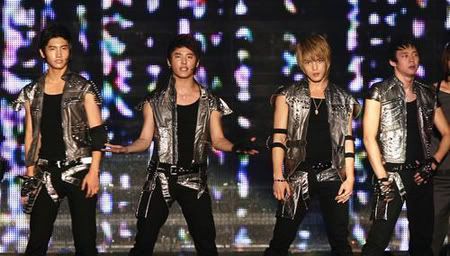 Source: http://english.kbs.co.kr/
The Korea Entertainment Producers' Association and SBS will jointly host the 'I Love You, Korea! 2008 Dream Concert' on June 7 at the Jamsil Olympic Main Stadium in Seoul.
On this 14th go, top idol groups like TVXQ, SS501, Epik High, Super Junior (with the debut of Super Junior-Happy), MC Mong, Jewelry, Maya, Wonder Girls and Girls' Generation have been invited to perform. K-1 fighter Choo Sung-hoon will also make a special guest appearance.
The concept for this year "Dream concert" is to promote a campaign against illegal music downloading.
Over the past 13 years, Korea's top musicians, including the Taiji Boys, H.O.T., Shechskies, Shinhwa, G.O.D and Rain have taken part in the concert. For more information on the concert, visit http://www.gmarket.com or http://www.pandora.tv.
For the help of watching or artist talk related, visit Dream Concert soompi thread
===================================
Kim Jang-hoon Donates 15 Million Won to North Korean Children
Sources: http://english.kbs.co.kr/ http://english.chosun.com/ and http://www.arirang.co.kr/
Kim Jang Hoon is known for his charitable activities and recently on the night of the 26th, along with his performance, Kim has pledged 15 million won as a donation at the "Crossing" Special Movie Concert. The donation was given to an organization that aids the children of North Korea. "Crossing" (premiere on May 26) is a movie about a North Korean escapee and his son. In this film starring Cha In-pyo and Kim said that he was deeply moved by all the community service that Cha and his wife has been involved in and he wanted to help.
Kim also speaks out his opinions in other public events like performing at the inauguration of President (last February) or singing for beef protestors in the late half of May. Kim's latest digital single "Shower" is currently moving up on the chart.
Lately Kim Jang Hoon's "One Man Show" tour bus was exhibited at Busan International Motor Show and gathered a lot of attention. This bus was specially designed to meet the needs of the staff of his show that is staged 300 times during a period of two years. The bus has been remodeled inside and out by Kim himself to accommodate facilities such as a conference table, couches and beds. Kim Jang-hoon's picture and the "One Man Show" logo is painted on the outside. This eye-catching bus came to be on display at the motor show at the request of the bus manufacturer.
===================================
Jang Nara Donates Money and visits China to Help Earthquake Victims in China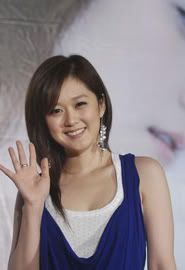 Sources: http://english.kbs.co.kr/ and http://english.kbs.co.kr/
Through the same charity organization that Jang Nara helped Leukemia patients in the past, this time Jang donated 150 000 dollars for the rescue of disaster victims and the restoration of Sichuan Province, China.
Moreover Jang also flied to Chengdu, provincial capital of Sichuan, to deliver relief aids. Jang will donate 274,000 yuan (about $47,000) collected by her fan club for the construction of the Jang Nara Hope School, and deliver clothes, medicine and other relief goods worth $120,000 from the Korea Food for the Hungry International, where Jang is an honorary PR ambassador.
Also Jang will leave for Southeast Asian countries, including Malaysia, Singapore to promote her latest album and she performed in Vietnam (June 01) for a music festival. Jang is considering accepting a film role once she gets back from her promotional tour.
===================================
Kan Mi-youn Record Song for China Quake Victims
Source: http://english.kbs.co.kr/
Kan Mi Youn (ex-member of Baby V.O.X) and Yoo Seung Jun recently recorded the song "Acceptance" with top Chinese celerities (Liu Yifei and Fan Bingbing) to console the victims of the devastating earthquake in Sechuan Province, China. This song is directed by Jackie Chan.
Before taking part in this song, Kan also performed in a benefit concert for the victims organized by Beijing's central radio broadcasting company.
===================================

Korean Stars Sing to Deliver Message of Hope to Quake Victims
Sources: http://world.kbs.co.kr/ and http://world.kbs.co.kr/
On May 29 at a studio in Samseongdong, Seoul, the song "I love Asia" was recorded with the aim to help out the victims of the recent earthquake in China as well as to express hope that Asia will unite to help all those in need in times of crisis.
The recording of the song "I love Asia" was led by Park Jin Young and was joint by over 30 Korean celebraties included singer/producer Park Jin-young, Jo Sung Mo, Ku Jun-yeop, Chae Yeon, Wonder Girls, Kim Dong-wan of Shinhwa, SHINee, Horan and Alex from Clazziquai, Brown Eyed Girls, Joo, Battle skating champion Kim Yu-na, actress Kim Ah-jung, Han Hye Jin, Jeon Hye-bin, actor Park Yong-ha, Yoo Seung-ho and Hong
Kong movie star Jackie Chan.
The song will be distributed around Asia via the Internet, DVD and music video. The song will also be performed in front of a live Chinese audience.
===================================
Korean Acappella Group Wins 2008 IOC Singing Contest
Source: http://english.kbs.co.kr/
Voiture, Korea's very own mixed acappella group, was honored with the grand prize at the 2008 IOC Sport & Singing Contest organized by the International Olympic Committee (IOC).
Voiture with the song "Jigeum Uriga" took the number one spot at the Korean preliminaries that was organized by the Korean Olympic Committee on March 29 and went on to compete with songs from 27 countries around the world in the finals. And on May 16, in Switzerland, at the IOC headquarters they were announced as the winner of this year's contest. The prize money was 15 000 dollars.
"Jigeum Uriga" is about athletes who, through hard work, achieve their lifelong dreams. This song will officially be introduced at the IOC General Amssemly slated for August.
The IOC Sport & Singing Contest has been organized to honor the spirit of the ancient Olympic games, which also featured art and music contests. This year Columbia got the second place while Africa took the third spot.

Voiture – in the harmony (http://www.youtube.com/watch?v=pZ3gqoVkG1s)
===================================
New Idol Band SHINee Makes Debut Appearance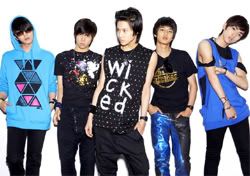 Sources: http://world.kbs.co.kr/ and SHINee's soompi thread
One of the most popular powerful company in the showbiz, SM Entertainment has unveiled another pretty boyband. The group is made of five middle and high school boys: JongHyun, Minho, TaeMin, Onyu and Key. Their group name is SHINee which means "people being shined on". According to SM Entertainment, SHINee is called a contemporary band, so termed to lead the contemporary trends in music, dance and fashion. Ha Sang Baek – a famous fashion designer is in charge of SHINee's customs.
SHINee has released their first single "You are too pretty" including the title track with the same name and other 4 songs with R&B melody. They also performed at Mnet M!Countdown and Inkigayo last week and got a lot of positive comments with their dancing and singing skills. Fans are awaiting for their first big stage performance this Saturday at the Dream Concert.
How does this article make you feel?