Under The Radar : Choi Jung Chul
The definition of "radar" is a method of detecting distant objects and determining their position or other characteristics by analysis (of very high frequency radio waves reflected from their surfaces). In this case, "Under The Radar" means Korean artistes who are distant and not really well known. To be able to fit into this 'category' they should be underrated and at times unnoticed by the rest of Korean music listeners. After careful research, we have picked the first "Under The Radar" Korean artiste and it is:
Choi Jung Chul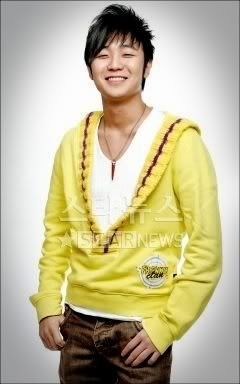 Profile
Real name : Choi Jung-chul 최정철 , known mostly as Jung Chul(정철).
Date of birth : March 2nd, 1984
Physique : 175cm, 65kg
Blood type : A
Hobbies : Snow-boarding, water sports, sending text messages on cell phones, listening to music
Favorite color : White
Education : Dept. of Digital Mass Media, Kyunggi University
Debut:
Group – 2002 년 QOQ 1집 앨범 [Like A Movie]
Solo – 2003 년 1집 앨범 [Now & Forever]
Special Skill: Boat Riding
Dream Boat: Lively and cute style
Motto: Try to live well
Favorite Sport: Water Sports
Favorite Musician: Michael Jackson
Career History:
2003 – "Sang Doo Let's Go To School" OST – "My Love"
Family Relationship:
Mother is Nami (famous 80's-90's Korean singer)
Jung Chul's cyworld: www.cyworld.com/cjc8432
Daum Cafe: http://cafe.daum.net/ijungchul
BIOGRAPHY
Jung Chul did not debut as a soloist. He was actually part of a group, "Q.Q.Q.". Jung Chul debuted at the age of 19 with the song "Now and Forever". Unlike his young and smart appearance, his music bears heavy volume with his grave tone. Rarely for a newcomer, all of Jung Chul's recording works for his debut album were done at the Studio Valley in Los Angeles, California. Jung Chul's type of music can be categorized as pop ballad. In a calm and strongly appealing voice, Jung Chul sang about love, friendship and good-byes in his album. He made himself more well-known among pop music fans by participating in the OST of the television drama 'Sangdoo, Let's Go To School', starring Rain. Jung Chul's song, "My Love", featured in the drama and gained good response from viewers and listeners. In March 2005, Jung Chul released his second official album entitled 'Hear'. This time, Jung Chul presented himself with a simpler and drier voice than in his debut album in which he added more techniques. Separating himself from soul music, the major trend of local pop music, Jung Chul focused on a masculine and rough way of singing, strictly avoiding decorative elements in voice like vibrations. Jung Chul is the son of Nami, one of the top female Korean singers in the late 1980s and '90s. And is that a good thing? As for Jung Chul, not as much as one would expect.
In his third album, Jung Chul went back to using his surname, Choi. However, in the third album "Identity", there is a deeper significance to the name change. In his own declaration of independence, Choi Jung Chul now stands tall after many painstaking years of struggling to find his footing as a singer, overshadowed by his famous mother Nami's colorful achievement in Korean music history. He had a name to live up to and being Nami's son could have pushed him to the extremes. However, he showed that he cannot only measure up to the expectations thrown upon him, but to go a step further in establishing himself as a young, talented artiste. Using his own full name assures listeners, viewers and fans his confidence in his music as well as in himself. His trademarks are delicate melodies and superb voice, which have been demonstrated many times in his albums.
Each and every song brings out Jung Chul's true self and his passion for his singing. In my personal opinion, I do not know how a person can become a singer with such huge expectations or even a burden of becoming a wonderful singer weighing on his shoulders. But that is the whole point, isn't it? A person can only expect so much. Along with that, a person can only put himself down if he believes he does not have what it takes to become what he wants to become. Jung Chul has chosen to become himself. Not as Nami's son but as Choi Jung Chul. Sure, most of us may not even know who Nami is, but what really matters is that Jung Chul, of all people, has publicized the truth of finding his identity and has made me, at least, realize how important doing what we love can be. Not what others expect or want of us but to just be our true selves.
It is an honor to be able to write such thoughts about Jung Chul. When people first hear his music, they will become mesmerized by his talented vocals. But knowing this information about finding his identity, some people may doubt Jung Chul's passion for music. However, it makes me feel even more determined to listen to that raspy voice of his. An intelligent singer with great talent, let us all welcome Jung Chul as our first "Under The Radar" artiste.
DISCOGRAPHY:
Q.O.Q – This Is Q.O.Q. First Album
Release Date: March 27, 2002
01 바보 …
02 바보와 바다
03 떠나가라
04 Good Day
05 Not Me
06 알리바바
07 트리플의 법칙
08 나쁜여자
09 얼렐렐레 애들 왜이래?
10 Jump
11 배신
12 Kill My Girl Friend
13 No No
14 주의
15 누나가 좋아
16 Oh! 자유
17 와라
18 떠나가라 (Crying Ver.)
Now And Forever Vol.1
Release Date: August 14, 2003

01 Now and Forever
02 Sponge
03 All I Want
04 Sesang Sokuro
05 Ap'un Irum
06 Bigawa
07 Las Vegas
08 Dashi Sijakhae
09 Naega Itulke
10 Heoshidon Nal
11 Now & Forever [English].mp3
It rains (special single) 1.5
Release Date: March 15, 2004


01 – Bigawa
02 – Seulpeun Innyeon
03 – Geudaereul Wonhae (All I Want)
04 – Bigawa (MR)
05 – Seulpeun Innyeon (MR)
Listen (Hear) Vol.2
Release Date: March 5, 2005

Purchase This Album
01 A Man of Conviction
02.욕심
03 Something
04.지독한사랑
05. 쓴매
06 Could u be
07 The Music Still Goes on
08.WOW
09 One
10.아픈 이름 Angel
11.특별한 너
12.현기증
13 ya veremos' (we'll see) (Instumental)
14.욕심 Instrumental
If I Could Singles
Release Date: January 4, 2007


01. If I Could
02. If I Could(english)
Jung Chul And Jo PD-The Return Of The Prodigal Son – 돌아온 탕아
Release Date: September 21, 2007

01.초심으01.초심으
02.위대한 연인
03.초심으로 (Extended Ver.)

Choi Jung Chul- Identity Vol.3
Release Date: October 14, 2007


Purchase This Album
01.사랑은 왜 해
02.사랑은 외롭다 (Intro)
03.사랑은 외롭다
04.초심으로 (Radio edit) (feat. Jo PD)
05.위대한 여인 (feat. Jo PD)
06.My love II
07.If I could
08.I believe
09.잠시라도
10.넌 참 좋은 사람
11.초심으로 (Extended version)
Jung Chul – Marriage
Release Date: June 24, 2008

01 나만은 그대만…
02 결혼 (Feat. Ga In from Brown Eyed Girls)
03 그건 사랑
04 결혼 (Feat. Ha Eun Jung)
Music Videos:
If I Could MV ft. Nami
사랑은 왜 해 (Why Do We Love?) MV
결혼 (Marriage) MV
Bigawa 비가와 (It Rains)
My Love "Sang Doo Let's Go To School" OST
Jung Chul – One MV

Official Thread
https://www.soompi.com/forums/index.php?showtopic=62417
Credits: last.fm+ Asianload Forums + Dictionary.com + Google Translator + Z-degrees + Yesasia + KBS World + Mardi09