Under The Radar : Soul Star
The definition of "radar" is a method of detecting distant objects and determining their position or other characteristics by analysis (of very high frequency radio waves reflected from their surfaces). In this case, "Under The Radar" means Korean artistes who are distant and not really well known. To be able to fit into this 'category' they should be underrated and at times unnoticed by the rest of Korean music listeners. March is a longer month, therefore I have the opportunity to choose two artistes and the first of them is Soulstar, a Korean R&B group.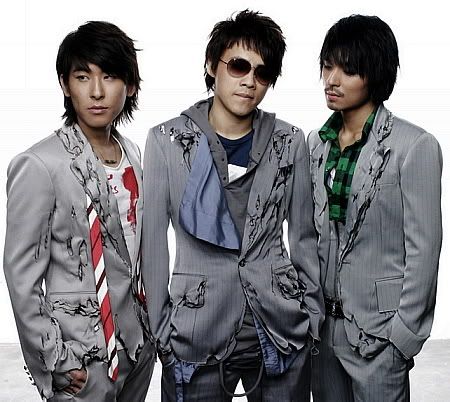 Profile:
Real Name : Lee Chang Geun (이창근)
Birthdate: August 15, 1978 (1978-08-15) (age 30)
Position: Vocalist
Real Name: Lee Seung Woo (이승우)
Birthdate: September 30, 1981 (1981-09-30) (age 27)
Position: Vocalist
Real Name: Lee Kyu Hoon (이규훈)
Birthdate: February 1, 1985 (1985-02-01) (age 24)
Position: Vocalist
Biography:
Soul Star were the first group in 2005 to debut from YG. Yang Hyun Suk highly spoke of Soul Star to become 'the best R&B group ever to exist in Korea.' Among the three members, Lee Chang Geun and Lee Seung Woo had worked together as an acapella group named WIZ, and so their names are well known to the R&B fans in Korea. Lee Chang Geun has high-toned vocal skill that is high enough to sing the songs of his favorite female singer Ann; jazz lover Lee Seung Woo has a mesmerizing bass vocal and is also the brother of Big Mama's Lee Ji Young. Lee Kyu Hoon has a deep and appealing vocal is also the team's main vocal. He is also known for his ID 'Wanya' among the Boyz II Men fan community in Korea for his outstanding skills for imitating songs from Boyz II Men albums.

Soul Star are known as the Korean Boys II Men to many music listeners. They have done many covers of Boys II Men's music, such as "I'll Make Love To You", "End of the Road" and "A Song For Mama". As many can already tell, they are heavily influenced by Boys II Men. With their wonderful harmonization and unique R&B sounds, they released an amazing first album titled " Soulstar" under YG Entertainment. However, soon after the release, their contract with YG ended, so they transferred to Sidus HQ and are currently still with Sidus HQ. Under Sidus HQ, they have released two wonderful singles, "First Story" and "When We Say Goodbye", featuring the amazing Baek Ji Young. Some fans lost interest in Soulstar due to the fact that they felt that Soul Star had lost their R&B feel. However, many fans such as myself are still waiting for their comeback with their second album. Many popular singers like TaeYang (Big Bang) and Jessica and Tiffany (SNSD) have covered Soul Star's hit song "Only One For Me". Shinee's Onew and Jonghyun have also covered "I'll Forget You".
To the members of Soul Star, songs are an intimate part of life. Soul Star have said that they are happiest when they can sing without any worries. Their minds can be seen through their debut album that is mainly filled with pretty melodies and bright, beautiful love stories. Memorable songs in the album include the melodious main title song, 'Only one for me', a song that sings the emotions of love; acapella song 'Under your love', which became an instant hit due to its public release on the official website; and funky track 'I like it', which is suitable for clubs. From acapella, hip hop, gospel, to funk, all the songs are true to the R&B/soul formula and are filled with Soul Star's original and distinctive style. Due to its one-year preparation, this album shows high, in-depth qualities. Although all of the three members have distinguishing vocals, their vocals are most charming when they are performing on stage together as one as group named 'Soul Star'.

Discography:

1집 – Soul Star
Released: 2005-05-21


01. Soulstar
02. In My Bed
03. 후유증
04. Only One For Me
05. 3月31日 (내겐 그대 뿐이죠..)
06. I Like It
07. Under Your Love
08. 그런날이 오겠죠..
09. Girls, Girls, Girls
10. 이밤이 깊어가지만
11. 바보
12. Am 2:00
13. My Jesus I Love Thee (Acapella ver.)
First Story
Release Date : 2006-04-25

02 . 그녀를 부탁해요
03 . 잊을래
04 . Under Your Luv (Korean ver.)
05 . 지우개(instrumental)
Second single – When We Say Goodbye
Release Date: 2007-06-25

01 . 우리가 이별할 때 (With 백지영) When We Say Goodbye with Baek Ji Young
02 . 비극 Biguek
03 . 입술
04 . 비극(MR)
Other Works:
Eddie's "Love Song" (1st album Just My Way)
Hwayobi's "10. 맑음 뒤 흐림" (4th Album)
Music Videos:
Only One For Me
Forget You
지우개
When We Say Goodbye ft. Baek Ji Young
Credits to Soulstar's Soompi Thread + Youtube + Wikipedia + Naver + Mardi09
How does this article make you feel?