Album Review The Canvas Vol. 1 – Travel
The Canvas – 1집 여행 (Travel)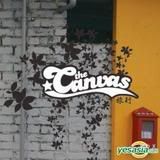 01 . 인공위성
02 . 너와 나의 멜로디
03 . 여행
04 . 시간열차
05 . 이사 하는 날
06 . 나만의 파라다이스
07 . 크리스마스 악몽
08 . To The Canvas
09 . 말없이 바라봐
10 . After Midnight

The album is titled "Travel" and the title suits the album well. You can listen to the songs while traveling, especially on road trips. Some of the tracks are slower and makes a person want to relax while some tracks like "시간열차" are a bit more upbeat and lively. The track listing consists of the usual mellow rock songs you hear from underground bands. The album starts off with a fairly fine song "인공위성" and quickly blends into track 2, "너와 나의 멜로디", an impressive track with comforting vocals to accompany the rhythm of the music. However, none of the tracks were one that could wow you. The best track was probably "너와 나의 멜로디" where it gave off a stronger feel from the rest of the songs following track 3, the title song "여행". Overall, the album has a pleasant feel to it, but it can get weary listening to the full album. Although only ten tracks, it felt like the album was a bit draggy after the first five songs.
2/5
5/5 – Even if you're not a fan of this artist/group this album is a must buy.
4/5 – If you're a fan of this artist/group, you must buy this album.
3/5 – If you're a fan of this artist/group, you might want to add this one to your collection.
2/5 – Only a fan would buy this.
1/5 – Even a fan might be disappointed.