Weekly K-Pop Music Chart 2011 – September Week 3
Since Week 3 of June when Beast's "Fiction" became a two-week champ, every No. 1 song that followed has had the same pattern of being only able to stay on top for two weeks. This trend continues as we get a new No. 1 this week with Davichi's "Don't Say Goodbye". It made a big jump from No. 10 to No. 1 and beat out Sistar's "So Cool" which had been No. 1 for the last two weeks. "Don't Say Goodbye" has a strong showing on all our chart sources, capturing another chart topping hit for Davichi. While the duo was not active for more than a year, they have proved that they are still very popular.
It is again an all-female top three on this week's chart just like in many weeks this year. Sistar's "So Cool" drops to No. 2 while G.na's "Top Girl" remains at No. 3.
A new song will definitely join the female competition in the top three next week and perhaps even have a chance to hit No. 1. It is Kara's long awaited comeback hit "Step", the title song from their third full length of the same name. "Step" debuts at No. 7 this week. This song is written by Kim Seung Soo and Han Jae Ho. The duo has written many of Kara's past hit songs. This sweet number is of the rock and electronic genre and has polished synth sounds. Listeners will be able to hear matured voices of the five members through this song. Kara has been the most successful K-pop artist on our chart over the last two years. and are looking to extend that streak.
The only other new song on the top 10 this week is "Neverland" by U-Kiss, moving up 18 big spots to No. 10. "Neverland" has disco and house beats and it showcases the group members vocal talent one by one. Ryan Jhun, who has worked with big name stars like Lee Hyori, TVXQ, and Super Junior, was in charge of this song.
SOOMPI CHART for 2011, Month 9, Week 3
Rank
Artist
Song
Score
11
Lee Ssang

(-3)

나란 놈은 답은 너다 (Guy Like Me's Answer Is You (feat. Harim))
476
12
T-Ara

(-1)

롤리 폴리 (Roly Poly)
433
13
Miss A

(-6)

Goodbye Baby
405
14
Verbal Jint

(+2)

좋아보여 (You Look Happy (feat. Black Skirts))
395
15
Sung Shi Kyung

(new)

오 나의 여신님 (Oh My Goddess)
340
16
Girl's Day

(+8)

너, 한눈 팔지마! (Don't Let Your Eyes Wander!)
332
17
Seo In Kook

(-2)

Shake It Up
319
18
Koyote

(-5)

Good Good Time
318
19
JYJ

(new)

Get Out
308
20
Nine Muses

(-2)

휘가로 (Figaro)
271
21
Yim Jae Bum

(–)

통증 (Pain)
254
22
Teen Top

(-10)

향수 뿌리지마 (Don't Spray Perfume)
233
23
Park Wan Gyu

(new)

사랑하기 전에는 (Before Love)
224
24
Zi-A

(new)

그대이길 바래요 (Wish It Was You (feat. K.Will))
208
25
Monday Kiz

(new)

너를 처음 만난 그때 (The Time When I First Met You)
203
26
10cm

(-12)

안아줘요 (Give Me A Hug)
193
27
Simon D

(new)

히어로 (Hero)
171
28
4men

(-3)

Love Tonight
168
29
MBLAQ

(-10)

Mona Lisa
165
30
Kim Jun Su

(-10)

You Are So Beautiful
162
31
Park Jung Hyun, So Hyang, Lee Young Hyun

(-14)

Mermaid
152
32
Brave Girls

(-3)

툭하면 (Easily)
151
33
Hwan Hee

(-11)

죽을 것만 같아 (Feels Like Dying)
150
34
Haha

(new)

하와유?? 파인 땡큐!! (How Are You?? Fine Thank You!!)
129
35
Noblesse

(new)

나쁜 남자 쿨한 여자 (Bad Guy Cool Girl)
125
36
JK Kim Dong Wook

(-4)

버킷리스트 (Bucket List)
120
37
Secret

(+4)

별빛 달빛 (Starlight Moonlight)
119
38
Suki

(–)

긴 사랑 (Long Love)
118
39
Homme

(-4)

남자니까 웃는 거야 (Laughing Because I'm A Guy)
113
40
Defconn

(-1)

랩퍼들이 헤어지는 방법 Part.Ⅱ (The Way Rappers Break Up Part.Ⅱ)
108
41
Baek Ji Young

(-5)

오늘도 사랑해 (Love You Today Too)
107
42
Kim Jae Joong

(-9)

지켜줄께 (Will Protect You)
102
43
NS Yoon Ji

(+2)

또 보고 싶어 (Want To See You Again)
100
44
Ha Dong Kyun & Lee Jung

(-10)

기다릴게 (Will Wait)
97
45
Kim Tae Woo

(-19)

사랑에 빠지다 (Falling In Love)
95
46
April Kiss

(new)

Hello Bus
86
47
Jaurim

(-16)

Idol
80
48
Ali

(-5)

밥그릇 (Rice Bowl)
76
49
Sung Hoon (Brown Eyed Soul)

(new)

Fail In Love (feat. E-Sens)
74
50
Bi

(-27)

부산여자 (Busan Woman)
65
BONUS TRACK:
Crayon –    사랑하는 사람이 생겼어요 (Found A Person I Love (with Taewon, Pepper))  
Genre: Pop Ballad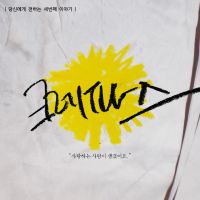 Album: Crayon single "Found A Person I Love" Track 1
Listen To: Full Song
Comment: Crayon's third single, "Found a Person I Love" is of the country pop genre with shuffle rhythms. The simple melody and mainstreams sounds make this the perfect song to sing along to. It was composed and penned by Kim Jong Chun who has written songs for other artists such as Jang Geun Suk. The song is about falling in love at first sight. (credits to motoway065 for translations)
About the Soompi Music Chart:
Soompi Music Chart is unlike any other music charts or television rankings. It takes into account not only sales and rankings by various other charts in Korea, but also airplays of each song, the number of live performances and appearances, making it an unbiased and objective tally of what's going on in the world of K-pop. Our chart is composed of the following sources:
Air Monitor Chart – 15%
GAON Music Chart – 15%
Various Internet charts (Olleh, Bugs, Melon, Naver, Monkey3, Daum, Cyworld, Soribada) – 15%
ChartKorea – 5%  
Hottracks Weekly Album Sales (1 weeks lag) – 10%
SBS (Inky Gayo Take 7 + SBS Mill weekly rankings) – 10%
MBC Inky Top 100 Chart – 10%
KBS Music Bank K-Chart – 10% 
MNet M!Countdown – 5%
Gasoo appearance on gayo shows (MBC Music Core, SBS Inky Gayo, KBS Music Bank, M!Countdown) – 10%
Thanks to Mardi09 for helping on this week's internet chart research and motoway065 for song title translations.
How does this article make you feel?