Weekly K-Pop Music Chart 2012 – May Week 3
The first sub-group from Girl's Generation, TaeTiSeo, did what the main group has always been doing – getting chart topping hits. The trio of TaeYeon, Tiffany, and Seohyun, scores their first No. 1 song for this sub-unit as "Twinkle" moves up five spots to overtake Sistar's two-week champion "Alone". "Twinkle" swept all music shows last week, so it is not surprising this song is No. 1 here. The victory margin (956 to 932) is not as big as expected since "Alone" is still ahead of "Twinkle" on several chart sources.
Moving up six spots and coming in at a distant third this week is Park Jin Young (JYP)'s own song "You're The One." This song has received good responses despite limited promotion by JYP. Fans of his famous produced artists must be rooting for him on this song.
There are three new songs this week. At No. 7, ballad duo December scores yet another top 10 song "She's Gone," moving up 11 spots this week. December has been quietly collecting hits after hits in the last two years and their ballads are always mainstream enough to attract listeners. Their latest hit "She's Gone" is a medium tempo ballad by Cho Young Soo. Fans are able to see another side of the duo by hearing both soulful vocals and rap.
The other two new songs are preview singles, which has been a new trend for singers who is going to release their albums soon. At No. 8, "Korea's little sister" IU is coming back with a self written ballad "Peach." It is a mellow, acoustic number that shows a 180 degree transformation of the singer. The song is about feeling nervous about love at a young age.
At No. 10, ballad queen Baek Ji Young released an R&B number "Voice" featuring Gary of Leessang. Fans of both musicians will appreciate yet another collaboration between these two singers. "Voice" is our highest debutant on the chart this week.
"Peach" and "Voice" will be replaced by album title songs "Every End Of The Day" and "Good Boy" soon.
SOOMPI CHART for 2012, Month 5, Week 3
Rank
Artist
Song
Score
11
Gavy NJ

(+18)

연락하지마 (Don't Call (feat. LE of EXID))
414
12
Girl's Day

(–)

Oh! My God
410
13
Huh Gak

(-6)

나를 사랑했던 사람아 (Person Who Once Loved Me)
388
14
B.A.P

(+2)

Power
367
15
Mighty Mouth

(new)

나쁜놈 (Bad Guy (feat. Soya))
354
16
A Pink

(new)

Hush
331
17
Alex & Horan

(new)

어쩌면 어쩌면
330
18
Ulala Session

(new)

아름다운 밤 (Beautiful Night)
329
19
Big Bang

(-9)

Fantastic Baby
326
20
Bae Chi Gi

(-6)

두 마리 (Two Mari)
314
21
U-Kiss

(-6)

돌아돌아 (Dora Dora)
307
22
Yangpa & Lee Boram & So Yeon

(new)

알아요 (I Know)
305
23
Electroboys

(-15)

웃을까 울을까 (Smile Or Cry (feat. Baek Ji Young))
262
24
Sunny Hill

(-13)

백마는 오고 있는가 (Is The White Horse Coming?)
257
25
Tae Yeon

(-4)

미치게 보고싶은 (Missing You Like Crazy)
244
26
Infinite

(new)

눈물만 (Only Tears)
234
27
EXO-K

(+4)

MAMA
209
28
Shinhwa

(-11)

Venus
200
29
Seo In Kook

(-4)

말고 당겨줘 (Tease Me)
189
30
Primary

(-6)

씨스루 (See Through (feat. Gaeko, Zion T))
178
31
SHINee

(-12)

Sherlock
171
32
Hello Venus

(new)

Venus
160
33
XIA Junsu

(new)

사랑이 싫다구요 (I Don't Like Love)
151
34
CNBlue

(-11)

Hey You
142
35
Norazo

(+5)

여자사람 (Woman Person)
141
36
Baek Chung Kang

(-9)

그리워져 (Missing You (feat. Lee Hee Sun))
139
37
Ailee

(-9)

Heaven
138
38
ANDAMIRO

(+12)

말고 (Except (feat. YDG))
130
39
Bubble Sisters

(new)

아프지않게 (So It Doesn't Hurt)
129
40
Nell

(-20)

그리고, 남겨진 것들 (The Day Before)
126
41
Lee Soo Young

(new)

우리 둘만 아는 길 (The Way Only We Know)
121
42
Block. B

(-20)

눈감아줄께 (Close My Eyes)
111
43
Yang Yo Sub (Beast) & Jung Eun Ji (Apink)

(-9)

Love Day
105
44
Lee Eun Mi

(new)

너는 아름답다 (You're Beautiful)
92
45
F.Cuz

(+2)

NO. 1
90
46
Lee Seung Chul

(-10)

잊었니 (Did You Forget)
71
47
Cho Shin Sung

(-15)

Stupid Love
71
48
Park Jung Hyun

(-5)

도착 (Arrive)
70
49
Namolla Family JW

(-10)

바람 바람 바람 (Wind Wind Wind (feat. Yoo Shin of D Haven))
63
50
2AM

(-13)

너도 나처럼 (I Wonder If You Hurt Like Me)
63
THIS WEEK IN 2009:
In this segment, we go back in time to re-visit charts of the same week in past years. The Soompi Music Chart began in January 2005. At first we had only 20 songs and later expanded to 50 songs.
There are two groups who performed well on May Week 3. We already covered SG Wannabe last year. This time we'll talk about 2PM. They scored No. 1 this week on both 2009 and 2010 with "Again And Again" and "Without You.". Originally a seven-membered group, Jay Park left the group in 2010 and they have been a six member group ever since. 2009 was the best year so far in their career as they scored three big hits "Again And Again", "I Hate You" and "Heartbeat." 2PM ran away with the top male group and chart champion on our year end Soompi Gayo Award.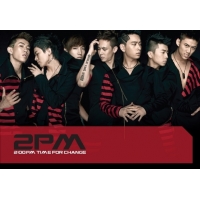 "Again And Again" was No. 1 for three weeks starting this week in 2009. Let's review this song's MV.
About the Soompi Music Chart:
Soompi Music Chart is unlike any other music charts or television rankings. It takes into account rankings by various major music charts in Korea and airplays of each song, making it an unbiased and objective tally of what's going on in the world of K-pop. Our chart is composed of the following sources:
Air Monitor Chart – 15%GAON Music Chart – 15%
Various Internet charts (Olleh, Bugs, Melon, Soribada, Naver, Daum) – 15%
Billboard Korea – 15%   
SBS (Inky Gayo Take 7 + voting list) – 10%
MBC Inky Top 100 Chart – 10%
KBS Music Bank K-Chart – 10% 
MNet Chart – 10%
Thanks to Mardi09 for helping on this week's internet chart research.