New Albums and Singles Preview 2013 – February Week 2
Rainbow Vol. 1-1 – Rainbow Syndrome (Feb. 13)
01. Golden Touch
02. Closing My Eyes
03. Tell Me Tell Me
04. Cosmic Girl
05. The Story That Only I'll Know And You'll Never Know
06. In Love
The colorful girl group Rainbow has returned! Rainbow finally makes their come back after one year and eight months of hiatus with their first full-length album, "Rainbow Syndrome." This album will clearly show Rainbow's multidimensional charms. Their album will be divided into two parts to better showcase Rainbow's different musical colors. The title track is "Tell Me Tell Me".
10cm 2nd EP – Oh Yeah (released)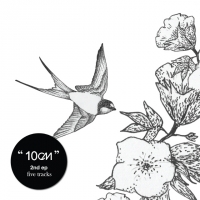 01. Oh Yeah
02. But I'm Sleepy
03. Nothing Without You
04. Don't Let Me Go
05. Morning Call
Acoustic duo 10cm returns with their second EP with two title tracks, "Oh Yeah" and "Nothing Without You." The entire album is filled with sounds that 10cm has never experimented with before. Fans, who loved 10cm for placing their musical emotions rather than tracks that would sell, will not be disappointed with their new album.
Kim Jin Ho (SG Wannabe) Vol. 1 – Today (Feb. 14)
01. Someday
02. Family Photo
03. Do You Know?
04. Love This Moment
05. Shalala
06. Like Today
07. To My Friend
08. Today
09. On My Way To School (Feat. Lee Hae Ri of Davichi)
10. Gypsophila
SG Wannabe's Kim Jin Ho releases his first solo album! This is Kim Jin Ho's first solo album after his debut nine years ago. Kim Jin Ho truly shows his musical talents and skills by writing and composing all ten tracks in his album. All tracks were written based on stories about his family, friends and love. Not only does this album show Kim Jin Ho's musical abilities but his heart as well.
Kim Jin Ho's title track "Do You Know?" expresses the longing and regret about the past with a beautiful melody.
Seo In Gook (single) – I Can't Live Because Of You (released)
01. I Can't Live Because Of You (Feat. Verbal Jint)
02. I Can't Live Because Of You (Inst.)
One of Jellyfish Entertainment's hottest artist, Seo In Gook, releases a special project single album with the assistance of a star-studded team including producers Hwang Se Jun and Kim Do Hun as well as rapper Verbal Jint.
"I Can't Live Without You" is a sweet love song written by the hit lyricist Min Yeon Jae with the rap lyrics written by Verbal Jint himself. The track expresses the honest feelings of a person who has fallen in love. Seo In Gook's sweet voice paired with Verbal Jint's honest rap lyrics add up to a top-notch love song!
LED Apple (single) – I'll Be There For You (released)
01. I'll Be There For You
02. I'll Be There For You (Inst.)
LED Apple releases a special digital single with "I'll Be There For You," a sad and emotional ballad that expresses the lingering feelings of love toward a past lover.
For this track, LED Apple excludes the electronic sounds that they've used in the past and instead uses the basic instruments of drums, guitar and piano. The poetic melody is highlighted with Hanbyul's strong voice.
LED Apple's "I'll Be There For You" is also gaining attention for being played in the background of MBC's current drama, "7th Level Civil Servant."
Thanks to jnkm for translations.
How does this article make you feel?