Uee Practices Diving for "Barefoot Friends"
After School's Uee showed a healthy body in a diving bathing suit at the pool recently.
To prepare for an episode of SBS' "Good Sunday – Barefoot Friends," Uee participated in diving practice, showing off her figure. She has been practicing since June 14 at the pool located at Han Hotel in Seoul, according to Star News.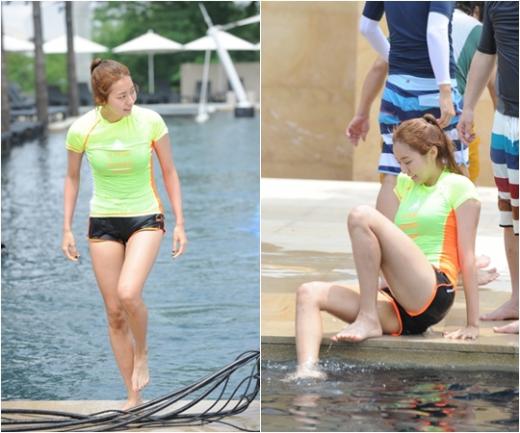 Although she was in and out of the water several times for practice, just like a swim athlete, she showed no signs of exhaustion or fatigue. The diving coach assigned for "Barefoot Friends" said, "Diving and swimming are two completely different sports, but I think that compared to the other members, swimmer Uee has a good shot at coming out first place in the competition."
Filming staff and directors mentioned that Uee looked like a mermaid and that her swimming suit made her look like a real athlete.
On another note, the members of "Barefoot Friends" will participate in diving training and activities for the summer, and there will be a diving competition at the indoor gymnasium for the Masters Diving Competition on July 11.
How do you think Uee will perform?
How does this article make you feel?