New "Hotel King" Still Cuts Reveal Lee Dong Wook's Perfect Abs
Fans are delighted to see stills of Lee Dong Wook's toned abs and sculpted back muscles.
On the April 27 broadcast of MBC's weekend drama "Hotel King," Cha Jae Wan (played by Lee Dong Wook) could be seen treating the injuries that he received while trying to rescue Ah Mo Ne (Lee Da Hae).
Ah Mo Ne then found the shirtless Cha Jae Wan when she set out to apologize to him after realizing the misunderstandings between them.
This scene of the sixth episode has been receiving a lot of attention for revealing Lee Dong Wook's impressive upper body. Lee Dong Wook, with wings tattooed on his back, was able to display his toned body with a chiseled back and a sculpted six-pack.
Viewers showed positive responses, leaving comments such as, "The fact that I drooled should remain a secret," "I've always liked Lee Dong Wook but this scene really made my heart flutter," "It looks like he worked out a lot," and more.
"Hotel King" airs every Saturday and Sunday on MBC at 9:45 PM (KST).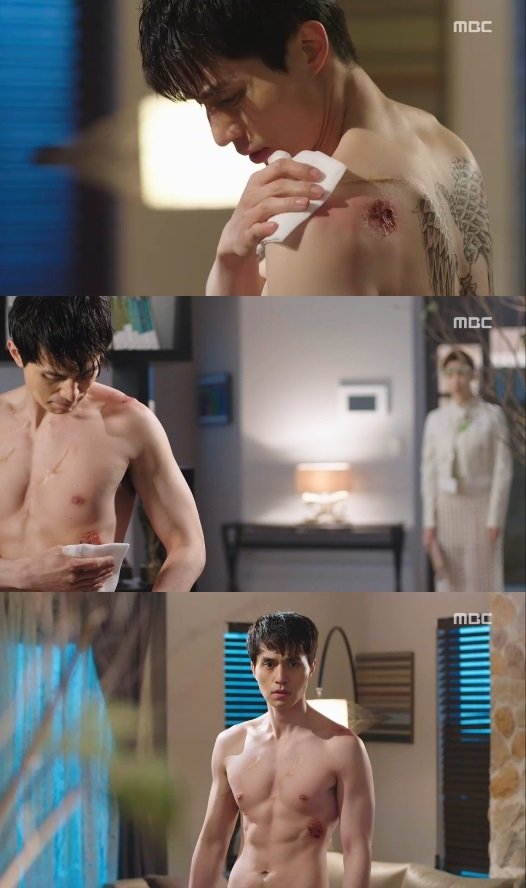 How does this article make you feel?