Still Cuts of Kim Jaejoong and Baek Jin Hee's First Meeting on "Triangle" Revealed + Info on Their Characters' Love Story
Still cuts of the first meeting of Heo Young Dal and Oh Jung Hee, the characters played by Kim Jaejoong and Baek Jin Hee, respectively, were released, heightening the anticipation for the MBC Monday-Tuesday drama "Triangle" which starts airing tonight.
In "Triangle," Kim Jaejoong will play the role of casino maverick Heo Young Dal who falls in love at first sight with Baek Jin Hee will be Oh Jung Hee, the good looking casino dealer.
The still cuts released show the scene where Heo Young Dal first meets Oh Jung Hee. In the scene, Oh Jung Hee was controlling traffic at the hotel where the casino frequented by Young Dal is located when Young Dal's friend Yang Jang Soo, played by Shin Seung Hwan), recognizes her as his former classmate and talks to her briefly. Young Dal gazes at her from his motorcycles side view mirror and becomes mesmerized by her.
Heo Young Dal works as a collector for a pawnshop and became well known for his shamelessness. A self-proclaimed "Emperor of the Night," he also has a lot of girls.
However, in this scene, Young Dal is seen as the pure guy who cannot come forward to the girl who made his heart throb, a side to him that is assumed to be only for "Heo Young Dal's first meeting."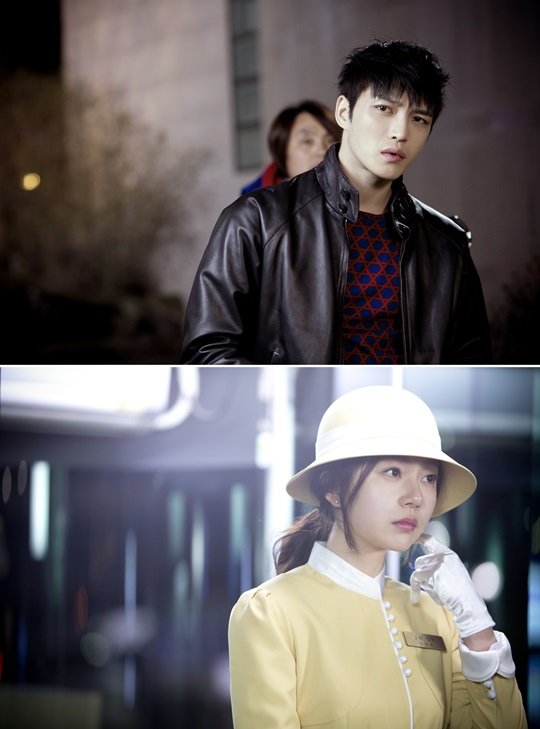 "Although Heo Young Dal appears to be simply ignorant, he's complicated on the inside. No matter how uneducated he is, he has a dream and is changed because of that. Because of love, he is faced with challenges wherein he didn't have a choice but to give up," Kim Jaejoong said on his character's simple and honest love.
"While Jung Hee knows what kind of person Young Dal is, she can feel an unexplainable sadness in him. Although she worries that it will be a painful love for the both of them, she is preparing her heart for it," said Baek Jin Hee on her character. It is said that the love of these two characters will not run smooth through the course of the series.
Watch how this love story unfolds in "Triangle" which starts airing tonight, May 5, 10 p.m. (KST) at MBC.
How does this article make you feel?