Chanyong of 100% Shows Mimicking Skills on "Weekly Idol"
Chanyong of boy group 100% made everyone at the third floor basement laugh as he showed his mimicking skills on the May 7 episode of "Weekly Idol."
The Spider-Man-loving member of 100%  had an "impersonation battle" with Hyeyeon of BESTie.
After proudly declaring that he's very good with impersonations, he first showed an impression of a grandfather character in Gag Concert's segment, "Be Comfortable" which started the people in the studio to believe that he could really be good at making impressions. He then followed this with a very good impression of Shin Sung Rok who played the villain Lee Jae Kyung in "Man from the Stars." From the chilling expression of the face down to the character's way of talking and even the way he touched his ring finger, Chanyong really impressed everyone in the room with his copying skills by that time. Jung Hyung Don even commented that he has "the deep voice that girls like."
The group has recently ended promotions for "Beat" which is off their second mini album, "Bang the Bush."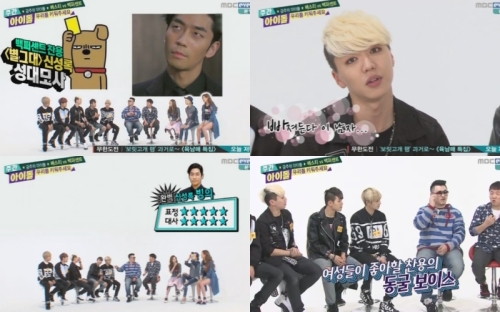 How does this article make you feel?