6 Things No One Tells You About Being Multifandom
With tons of K-pop groups debuting every year at (alarming) rates, it's no wonder people can't pick a favorite! But as every multifandomer knows, there are things that no one tells you about stanning more than one group. Here's our list of six things people learn when they become multifandom.
1. How exhausting it is when your favorite groups are pitted against each other…
In dance battles….
Especially when they both slay.
On music shows…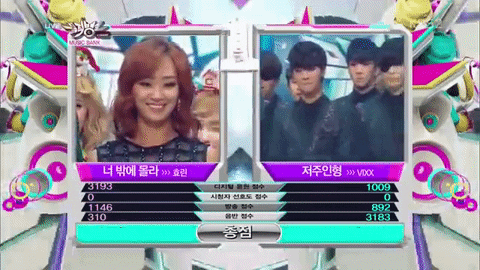 VIXX's first win!! But Hyolyn is also a QUEEN!! I CAN'T DEAL WITH THESE CONFLICTING EMOTIONS OF HAPPINESS AND SADNESS. 
… and even in games.
Four words: Idol. Star. Athletics. Championships.
In between squealing over the cute interactions between my favorite groups, I was crying every time they had to go against each other.
HOW DO I ROOT FOR ONE WHEN I LOVE THEM ALL?!
2. It's frowned upon in Korea
I know what you're thinking: But there's SO many good groups! How do you choose and stick to one? 
A heart for everyone! <3
Well, most people still enjoy the music of other groups (of course!), but when it comes to voting, streaming, and buying, it's only for that one group. As much as international fans are MooMoos, Starlights, and VIPs all at once, fans in Korea are solely loyal to one group and one group only. In fact, this is a source of arguments between Korean fans and international fans. But it's understandable too: As international fans, we don't usually see the struggles of what it takes for a group to make it. The market in Korea is a lot smaller than we international fans realize. Before these groups are big enough to be known internationally, the domestic fans are really the ones who keep these idol groups going.
3. The amount of inside jokes…
… and keeping them all straight.
*deep breath* You got this.
Was it Leo with the three dollar chains? Suga with the Lesinset? Yoseob with the Kkaebsong?
4. What to do during fanwars
There are only three options at this point.
Do you…
A. Pick a side?
Terrifying as that may sound.
Though eventually, you'll be accused of playing favorites, and people may turn on you.
Because nobody wants to listen…
B. Play the peacekeeper?
If all else fails, aegyeo your way through.
But peacekeeping can get tiresome, and it'll only go so far until someone accuses you of being biased…
Again, nobody listens. 
C. Don't touch it?
That's right. Fly yourself outta there!
And my favorite option: not touching it with a ten foot pole.
And just keep doing your thing.
5. How to decide who gets to be on your phone background, your Twitter avi, your Tumblr theme, your computer background…
Not. Enough. Backgrounds. Too. Many. Choices.
What happens when you run out of screens to change? D:
6. You will be broke…
Sing with me now: FOREVEEEEER WE ARE BROKE 
ALL. THE. TIME.
That group finished promotions? GOOD! Here are the next cuties coming your way.
But, at the end of the day, it's all worth it to see your bias' smile.
Are there other things that you learned as a multifandomer that we missed? Tell us in the comments below!
mayme22′s favorite Bible verse is 1 Peter 3:3-4.
How does this article make you feel?