"SNL Korea" Under Fire For Extremely Inappropriate "Hazing" Behavior Towards B1A4 And INFINITE
A recent "SNL Korea" video stirred up a controversy when it showed how the show's staff treated its male idol hosts on set.
Previously, tvN's "SNL Korea" posted a video on their official Facebook page titled, "B1A4 'SNL Korea' Behind-the-scenes."
The released video starts off with a brief introduction, with one of the staff members saying that B1A4 is finally able to host the show since Jinyoung completed his latest drama. However, the video suddenly takes a turn for the worse when the staff formally introduces B1A4 as the host. In the clip, the female staff members suddenly touch the B1A4 members in the genital area and run off. The B1A4 members are completely shocked as they stare at rest of the staff members, who seem unfazed at the incident.
Furthermore, when a Korean netizen asked "SNL Korea" if that sort of behavior was common on the show, the staff members replied with "they didn't actually touch them."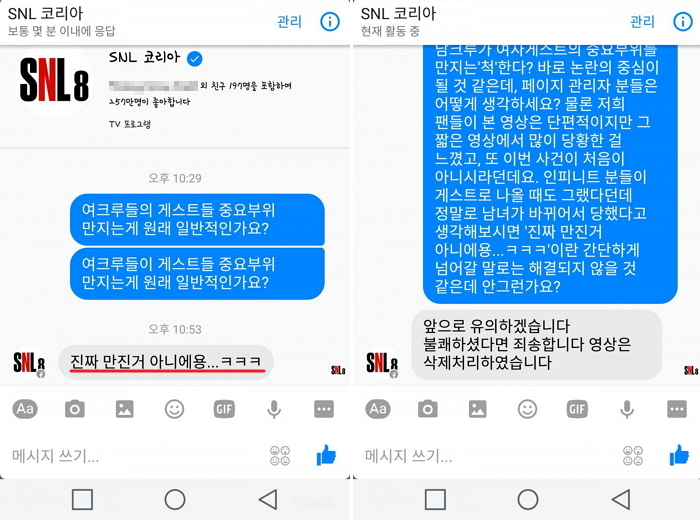 As the controversy grew, the "SNL Korea" production team ended up deleting the video and officially apologizing to B1A4 and their fans for the extreme behavior. The production crew stated, "We will make note to prevent this kind of inappropriate behavior towards the hosts. We would like to sincerely apologize to B1A4 and their fans once more."
Meanwhile, a video clip showing a similar treatment of the INFINITE members was recently uploaded, and fans have took to Twitter with the hashtag "SNL Sexual Harassment" (SNL_성추행) to express their shock and anger at the behavior.
Watch both clips below:
"#snl_성추행" SNL sexual harassment trending cause SNL staff touched the members inappropriatelypic.twitter.com/9UgMcFrCvG

— 왕만두 ? (@shbkhyun) November 26, 2016
#SNL_성추행 the whole video of the staff touching infinite. disgusting how the woman even celebrates and you can see they are uncomfortable pic.twitter.com/33FERA5GPC

— yg anti (@officialtdoqq) November 26, 2016
Update: Block B was also subjected to this behavior, revealed in a video posted on Twitter:
Block B were also touched inappropriately on snl. It's probly a tradition but still, you can see the members are quite shocked #SNL_성추행 pic.twitter.com/BPqdSrkweb

— ⚠Bermuda Triangle⚠ (@Veryhensemguy) November 27, 2016
Thanks to Catherine and Karmin for the tip.
Source (1)
How does this article make you feel?