15 Must-See Romantic Korean Movies
It's that lovely time of year again where people celebrate love. Whether you're in a relationship or single, it's the perfect time to snuggle up and watch a good romantic Korean movie. It's always nice getting to live vicariously through movie characters and getting those sweet romantic feels from love stories. These are all must-see movies, so make sure you check it them out as Valentine's Day approaches!
Here are my top 15 romantic movies (in no particular order).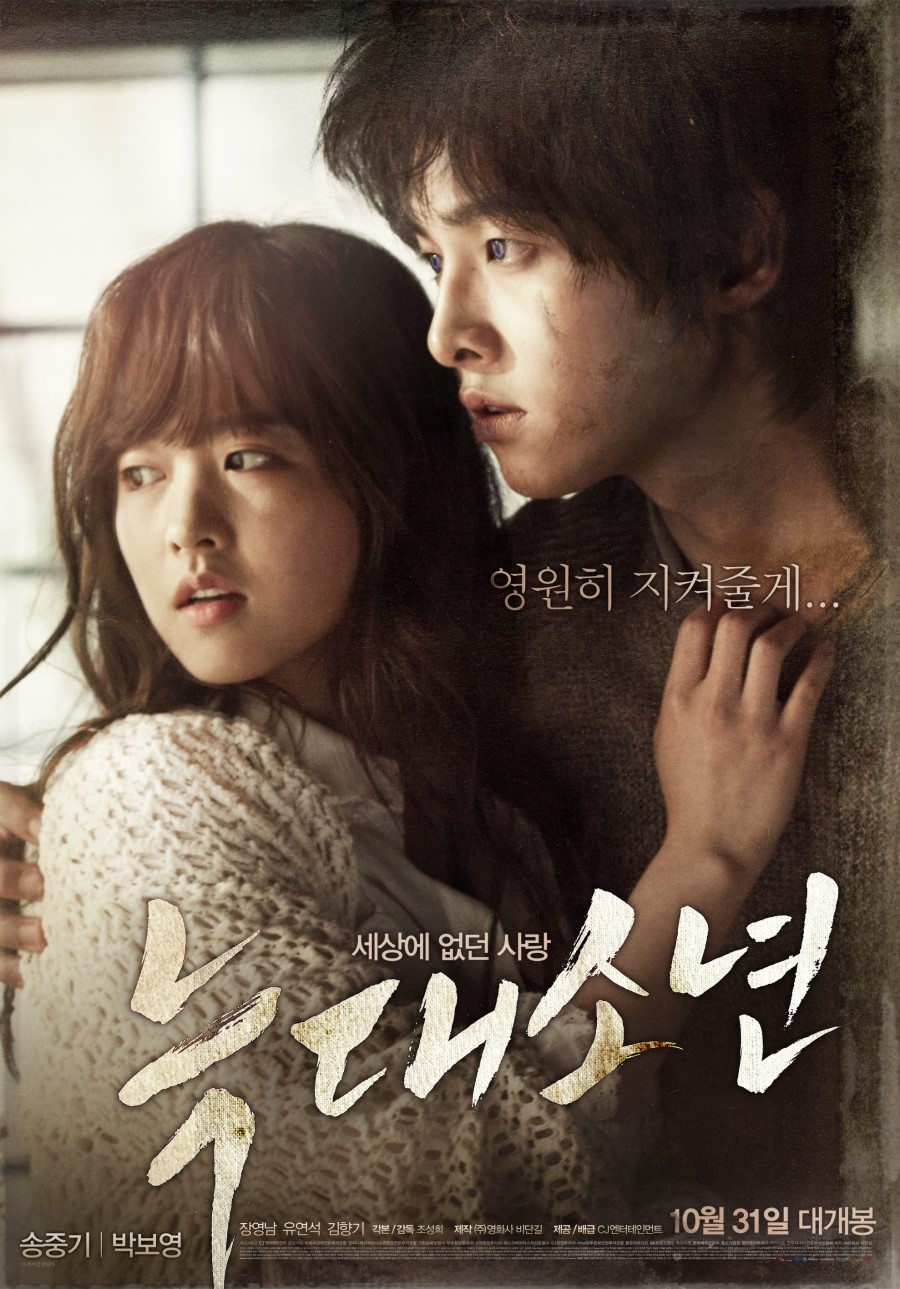 This fantasy love story starring Song Joong Ki and Park Bo Young tells the tale of a lonely girl and a werewolf boy. This movie is one of the most successful Korean melodrama flicks of all time and rightfully so! Park Bo Young plays the beautiful teenage girl by the name of Soon Yi who moves to the countryside with her family because of her sickness. She meets a feral boy by the name of Chul Soo, played by Song Joong Ki, who she helps adjust to civilian life. Their romantic journey will be sure to touch your heart!
Catch the full movie below!
2. A Moment to Remember (2004)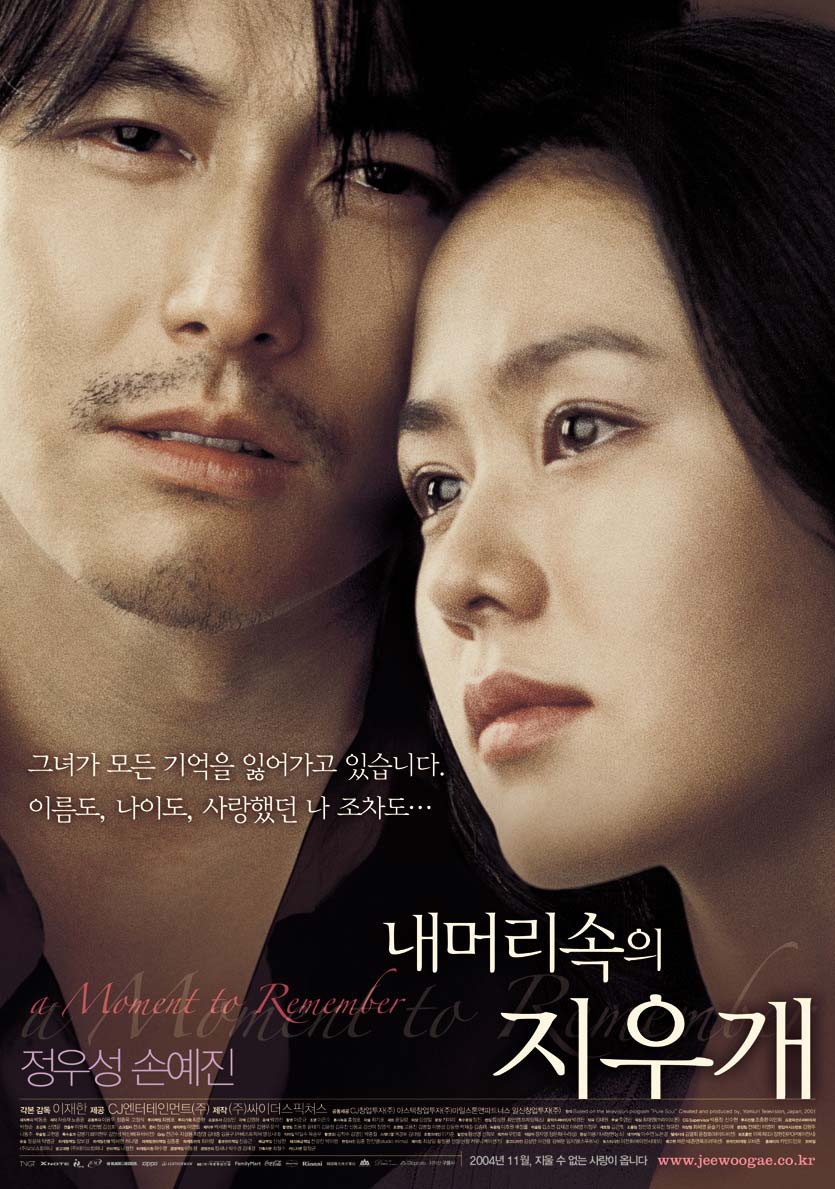 This movie will be sure to have you in tears. "A Moment to Remember" stars Son Ye Jin and Jung Woo Sung and is a movie that will definitely have you tears. The poster alone is enough to make you emotional. Son Ye Jin plays a fashion designer by the name of Soo Jin, who meets and falls in love with a construction worker played by Jung Woo Sung. Their epic love story begins when Soo Jin finds out that she has early onset Alzheimer's. This movie will show you how love truly can conquer all.
3. Maundy Thursday (2006)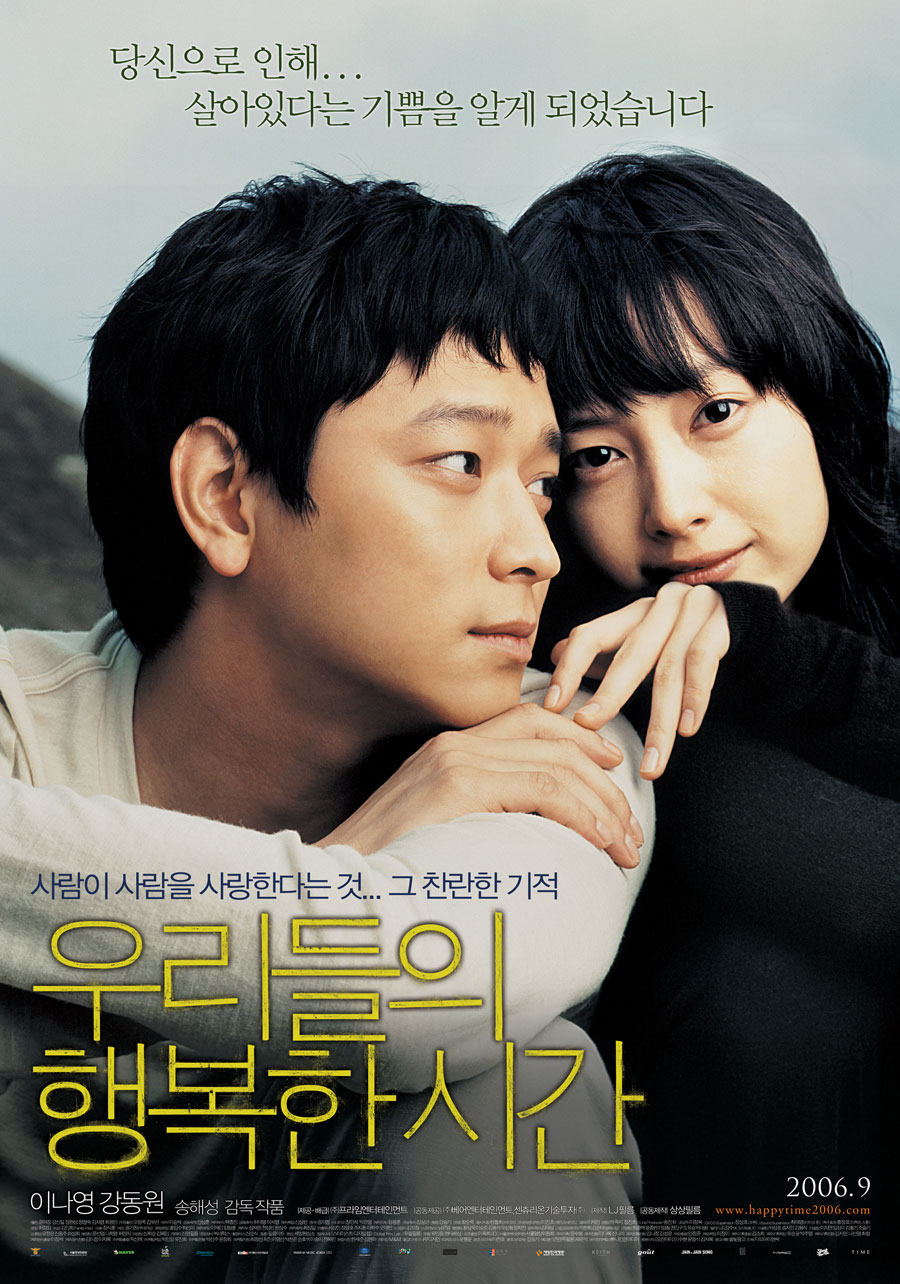 Based on the best-selling novel by Gong Ji Young, this movie takes place in a very unconventional setting. This movie stars Kang Dong Won as prison inmate Jung Yoon Soo, and Lee Na Young plays the depressed and suicidal volunteer worker, Yoo Jung. Through their stories, these two show how much love is necessary, especially when life gets difficult. Yoo Jung's aunt is a nun who visits the prison to converse and meet with inmates who are on death row. Hoping that her niece will gain some positive insight in life, she encourages Yoo Jung to visit Jung Yoon Soo, which sparks the start of their unique love story.
4. Beauty Inside (2015)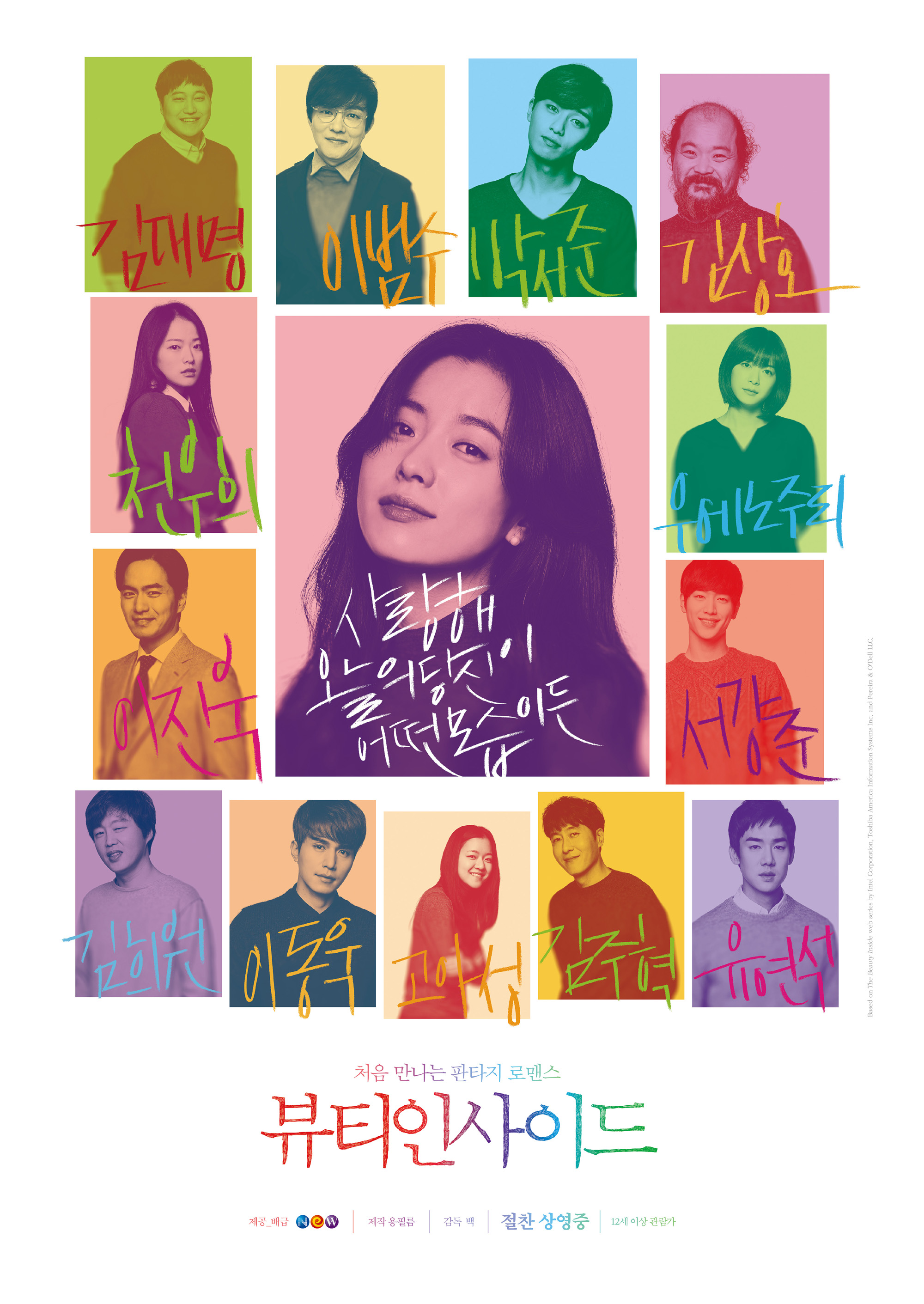 Probably one of my favorite romantic Korean movies of all time, "Beauty Inside" stars Han Hyo Joo and a lot of other very familiar actors and actresses like Lee Dong Wook, Park Seo Joon, Park Shin Hye, Lee Jin Wook, Seo Kang Joon, Yoo Yeon Seok, Go Ah Sung, and the list goes on. Han Hyo Joo plays a furniture saleswoman named Yi Soo who meets a man by the name of Woo Jin. She quickly comes to realize that Woo Jin is different from anyone she has ever met as his body and face completely changes when he wakes up. This movie shows the importance of loving someone based on who they are.
5. Architecture 101 (2012)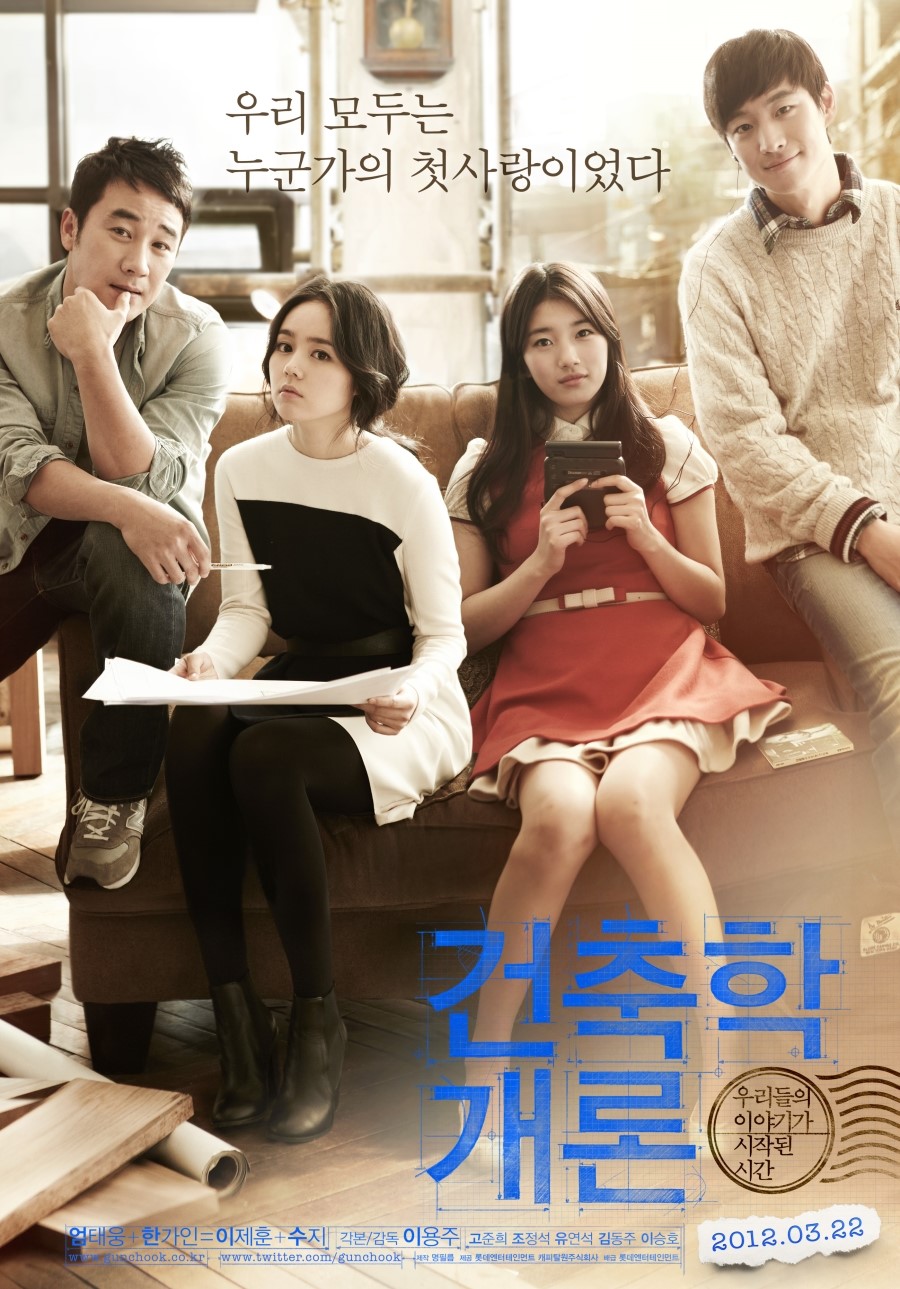 Starring Uhm Tae Woong, Han Ga In, Lee Je Hoon, and Suzy, this movie will remind you of the feels that come with falling in love for the first time. Lee Je Hoon plays the younger version of Uhm Tae Woong's character who falls in love with Suzy, the younger version of Han Ga In. You will enjoy seeing Lee Je Hoon with the butterflies and nerves as he falls deeper and deeper in love with Suzy's character. It will make you long for a guy like him!
6. Mood of the Day (2016)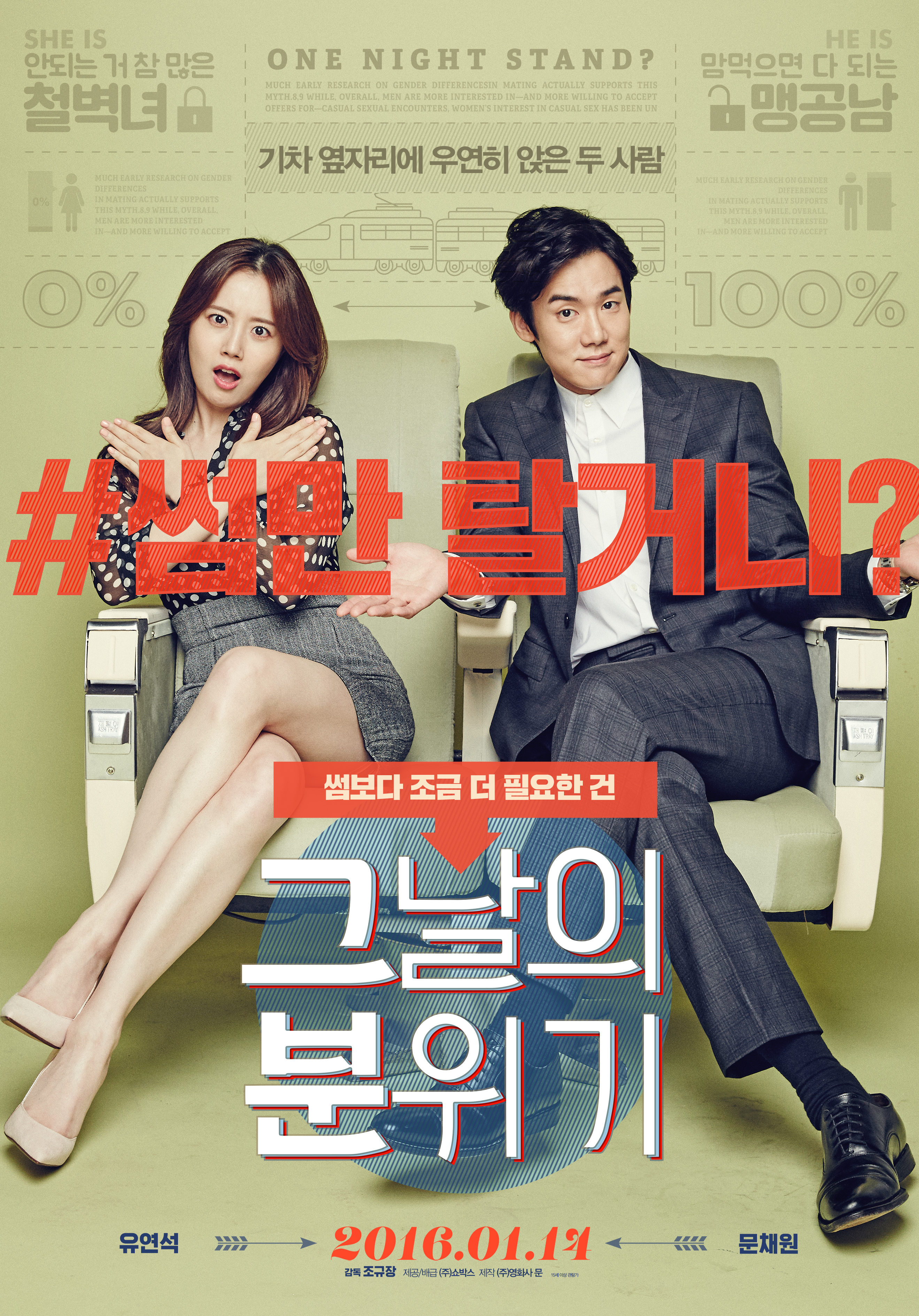 Moon Chae Won and Yoo Yeon Seok team up in this romantic movie set on a KTX train. Moon Chae Won plays Bae Soo Jung, who is pretty timid and conservative, whereas Yoo Yeon Seok's character, Kim Jae Hyun, is a bit of a playboy. Bae Soo Jung is caught off guard by Kim Jae Hyun's assertive advances towards her and although at first she brushes him off, she eventually comes to see his charm. You'll be excited to find out how their story ends as they end up spending the next 24 hours together in Busan.
7. A Millionaire's First Love (2006)
What's a romantic Korean movie list without this title? "A Millionaire's First Love" tells the story of Kang Jae Kyung, played by Hyun Bin, who is an arrogant and obnoxious rich kid who gets transferred to a new school in the countryside. He hates it at first, but then he meets Choi Eun Hwan, played by Lee Yeon Hee, who is unlike any girl he has ever met. The two gradually become closer and develop strong feelings for each other until Jae Kyung finds out a very big secret of Eun Hwan's that could change their fate.
8. Christmas in August (1998)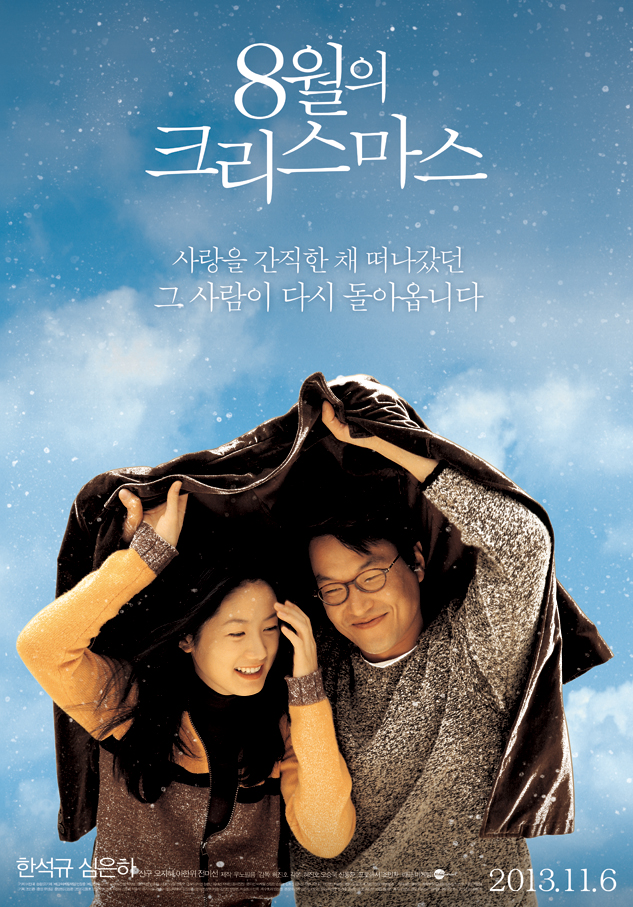 Get some tissues ready for this one. Considered to be one of the most saddest Korean romantic movies of all time, this one will for sure leave you in a puddle of tears. Starring Han Suk Kyu as a photo studio worker and Shim Eun Ha as a traffic control officer, these two develop a strong relationship as a result of the strong advances of Shim Eun Ha's character. These two will take you on a roller coaster of emotions and will keep you on the edge of your seat until the end.
9. Always (2011)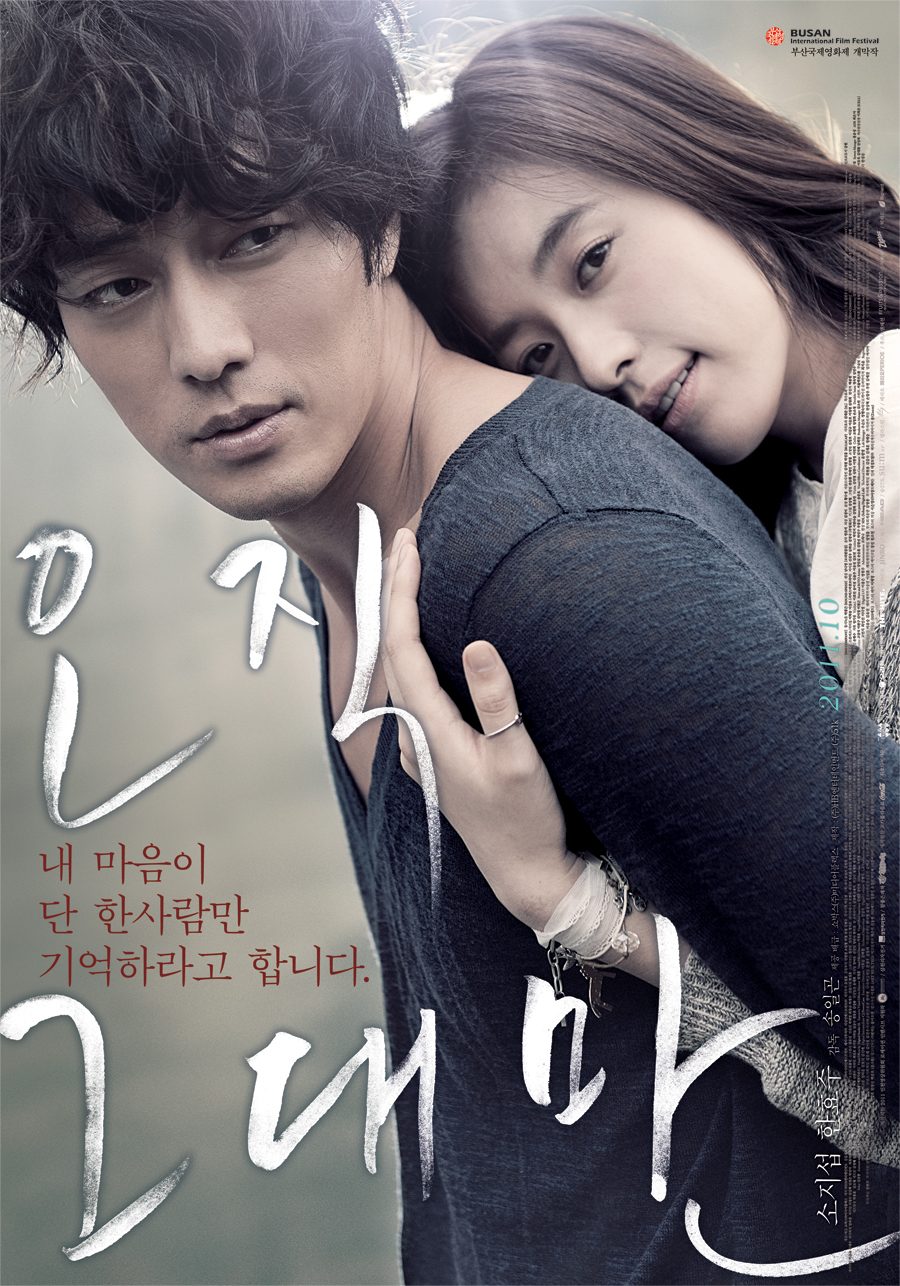 Another Han Hyo Joo movie, and one that is guaranteed to tug at your heartstrings, "Always" is a movie I can watch over and over again without getting sick of it. Han Hyo Joo plays Jung Hwa, a bright and innocent woman who is blind. So Ji Sub plays Chul Min, a former boxer with a lot of baggage. The two fall quickly in love with each other and have a whirlwind romance. If you love watching movies where the bad boy turns into a pile of mush over a girl, then this movie is definitely the one to watch!
10. The Classic (2003)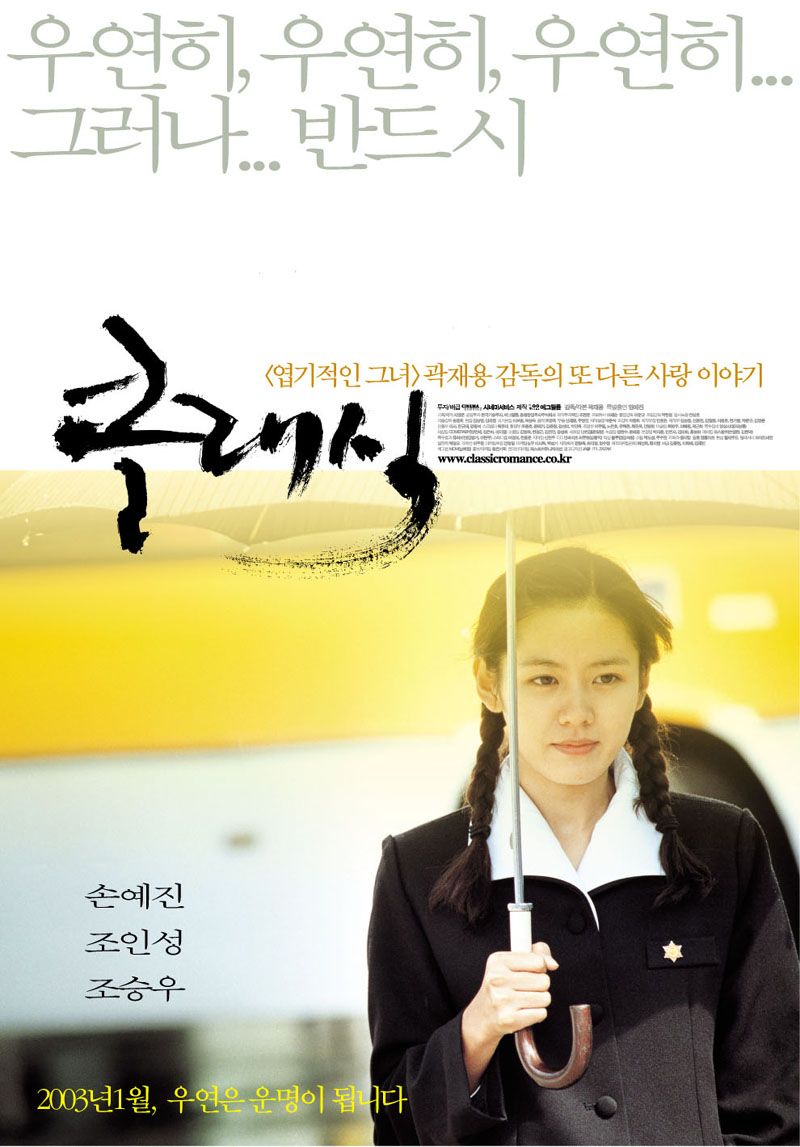 "The Classic" is a coming-of-age first love story starring Son Ye Jin, Cho Seung Woo, and Jo In Sung. This love story follows the diary of Son Ye Jin's mother in the movie, which also happens to coincide with her own love story as she falls in love with Sang Min, played by Jo In Sung. Son Ye Jin's friend also develops a crush on Sang Min, and although Son Ye Jin believes that Sang Min does not have any feelings for her, fate continuously brings them together.
11. More Than Blue (2009)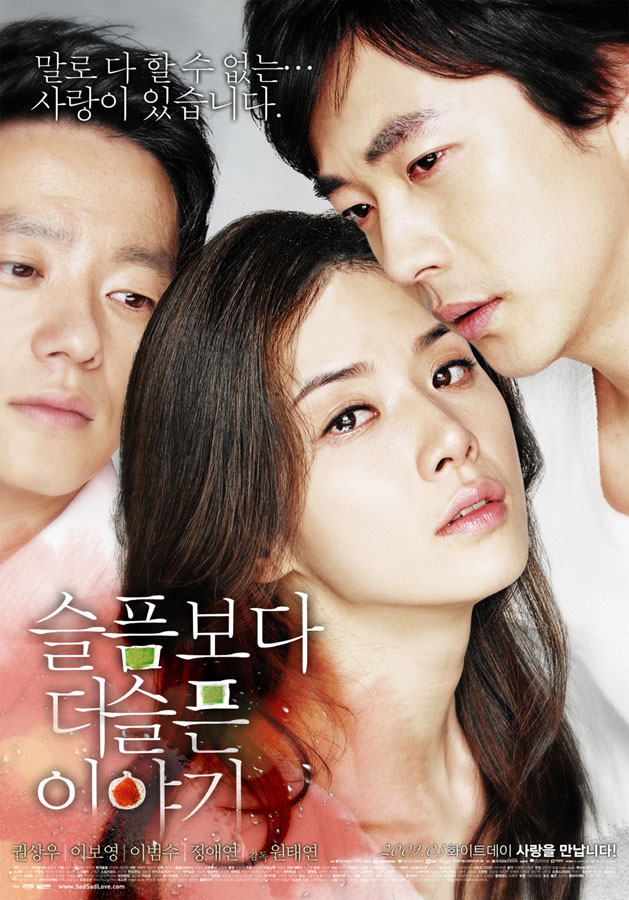 The literal translation for this movie title is, "a story that is sadder than sadness," and it really is. This movie starring Kwon Sang Woo and Lee Bo Young will leave you heartbroken. Chul Kyu (Kwon Sang Woo) is in love with Cream (Lee Bo Young), and although he is in love with her, he does not tell her mainly because of a deep secret that he is hiding. Kwon Sang Woo is so swoon-worthy in this flick as he displays countless actions towards Cream that show what the true meaning of love really is.
12. Pained (2011)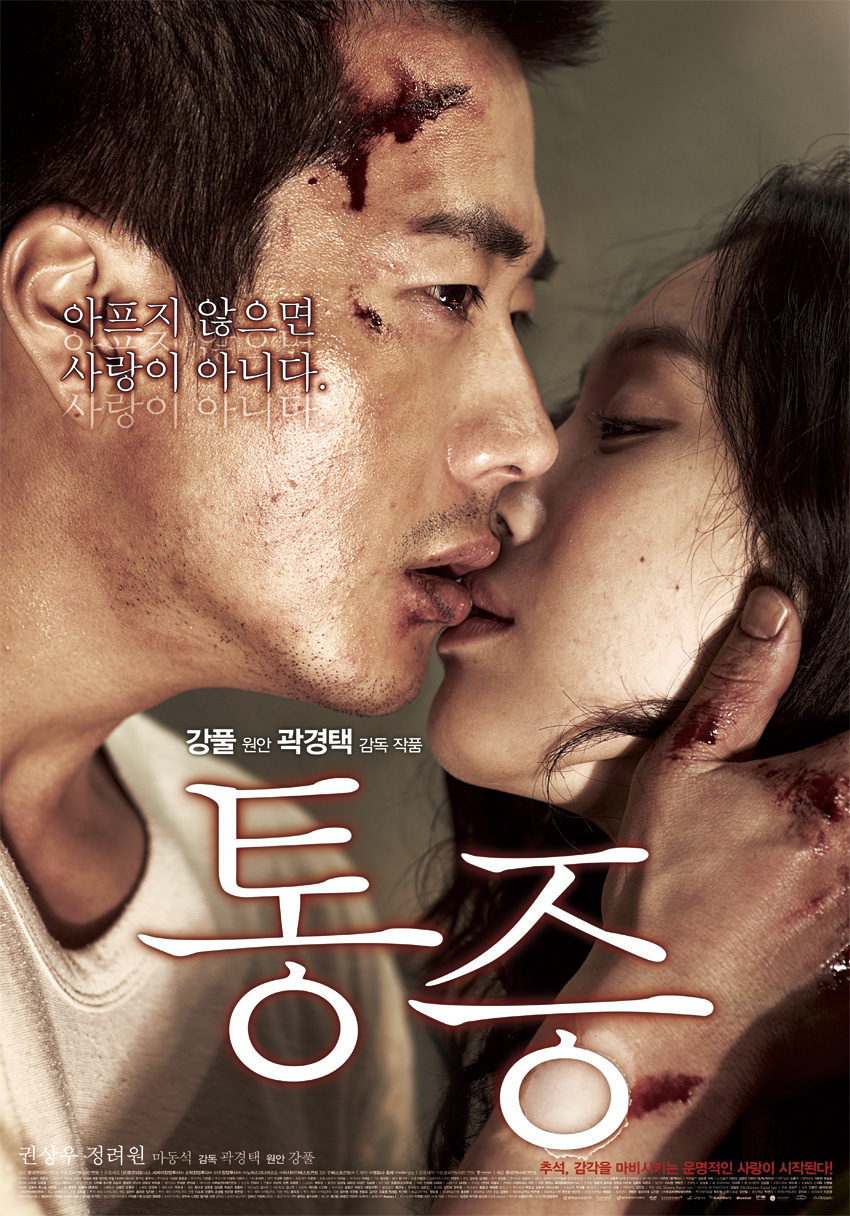 Another romantic Kwon Sang Woo movie for the list. In this movie, he plays Nam Soon, a guy who is unable to feel pain. One day, he meets a girl named Dong Hyun, played by Jung Ryeo Won, who is his complete opposite. She has hemophilia, which prohibits her from getting hurt even in the slightest. These two fall in love with each other and embark on a romantic adventure where their differences are continuously put to the test.
13. Temptation of Wolves (2004)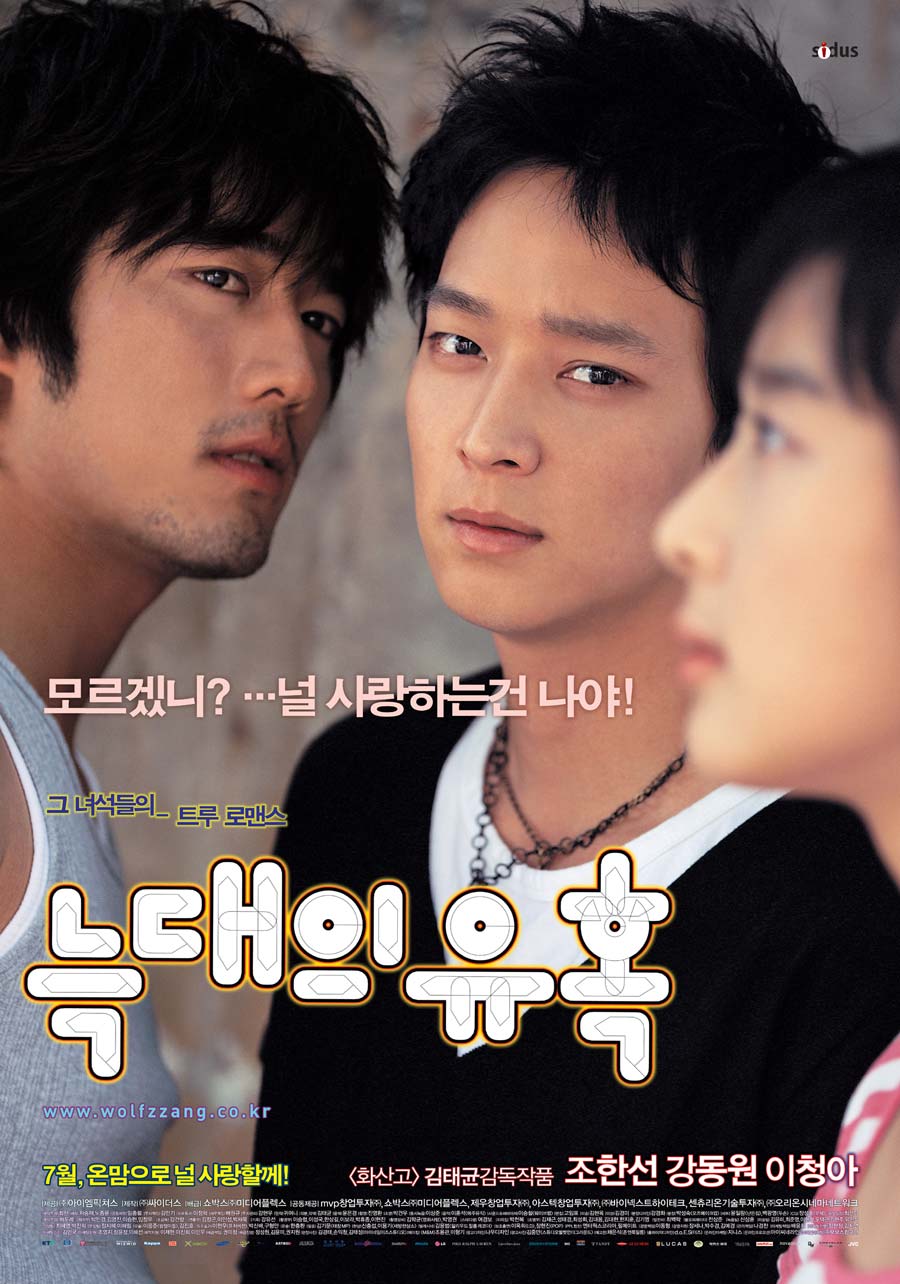 This classic teen romance movie stars Kang Dong Won, Jo Han Sun, and Lee Chung Ah. Lee Chung Ah plays an ordinary high school girl by the name of Jung Han Kyung who moves to Seoul to live with her mother. She is soon thrown into an epic romance involving two of the most popular and most handsome guys in town, played by Kang Dong Won and Jo Han Sun. You will be dying to find out which of these boys she ends up picking.
Catch the full movie below!
14. Love Forecast (2015)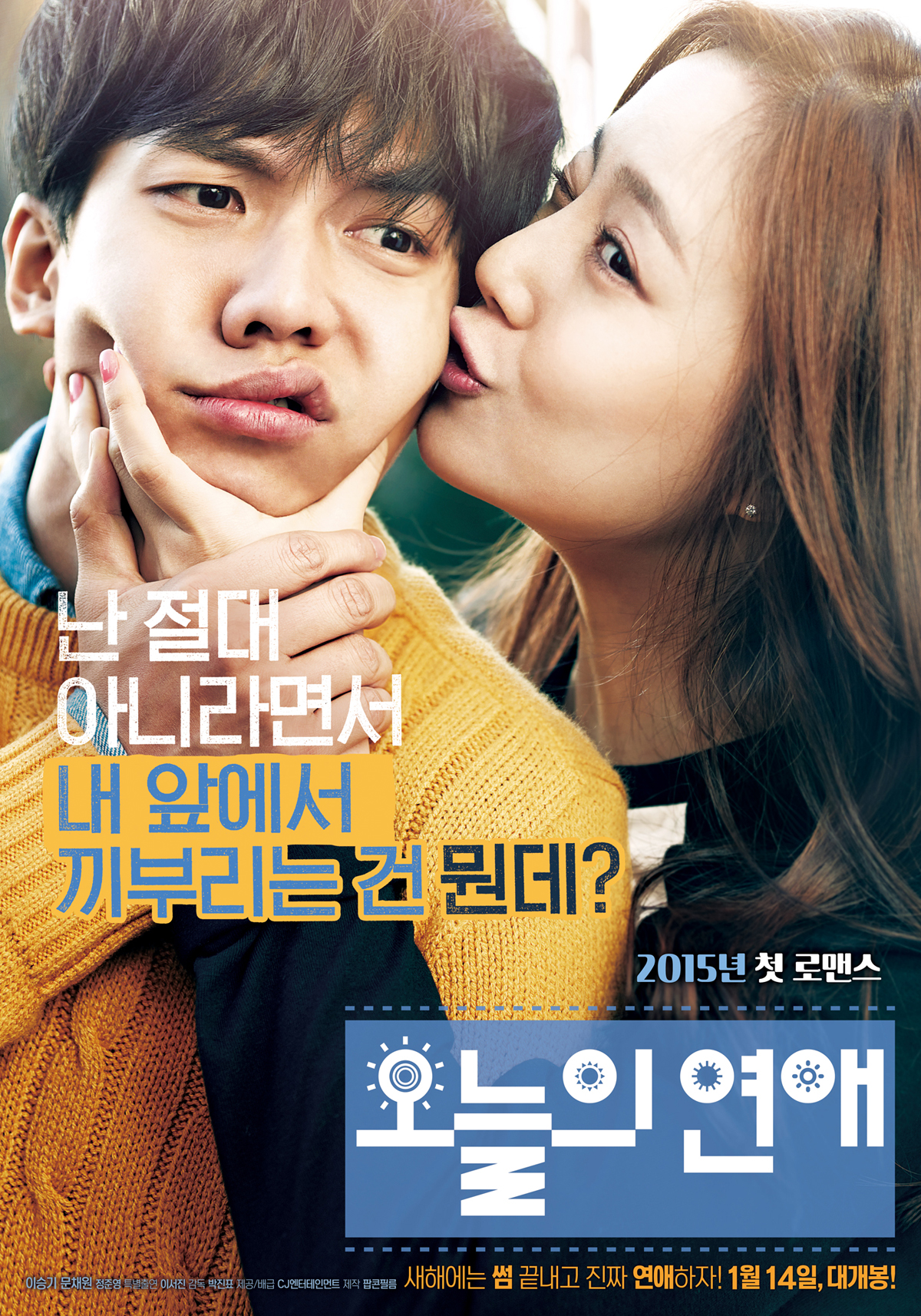 Starring Lee Seung Gi and Moon Chae Won, this movie will have you laughing and feeling warm inside. Lee Seung Gi plays Joon Soo, who is the type to give everything he's got to the woman he loves, but always ends up getting dumped. Moon Chae Won's character, Hyun Woo, is the opposite of Joon Soo as she is a bit aggressive and tough. Watch these two opposites fall in love with each other!
Catch the full movie below!
15. My Sassy Girl (2001)
Last but not least, and probably another one of my favorite movies, "My Sassy Girl." This movie will continue to stand the test of time as it is considered to be a classic romantic comedy. Jun Ji Hyun plays the sassy girl who falls in love with Gyun Woo, played by Cha Tae Hyun. She takes him on a crazy adventure as she continuously puts his love to the test. The chemistry between these two characters will give you butterflies.
Hey Soompiers, which of these movies is your favorite romantic movie? Let me know in the comments below!
binahearts is a Soompi writer who can be most often seen singing her heart out at karaoke, walking her dog, or indulging in dessert. Her current obsessions include Song Joong Ki and BIG BANG. Make sure you follow binahearts on Instagram as she journeys through her latest Korean crazes!
How does this article make you feel?