First Impressions: "The Liar And His Lover"
Lee Hyun Woo and Red Velvet member Joy star in the newest Monday-Tuesday tvN drama, "The Liar and His Lover." This is Lee Hyun Woo's return to the small screen since his last drama, "Moorim School," and this also marks Joy's debut role in a drama. There is especially a lot of pressure for her as she is in a leading role. I was a bit nervous to see these two together as the leads, but I was hopeful because they're just so adorable.
Keep reading to see what I thought of the first two episodes!
Warning: Minor spoilers ahead.
Storyline
Based on the Japanese manga series, "The Liar and His Lover" is about a very gifted and successful producer named Kang Han Kyul (played by Lee Hyun Woo) who is known for writing hit songs for a famous boy group called "Crude Play" (which he had originally been a part of). He's very secretive about his identity and is hidden from the public; he goes by the alias "K." It's also important to mention that he's dating a popular singer, Chae Yoon Ah (Hong Seo Young), who is in the midst of a slump.
Joy plays a poor high-school student named Yoon So Rim who was raised by her grandmother. She's got a beautiful voice and is part of a band with her two male friends who play the bass and drums. They are trying their best to make it big by going to various auditions, but seem to always be failing due to So Rim's traumatic stage experience from when she was a child.
Yoon So Rim falls in love at first sight with Kang Han Kyul when she randomly passes by him on her bike. She tries to find him again, but is unable to until she randomly sees him at an audition. He seems rather annoyed with her at first, but she is persistent and continues to try to pursue him by calling him and messaging him incessantly.
If you're into musicals and/or dramas with lots of singing, I'm sure you'll be fond of this drama. There are a few instances where the characters break out randomly in song in the classroom and on the street. It did come off being a bit cheesy at first, but once I got used to it, it wasn't so bad. But, fair warning, there are some cheese factors.
Despite the cheesiness, I found myself slowly appreciating the fact that the whole drama is encompassed within the theme of music. I love how they all gain inspiration from life experiences, and I'm sure a lot of us can relate to the characters and their love for music. Unfortunately, it hasn't been enough to really get me excited about watching the drama. The story is a bit weak considering the fact that the manga was so popular. I'm afraid that the main leads are not experienced enough to carry the plot, but I'm obviously jumping the gun a bit considering it's only been two episodes. I still have hope that it can turn around.
Characters
Kang Han Kyul, played by Lee Hyun Woo, is a big shot producer and one of the most famous song-writers in the industry. He's hard-headed, a perfectionist, and he likes to yell at musicians who don't follow his instructions. He also has this unique ability to gain inspiration for songs by listening to other people's voices.
At first, I couldn't buy into Lee Hyun Woo and his character. He just didn't seem to suit the image of this stubborn and angry producer. I couldn't really get the full impact of the emotions that his character was feeling through his acting, but by the end of the second episode, I was slowly warming up to it. His edginess was growing on me, but it could also be because I really, truly do want to see him do well in this drama; I think he has a lot of potential to be a successful actor. Let's hope he can carry his role a bit more as the drama progresses.
I was kind of hoping Joy would get a similar response as Hyeri did for "Reply 1988." No one really expected Hyeri to be cast in a lead role for her first drama, but she really impressed everyone with her acting. I can be a bit skeptical about idol actors/actresses and I always want to be proven wrong, which is why I am rooting for Joy.
After watching the first two episodes, I have to say, her acting was good and steady — not mind-blowing, but steady. She's doing a good job, especially considering it's her first role.
Her character is cheery and positive, which is something you'd expect from the trailers. I enjoyed seeing how much she was in love with Kang Han Kyul. In fact, my favorite parts of the first two episodes have been her swooning over Kang Han Kyul. Wasn't it so cute when she was imagining him sitting in her classroom?
Adorable.
It's a little too early to tell, but I'm expecting a decent performance out of her. I think it's good enough so far to land her some future roles in other dramas. I'm also not exactly seeing the sparks and chemistry between her and Lee Hyun Woo, but I'm really hoping this changes as their love story blossoms because I know that if they do have chemistry, this drama could be SUPER cute because they're just so cute!
Final Thoughts
So far, decent. I wasn't blown away and the I think the script is a bit too big for the young actors. Despite this, I think I'm going to keep watching it because I do love a good music-themed drama. The newly-released first song for the OST was cute and upbeat, but I'm still expecting bigger and greater things from the soundtrack, especially since it is a drama about producing music. Fingers crossed!
Fighting Lee Hyun Woo and Joy! I'm rooting for the both of you!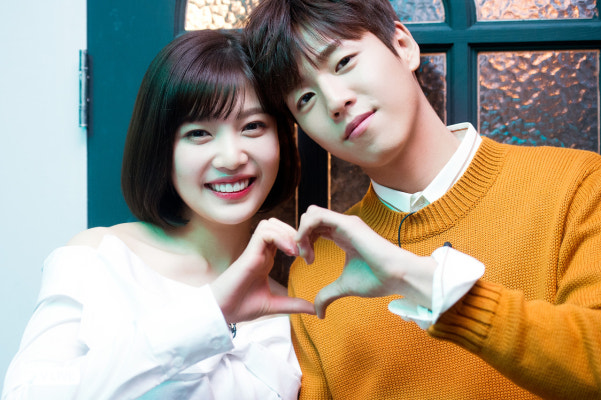 Hey Soompiers, what did you think of the first two episodes of "The Liar and His Lover"? Let me know in the comments below!
binahearts is a Soompi writer who can be most often seen singing her heart out at karaoke, walking her dog, or indulging in dessert. Her current obsessions include Song Joong Ki and BIG BANG. Make sure you follow binahearts on Instagram as she journeys through her latest Korean crazes!
How does this article make you feel?