12 Unforgettable EXO Moments
Can you believe it's already been five years since the debut of one of the most famous K-pop groups of all time? They've broken records across the board with album sales and show attendance, traveled the world and satisfied fans with epic performances wherever they go, and demonstrated that they are working harder and harder every day to produce great music for us. Here's a list of some of their most unforgettable moments over the past four years.
1. 1st music show win
The road to EXO's first music show win was not easy, and you can definitely tell when you see the group's reaction to the award. The flow of tears even had Suho pausing while trying to express his gratitude. Check out their win in this clip:
2. OST hits
It's no question that an OST featuring an EXO member is sure to be a hit. We were recently blessed with the "Goblin" OST "Stay With Me" featuring Chanyeol, which easily garnered over 50 million views on YouTube. EXO also took home Best Drama OST in the 12th Annual Soompi Awards, while Chen also had another nomination in the same category.
Remember when they performed "For You," EXO-CBX's OST for "Scarlet Heart: Goryeo," live?
3. Happy Camp game
Their happiness and excitement in this part of their Happy Camp appearance is unmatched to this day. Look how gleeful they look running around in those obnoxiously hilarious, yet adorable costumes. You can tell they weren't very clear on what the game is by how they just run around for the fun of it!
4. Brotherhood on Happy Camp
Another unforgettable moment that Happy Camp brought us a year later was when they talked about how much they love, appreciate, and want to grow with each other. This clip fortifies their brotherhood in many aspects and shows us how they've been able to get through so much thus far.
5. Album of the Year
This list would not be complete without mentioning how EXO has won Album of the Year at MAMA for the past four years in a row. That means they have received a daesang (grand prize) every year after their debut year, and we definitely don't see that changing anytime soon.
6. Lay's acceptance speech
One of those four years, they also took home Artist of the Year. Lay's acceptance speech that year for that particular award reminded us that there is only one way to go and that's up. Fans stood by their side during their hardships, and Lay emphasizes that through these hardships, it's not about their so-called failures, but the courage and strength they have gained to move forward. Watch this acceptance speech that highlights their ability to reclaim their fate.
7. Miracle in Cell No. 7
While there were many unforgettable moments in "EXO's Showtime," we have to point out the time that they celebrated Christmas together and shared tissues as they watched a heartwarming movie together about family. In the beginning, they tease each other about Santa and give prankster gifts, but by the end, there isn't a single member who isn't in tears.
8. EXO with kids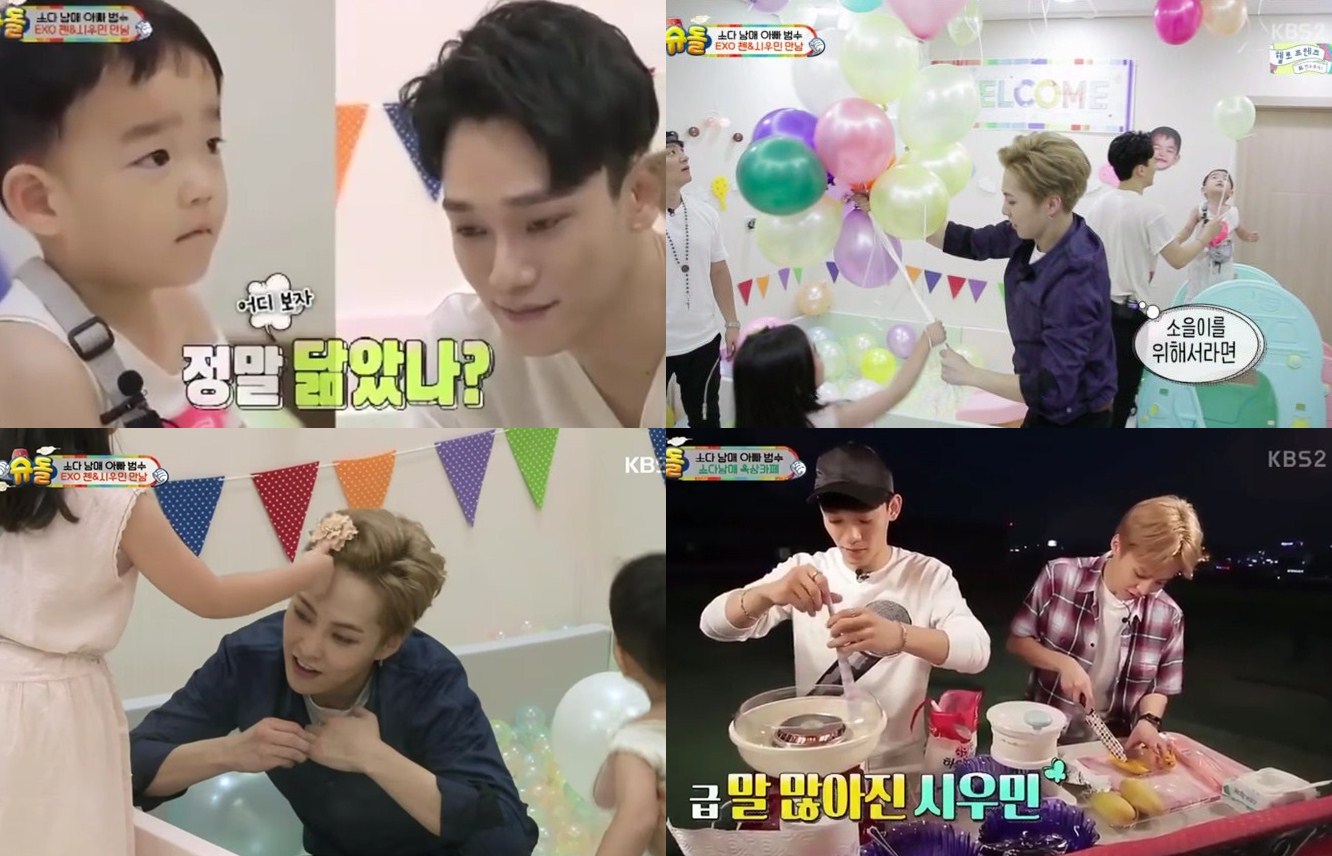 Just when you think EXO couldn't make your heart swoon more, you catch them guest appearing on a show about kids. From giving kids piggy back rides to teaching them how to shoot heart arrows, to spinning cotton candy for them, we can't help but imagine what amazing fathers they will be to their own kids one day.
9. Infinite Challenge
It is an incredible honor to get to go on "Infinite Challenge," and not only were they guests, they made a song with the nation's MC Yoo Jae Suk, who had to learn a few things from them! Every moment of their appearance was enjoyable, with the EXO members impressing viewers with their skills and entertaining with their constant teasing of each other (not that that's anything new). Check out their hit collaboration with Yoo Jae Suk that stayed up on the charts for a pretty long time.
10. Acting debuts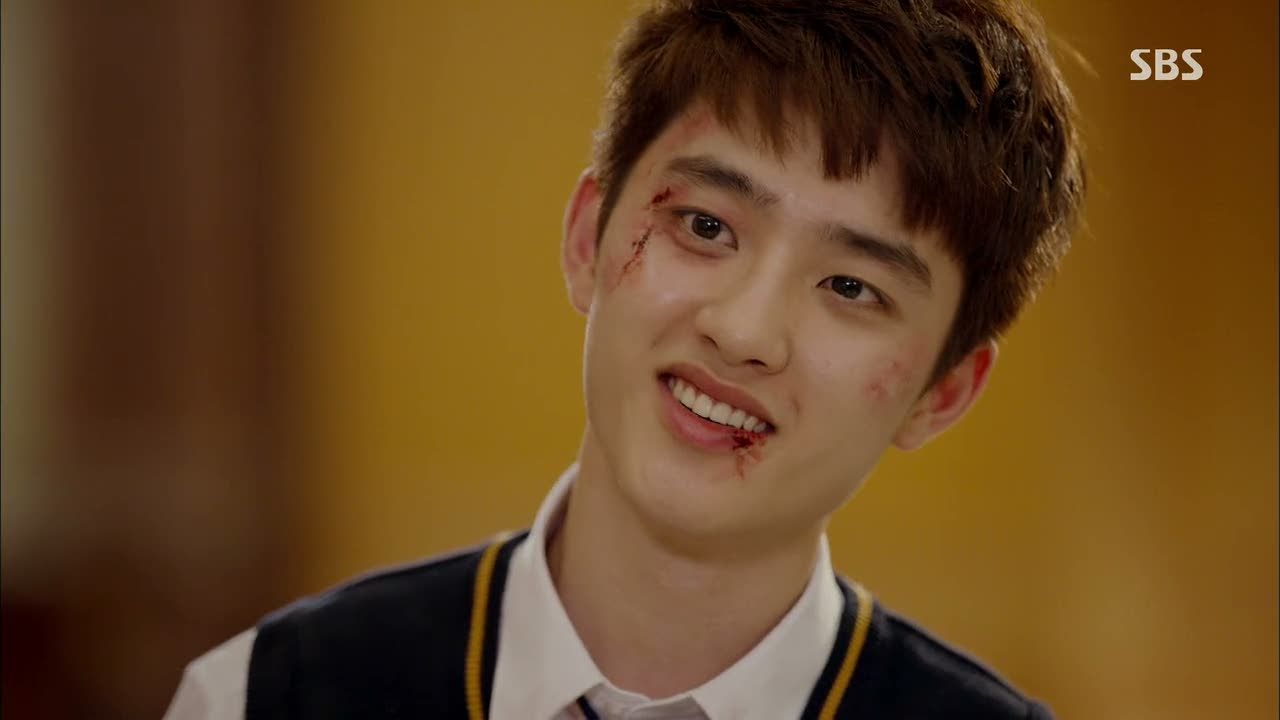 Not only have the members been able to break into the entertainment business as idols, but also as actors in films, dramas, and musicals! All these experiences have helped shape them into even more impressive idols and members of EXO, making our love for them grow uncontrollably.
11. Language abilities
International fans always appreciate when idols sing in other languages, preferably those that they speak. Although not necessary, EXO goes out of their way to bridge international gaps by gifting us songs in different languages. Not only do they have a Chinese version for all their songs,
but they also do English covers
and Spanish songs.
Is there any language they can't sing in?
12. EXO's promise to fans
A song that is dedicated solely to fans from the bottom of EXO's heart. A stage that has moved members and audiences to tears to the point they can't even make a sound. A "thank you" for all the love they have received. And finally, a promise to their fans to never waver when it comes to being EXO.
It's been five years full of ups and downs filled with legendary hits, awards on awards, and tests of the bonds of brotherhood, but EXO-Ls will always have faith because we know these nine men will prevail regardless of what challenges lie before them. Here's to more years of success!
What has been your favorite memory of EXO? Let us know in the comments below!
amycwang93 loves eating, sleeping, and reading. She's keeping herself busy these days by watching "Strong Woman Do Bong Soon" and bumping Agust D's mixtape! 
How does this article make you feel?