22 Of Lee Sung Kyung And Nam Joo Hyuk's Cutest Moments On "Weightlifting Fairy Kim Bok Joo"
I'd like to think Lee Sung Kyung used this line on Nam Joo Hyuk when they first started dating:
It seems as though all the wishing and hoping that Lee Sung Kyung and Nam Joo Hyuk would date in real life have come true. The love, the cuteness, and the feels have all officially become a reality, and we're basking in happiness for the couple.
See also: Lee Sung Kyung And Nam Joo Hyuk Confirm They Are Dating
Let's take a look at the cutest moments of Kim Bok Joo (Lee Sung Kyung) and Jung Joon Hyung (Nam Joo Hyuk) from "Weightlifting Fairy Kim Bok Joo." Brace yourselves, and be prepared to have those butterfly feels crash over you all over again. Also, feel free to play this song in the background while we take this trip down memory lane.
1. When Joon Hyung basically proposed to Bok Joo.
2. How Joon Hyung adorably teased and called Bok Joo CHUBBS.
3. When Joon Hyung tried to do everything on Bok Joo's boyfriend bucket list.
4. When Joon Hyung consoled a depressed Bok Joo.
5. That rooftop scene.
6. The times when Joon Hyung treated Bok Joo like a lady.
7. Joon Hyung's discreet display of affection.
8. When Bok Joo found Joon Hyung after he got in a fight with his family and made him feel better.
… which led to when Joon Hyung gave her this adorable kiss on the hand!
9. When Bok Joo realized her feelings and confessed them to Joon Hyung!
10. When Joon Hyung lured Bok Joo in with a sausage.
11. When Joon Hyung ADORABLY warmed Bok Joo up.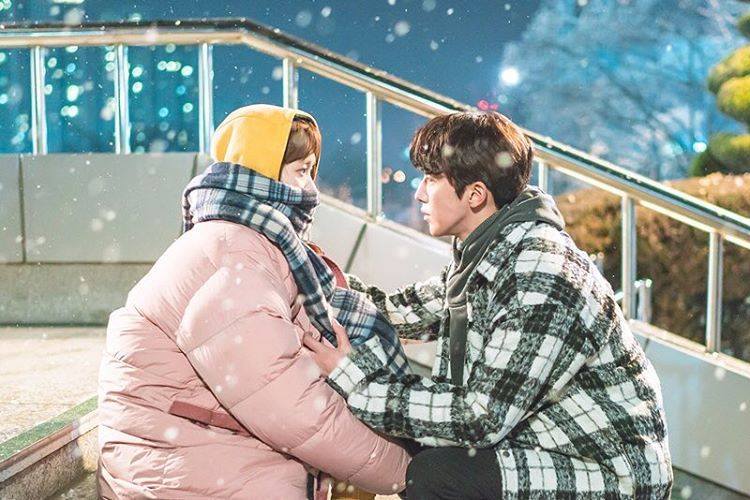 12. The genuine joy they showed texting each other.
13. Joon Hyung's jealousy.
14. Joon Hyung's jealousy (again) with his real life best friend, Ji Soo.
15. When Joon Hyung told Bok Joo she had nothing to worry about.
16. The airport scene that was so cute it hurt.
17. When Joon Hyung secretly took a pic of Bok Joo while she watched the fireworks.
18. That beach scene and when they lay there together, so in love.
19. Joon Hyung's legit fear of Bok Joo.
20. That adorably affectionate bus scene.
21. The confession scene that made our knees weak.
22. And lastly, that proposal! Sigh.
(Skip to 1:40 for the proposal, or watch it all because it's all just so cute).
Watch the love story of these two real life lovebirds unfold from episode 1 of "Weightlifting Fairy Kim Bok Joo" here:
Hey Soompiers, which of these moments was your favorite Bok Joo and Joon Hyung moment? Let me know in the comments below!
binahearts is a Soompi writer who can be most often seen singing her heart out at karaoke, walking her dog, or indulging in dessert. Her current obsessions include Song Joong Ki and BIGBANG. Make sure you follow binahearts on Instagram as she journeys through her latest Korean crazes!
How does this article make you feel?