SBS Inkigayo – 06 de enero de 2013
El episodio de esta semana de Inkgiayo tuvo presentaciones comeback con "I Got A Boy" y "Dancing Queen" de Girls' Generation. La reina de la balada, Baek Ji Young también tuvo su presentación de regreso con "I Hate It" con la participación de Yiruma.
Sunhwa de Secret y Young Jae de B.A.P' también continuaron su fin de semana de presentaciones especiales con su linda canción "Everything Is Pretty".
–
Comeback Special
Girls' Generation – "Dancing Queen" & "I Got A Boy"
Baek Jiyoung – "I Hate It" feat. Yiruma
Presentación Especial
Sunhwa & Youngjae – "Everything Is Pretty"
Hot Music
LEDapple – "Let The Wind Blow"
December – "Don't Go"
C-CLOWN – "Far Away Young Love"
THE SEEYA – "Poison + Be With You"
SPICA – "Lonely"
BIGSTAR – "I Got The Feeling"
Hello Venus – "What Are You Doing Today"
Juniel – "Bad Person"
Sunny Hill – "Goodbye to Romance"
Dal Shabet – "Have, Don't Have"
Yang Yoseob of BEAST – "Caffeine"
Fresh Music
24K – "Secret Love"
2BIC – "Did You Forget Everything"
Kim Sori – "Dual Life"
GLAM – "I Like That"
–
Girls' Generation
Yoseob
Sunhwa & Young Jae
Baek Ji Young
Dal Shabet
Sunny Hill
Juniel
Hello Venus
GLAM
BIGSTAR
SPICA
The SeeYa
C-Clown
December
LED Apple
Kim Sori
2BiC
24k
Infinite-H Teaser
Entrevista a Girls' Generation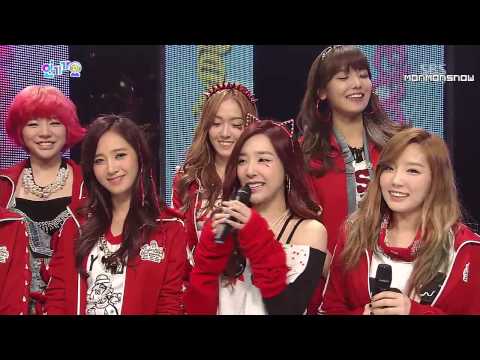 ¿Cómo te hace sentir este artículo?