12 Legendary Hits That We Can't Believe Are Turning 10 Years Old
It's the start of a new year, which also means that we are going to be a year older and so are the songs we listen to. When does a song officially become a classic? We're not sure either, but here are some hits from 2008 that we're still bumping and will continue to do so as time goes by.
1. "Replay" by SHINee
SHINee's debut song is one that we'll never forget. From the group's irresistible charm, to the smooth choreography, to the members' baby faces, "Replay" is absolutely a legend. It's hard to believe this song will be turning 10 years old in late May. Rest in peace, Jonghyun; you and your amazing voice will always be remembered.
2. "U-Go-Girl (feat Nassun)" by Lee Hyori
This summer hit was one full of spunk, sass, and sexiness! The message still remains important to this day, that we should be confident and throw away our concerns! Let's keep these messages in mind as we embark upon 2018!
This romantic song still gives us the feels even after all these years. It's got the right amount of bounce and the perfect mixture of rap and vocals. You should definitely play this song for your loved ones if you're ever in a throwback mood.
4. "Crazy (feat. Shinhwa's Eric)" by Son Dam Bi
2008 was a great year for female solo hits! This song's catchiness is unavoidable, and it is commonly covered or parodied. It's just THAT famous!
5. "This Song" by 2AM
Can you imagine a young pre-adolescent Jungkook hearing this song for the first time back in July of 2008? This was the debut song of a group that had been in the works for years. 2AM's debut hit, "This Song," still remains a ballad that is popularly played during late nights that turn into early mornings.
6. "Too Much" by Seo In Young & Crown J
10 years ago, we were blessed with one of the most memorable "We Got Married" Couples – the Ant couple. Singer Seo In Young and rapper Crown J not only gave us laughter, but also made this incredible song to commemorate their relationship.
7. "Nobody" by Wonder Girls
This song is so legendary that it was remade in multiple languages, performed on shows internationally, and won "Song of the Year" at the 2008 MKMF awards (now known as MAMA). "Nobody" is a classic with catchy choreography that anyone can learn.
8. "One (feat. Jisun)" by Epik High
"One" has a deep melancholy vibe, which is what makes the song impactful. Known for their sentimental lyrics, Epik High gave us this wonderful song that is part of an amazing album, "Pieces, Part One." This song has given many listeners hope and comfort through its important meaning.
9. "10 out of 10" by 2PM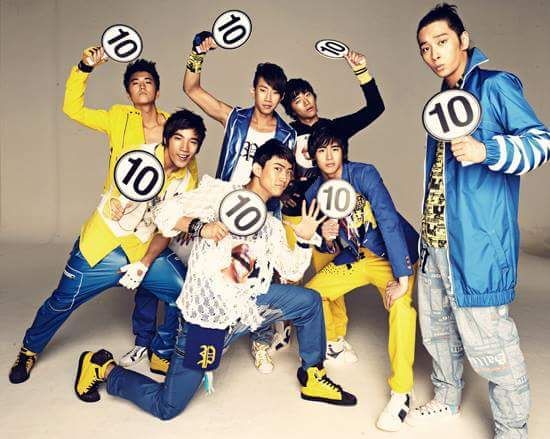 These outfits definitely scream 2008, but this song can still get your heart pumping. I bet they'll still be able to do those flips and cartwheels 10 years from now.
10. "Rainism" by Rain
This list wouldn't be complete without Rain's "Rainism." This popular hit is often covered by juniors in the industry, paying their respects to the legendary solo artist, Rain, who is still hard at work! I'm sure we'll be writing about his famous songs even 10, 20 years from now.
11. "Mirotic" by TVXQ
"Mirotic" is the title song of an album that had listeners shook. It has elements of mystery, lust, and, of course, sexiness, which make the song intriguing. The album also includes popular songs such as "Love in the Ice" and was a huge success, the last one to have all five members.
12. "Haru Haru" by BIGBANG
Although it's been 10 years, this music video still moves many VIPs to tears. This hit is considered as part of the early stages of BIGBANG's career and is a momentous part of their rise to success. "Haru Haru" is truly an iconic song that fans are still playing to this day.
What's your favorite hits from 2008? Let us know in the comments below!
amycwang93 loves eating, sleeping, and reading. When she's not catching up on BTS's VLive shenanigans, she is watching "Good Morning Call"

How does this article make you feel?