Weekly K-Pop Music Chart 2011 – October Week 2
For the first time since Week 4 of May when f(x)'s "Pinocchio" spent its three weeks as No. 1, we have another song accomplishing that feat. Kara's "Step" is No. 1 for a third week in a row. The competition has been tight all summer with each No. 1 song from June to September spending only one or two weeks on top. It takes the most successful artist from our chart in the past two years to break this trend. Congratulations once again to Kara.
The top three songs remains unchanged this week with Davichi's "Don't Say Goodbye" and Sung Shi Kyung's "I Like" stays at No. 2 and 3 respectively. Davichi's "Don't Say Goodbye" actually outscored Kara's "Step" on a few of our chart sources. While "Don't Say Goodbye" was released even earlier than "Step", it has had very strong staying power.
There are three new songs in the top ten this week, two of them brand new. At No. 5 it is the real title song "Sixth Sense" from Brown Eyed Girls' 4th album of the same name. This song replaced "Hot Shot" which was on our chart the past two weeks. Brown Eyed Girls who are known for their strong vocals and amazing choerography, received rave reviews everytime they performed this song. It should have no trouble getting into the top 3 next week.
At No. 7, Super Junior returns to the top 10 with "A-Cha", from their repackaged album. Not too long ago, Super Junior hit No. 1 with "Mr. Simple". Now they are looking for another chart topping song. "A Cha" a powerful dance number with a rock base and electro house rhythms.
Another brand new song at No. 8 is fast rising boy group Infinite's latest hit "Paradise". This song comes from their recently released repackaged album and already hitting the top 10 in its first week. "Paradise" is written by the same combo that created Kara's "Step" and is a mid-tempo electronica dance number that showcase the group's maturity.
SOOMPI CHART for 2011, Month 10, Week 2
Rank
Artist
Song
Score
11
U-Kiss

(-4)

Neverland
372
12
B1A4

(+18)

Beautiful Target
355
13
Kim Bo Kyung

(+9)

아파 (Hurts)
344
14
Clover

(new)

아는 오빠 (Oppa I Know)
330
15
Kim Gun Mo

(new)

어제보다 슬픈 오늘 (Today That Is Sadder than Yesterday)
321
16
Maybee

(+15)

Goodbye Valentine
309
17
SG Wannabe

(-5)

사랑법 (Way To Love)
308
18
Zi-A

(-9)

그대이길 바래요 (Wish It Was You (feat. K.Will))
295
19
T-Ara

(–)

롤리 폴리 (Roly Poly)
261
20
Lee Ssang

(-6)

TV를 껐네 (Turn Off The TV)
257
21
Ali

(new)

뭐 이런게 다 있어 (How Can There Be Such A Thing)
244
22
Verbal Jint

(-7)

좋아보여 (You Look Happy (feat. Black Skirts))
243
23
CS Numbers

(-5)

가슴으로 운다 (Cry With the Heart)
242
24
Yang Yo Sub (Beast)

(new)

안돼 (Can't)
233
25
JYJ

(-8)

In Heaven
231
26
Lyn & Na Yoon Kwon

(+6)

CHU! POP! CHU!
223
27
Jewelry S

(+11)

됐지 뭐 (Forget It)
217
28
2NE1

(-12)

Ugly
210
29
Kim Jang Hoon

(new)

이별 참 나답다 (Breakup Is So Like Me)
169
30
Sung Hoon (Brown Eyed Soul)

(+19)

Marry Me
165
31
Miss A

(-11)

Goodbye Baby
158
32
Dal★shabet

(-11)

블링 블링 (Bling Bling)
158
33
Jung Yup

(+3)

이별의 여름 (Summer Of Breakup)
155
34
Kim Jo Han

(new)

그대 나만큼은 (You As Much As Me)
148
35
Koyote

(-11)

Good Good Time
141
36
Kan Mi Yeon

(new)

안 만나 (Not Meeting)
134
37
Ok Ju Hyun, SG Wannabe, T-Ara

(-11)

페이지원 (Page One)
128
38
Simon D

(-10)

Stay Cool
122
39
Haha

(-14)

Rosa
106
40
Fatcat

(new)

내 사랑 싸가지 (My Love Bad Boy)
92
41
45RPM

(+3)

This Is Love
86
42
Kim Kyu Jong

(new)

Yesterday
84
43
Kim Jae Joong

(-8)

지켜줄께 (Will Protect You)
65
44
Park Wan Gyu

(+4)

하루애 (One Day Of Love)
59
45
Pia

(new)

Yes You Are
54
46
4men

(-9)

Love Tonight
53
47
Humming Urban Stereo

(-1)

D.D.D (feat. Instant Romantic Floor)
50
48
Yim Jae Bum

(-19)

날이 갈수록 (As Day Goes By)
49
49
Can

(new)

내 사랑 간장게장 (My Love Crab Marinated in Soy Sauce)
47
50
Seo In Kook

(-23)

Shake It Up
44
BONUS TRACK:
 Music Diary – 너를 만나고싶다 (I Want To Meet You)    
Genre: Rock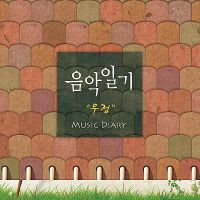 Album: Music Diary single "Friendship" Track 1
Watch: MV
Comment: Rock band YB's bassist, Park Tae Hee and his wife, Kim Yun Jung release their second digital single, titled "Friendship". The title track is "I Want to Meet You" a medium-tempo rock number with lyrics written by Park Tae Hee himself. The music video shows various clips of fan meets, concert clips, the recording studio, as well as their recent vacation in New York. (credits to motoway065 for translations)
About the Soompi Music Chart:
Soompi Music Chart is unlike any other music charts or television rankings. It takes into account not only sales and rankings by various other charts in Korea, but also airplays of each song, the number of live performances and appearances, making it an unbiased and objective tally of what's going on in the world of K-pop. Our chart is composed of the following sources:
Air Monitor Chart – 15%
GAON Music Chart – 15%
Various Internet charts (Olleh, Bugs, Melon, Naver, Monkey3, Daum, Cyworld, Soribada) – 15%
ChartKorea – 5%  
Hottracks Weekly Album Sales (1 weeks lag) – 10%
SBS (Inky Gayo Take 7 + SBS Mill weekly rankings) – 10%
MBC Inky Top 100 Chart – 10%
KBS Music Bank K-Chart – 10% 
MNet M!Countdown – 5%
Gasoo appearance on gayo shows (MBC Music Core, SBS Inky Gayo, KBS Music Bank, M!Countdown) – 10%
Thanks to Mardi09 for helping on this week's internet chart research and motoway065 for song title translations.
How does this article make you feel?