New Albums and Singles Preview 2013 – February Week 1
Sistar 19 – Gone Not Around Any Longer (released)

01. SISTAR19
02. Gone Not Around Any Longer
03. A Girl In Love
04. Ma Boy
05. Gone Not Around Any Longer (Inst.)
Wildly successful unit group SISTAR19 returns after two years with "Gone Not Around Any Longer," which was produced by K-Pop's hottest song maker, Brave Brothers. "Gone Not Around Any Longer" is a sad hip-hop track with Brave Brothers' signature style. It is about a love that blooms and withers like a flower. SISTAR19's Hyorin and Bora are able to express the pain and emptiness of a break-up in their own sexy and sad way.
SISTAR19's new album contains five tracks, which perfectly highlight's Hyorin's explosive vocals as well as Bora's sensual rapping skills.
Huh Gak Vol. 1 – Little Giant (February 5)


01. 1440
02. I Want To Sing
03. Monodrama (With Yoo Seung Woo)
04. Because I Know We Will Break Up (Duet With Jung Eun Ji)
05. Your Wedding
06. A Simple Story (Feat. Miryo of Brown Eyed Girls)
07. Because I Want To Love
08. A Jobless Person's Song
09. I'll Become Tears
10. 1440 (Inst.)
11. Monodrama (Inst.)
"Super Star K2" winner Huh Gak is finally releasing his first full-length album titled "Little Giant" on February 5. Including his pre-released track "Monodrama," there will be a total of nine new tracks along with two instrumental tracks. The tracks are to highlight Huh Gak's signature voice and will range from ballads, acoustic ballads, jazz and soft rock.
Huh Gak's title track is "1440," which is produced by the same person who worked on "Hello" and "The Person Who Loved Me," which received a lot of love in the past. "1440" is a mid-tempo acoustic ballad that is easy on the ears.
Huh Gak's new album also features some big names in the K-Pop industry including A Pink's Jung Eun Ji and Brown Eyed Girls' Miryo as well as "Super Star K4's" issue-maker Yoo Seung Woo, whom Huh Gak was cheering for during the broadcast.
Clazziquai Vol. 5 – Blessed (February 5)


01. Blessed
02. Sweetest Name
03. Love Recipe
04. She Is Great
05. If We're Together (Feat. Kim Jin Pyo)
06. Love Right
07. Dust Like Flower Petals
08. Brown Gold Eyes
09. Like A Diamond
10. Love Goes Too
11. Still
Korea's #1 electronic pop group Clazziquai is back with a sensual and detailed sound through their fifth full-length album, "Blessed." While Alex, Horan and Clazzi have been working on their individual projects, fans have been waiting for a reunification of the group for a long time.
Clazziquai's "Blessed" features many tracks with minimalistic sounds and sensual lyrics, which displays Clazziquai's unconventional, unique and innovative world of music. This new album contains Clazziquai's signature style that fans have fallen in love with for so long such as "Blessed" and "Sweetest Name."
Other tracks like "Love Recipe" have been written by Horan herself and is about the sweetness of falling in love. "If We're Together" features the hip rapper Kim Jin Pyo and is about finding that fire even in long-term relationships.
BoA (single) – Disturbance (released)


01. Disturbance
BoA revealed her newest single during her recent concert that was thrown in Korea. Following her self-composed and written smash hit "Only One," BoA releases yet another track that she wrote and composed herself.
"Disturbance" is a mix of neo-soul and pop with a sensual melody that is highlighted by BoA's deep vocals. This track is receiving a lot of attention especially because of SHINee's Taemin appearing in the music video.
BoA's "Disturbance" along with her previously released "Only One," truly shows how much BoA has matured and grown as a musician over the long years of her career.
December (single) – Walking Through The Memories (released)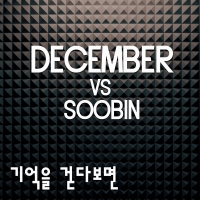 01. Walking Through The Memories
02. Walking Through The Memories (Soobin Ver.)
03. Walking Through The Memories (Inst.)
Talented duo December returns with a very "December-like" single, "Walking Through The Memories." This single is produced by the hitmaker, Oh Sung Hoon and it exhibits December's fantastic chemistry and vocal skills.
"Walking Through The Memories" is a perfect winter ballad that tugs at the corners of the listener's heart with its sad melody and lyrics and December's explosive singing. The climax of the song especially drew attention for Yoon Hyuk's solo acapella part, which certainly leaves an impression.
This single album contains rookie artist Soobin's version of "Walking Through The Memories." Soobin sings the same song but offers a different expression of sadness.
December's "Walking Through The Memories" will be the last gift for their fans before they enlist in the army in the near future.
Thanks to jnkm for translations.
How does this article make you feel?