7 Times We All Went Crazy For Lee Jong Suk
Whether it be a movie or a drama, Lee Jong Suk makes it so easy to watch him on screen. He has the ability to draw you into his characters and storyline, so it's no wonder that almost every drama he stars in is guaranteed to be a big hit (and we're eagerly waiting for "W"). Here's a walk down memory lane as we take a look at seven times Lee Jong Suk left us wanting to see more of him on screen (in no particular order).
1. Lee Jong Suk and Kim Woo Bin's love-line
There's nothing like a good bromance in a drama and "School 2013" was the epitome of it. Viewers were able to see Lee Jong Suk and Kim Woo Bin's relationship progress from a place of hate and resentment to love and loyalty. I especially loved the scene where they both come clean about their feelings and expressed how much they missed having each other in their lives. Everything about this felt so genuine and real and it's probably because they're longtime friends in real life!
(Re)Watch the drama below.
2. The aquarium kiss
"I Hear Your Voice" is by far my favorite Lee Jong Suk drama. I loved how Park Soo Ha (Lee Jong Suk) would follow Jang Hye Seong (Lee Bo Young) around, trying to protect her. There's nothing like a main drama lead who wears his heart on his sleeve. Remember when Lee Jong Suk kisses her in the aquarium while shedding a tear because of his intense undying love? Yes.
(Re)Watch the drama below.
Link to video: www.viki.com/videos/227184v-i-hear-your-voice-episode-1
3. Lee Jong Suk's aegyo
Can this scene from "High Kick 3" be any more cringe-worthy (in a good way)? It's amazing how he can pull this off!
4. His savage one-liners
Most of the time when Lee Jong Suk was on screen in "Secret Garden," his lines would be short and to the point. He couldn't be bothered with Oska (Yoon Sang Hyun) and his pestering.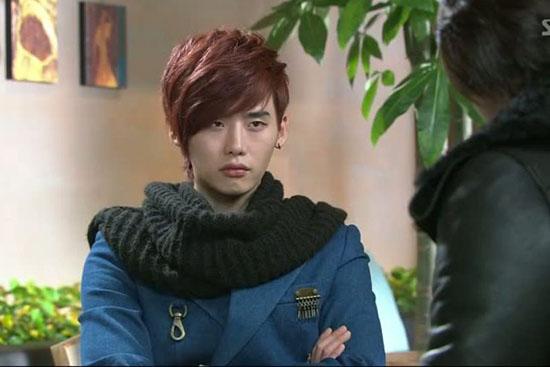 Look at his face.
(Re)Watch the drama below.
Link to video: www.viki.com/videos/80215v-secret-garden-episode-1
5. Kissing Park Shin Hye's hand
I know I said 'in no particular order,' but this scene from "Pinocchio" would probably be my no. 1 Lee Jong Suk moment. I shipped (still ship) this couple and wish they would just date in real life. Lee Jong Suk and Park Shin Hye had so much chemistry and this scene just exuded it all. The snow, the music, the actor, and actress. Dreamy, right? Ugh, I can't handle the chemistry!
We've perfectly timed the video below for your viewing pleasure. Just press play.
Link to video: www.viki.com/videos/1056414v-pinocchio-episode-8
Did you watch the clip twice? Because you should.
6. Lee Jong Suk and Wonder Girls
How can we forget all the "Tell Me" scenes in "Doctor Stranger"?
Here's another video of him dancing because why not.
(Re)Watch the drama below.
Link to video: www.viki.com/videos/1038930v-doctor-stranger-episode-1
7. When he fell for an older woman at the hospital
The KBS Drama Special "When I Was the Prettiest" was particularly special because of Lee Jong Suk. The best moment? When he showed up after being hit with rain and gave Shin Ae (Jeon Ik Ryeong) a part that would make her toy dog work again.
(Re)Watch the drama here.
What are your favorite Lee Jong Suk moments? Let me know in the comments below!
binahearts is a Soompi writer who loves to spend her free time immersed in all things Korean- dramas, movies, K-Pop, and beauty products! Her current obsessions are Song Joong Ki, "Show Me the Money 5," and "Doctors." When she isn't watching the latest "Running Man" episode, she can be seen indulging in her favorite hobbies which include singing her heart out at karaoke, photography, playing with her dog, and eating dessert!
How does this article make you feel?