First Impressions: "Hwarang"
Christmas came early for us this year.
Hwarang is the new Monday-Tuesday KBS drama starring the beautiful Go Ara and Park Seo Joon. There are also several other cast members who I know a lot of woman are excited to see, including Park Hyung Sik, Choi Minho, Do Ji Han, Jo Yoon Woo, Kim Taehyung (BTS's V), and Kim Hyun Joon.
This drama hardly needs an introduction. With all the pretty cast photos, behind-the-scenes videos, adorable interviews, and background episodes on each of the characters, we've pretty much got it all covered. Many are hoping this drama will help mend the wounds that "Scarlet Heart: Goryeo" left behind, especially with all the pretty eye-candy that's to be expected!
Curious to see if this drama was able to live up to the hype? Keep reading to find out!
Warning: Spoilers ahead
Production Value
The initial drama posters and teasers gave off the feel of a light, airy, rom-com-type drama. The first two episodes, as expected, carried the same atmosphere in the cinematography, with a lot of pastel colors in the set design and of course, in the costumes, which made everything look so much more beautiful.
Pastels galore!
The pink, blue, and purple traditional clothing on the men is so unique and pretty!
There's lot of slapstick humor in the beginning, which was probably expected considering Lee Kwang Soo's appearance. You'll get a good laugh from his character and the OST adds to the light-heartedness of the drama. How awesome is that song by V and Jin? So pleased.
Storyline
The drama begins about 1500 years ago in a kingdom called Silla (considered the weakest one of three kingdoms). Queen Ji So (Kim Ji Soo), who plays Park Hyung Sik's mother, makes an agreement with Sung Dong Il's character, Wi Hwa Kong, to gather a group of pretty warriors who will be called "hwarang."
It's important to note that Park Hyung Sik's character, Sam Maek Jong, does not have a good relationship with his mother. She's forcing him to hide so that no one can try and assassinate him, but there seems to be a lot of other painful events from the past that are getting in the way of their relationship. He's got mommy issues, which is why he's so down and angsty.
The hwarang are to be trained physically and mentally strong by Wi Hwa Kong in order to become the backbone of this kingdom. They are basically there to support the king and the people of Silla. Although the drama begins with this premise, the hwarang boys are not even a thing in the first two episodes. In fact, most of the first two episodes involve "Gae Sae" (Park Seo Joon) and Seon Woo Rang's (Lee Kwang Soo's) friendship. I'm a sucker for a good bromance and if you are, then you'll love the first two episodes because these two are cuteness overload.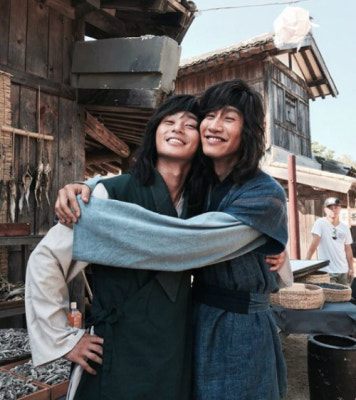 Although Lee Kwang Soo's appearance is brief, his character, Seon Woo, is actually pretty integral in the plot. We find out that Seon Woo was abandoned by his father and is in search of him and his little sister, Aro (Go Ara). "Gae Sae" (Park Seo Joon) is helping him find his family, which is how they end up entering the Silla kingdom.
Seon Woo leaves the mark on "Gae Sae" that leads him to his future encounters with the Crown Prince. He also sets up the love line between Park Seo Joon and Go Ara (which we are really excited about). How cute was their first interaction?
I have to say I'm really looking forward to this budding romance. Because we know of "Gae Sae" and Seon Woo's friendship, it just makes the main love line all the more romantic and heart-warming.
In terms of the hwarang boys, there is not much to say about them yet except that there is a rivalry between Soo Ho Rang (Choi Minho) and Ban Ryu Rang (Do Ji Han). And for all you BTS trash, you will be disappointed to know that our beloved Kim Taehyung was hardly in the first two episodes. However, judging from the previews, it looks like there's going to be a whole lot more of the flower crew in next week's episodes.
*crossing fingers*
Cast and Characters
I spent the first episode anticipating the appearance of our flower boys. One minute turned to two minutes, two minutes turned to five… and still no sign of our boys. But, I got over it pretty quickly, because of the "Gae Sae"-Seon Woo bromance.
It made me so happy too see our lovely Lee Kwang Soo within the first five minutes of the first episode. He didn't fail to act his usual funny and weird self, but it was also so bromantic to see his deep friendship with "Gae Sae." Needless to say, his character in the drama totally tugged on my heartstrings. His loyalty, eagerness, and hope make him someone you really want to root for.

What can I say about Park Seo Joon? There's something about Park Seo Joon and his ability to suck viewers into his dramas. If you've seen him in "Witch's Romance," "She Was Pretty," or even in the movie "The Beauty Inside," you'll know that he has this ability to really make you believe the character he's portraying and as a result, he leaves a long-lasting impression. The same goes for his character in this drama, "Gae Sae." There are a lot of quirks about his character that leave you wanting to know more.
He doesn't have a family, so everyone calls him "Gae Sae" (the literal translation in Korean is Dog Bird). He has a reputation for being a good fighter, and he does these cool tricks with a dice that he carries around. His image is rugged and tough, which is far from the flower-boy image, but I'm guessing he's going to clean up his act pretty soon.
Go Ara's character Aro spends most of her days working at random jobs to make money to pay off some debt, although her real passion lies in story-telling; she's really good at it. While it is part of her character, the plot thankfully didn't drag on too much with her and her stories. It is a charming quality, though!
I had a feeling when I saw Park Seo Joon and Go Ara being cast as the main leads that there would be lots of chemistry. The main reason for this is that they're both such great actors. I loved Go Ara in "Reply 1994" — she's got a cute and innocent charm about her.
Although her character here is somewhat similar to that of 1994, I still approve.
I'm a fan of Park Hyung Sik. I loved him when he was on "Real Men" and have watched most of the dramas that he's been in. However, I'm not sure how I feel about his character in this drama. It might just be needing to adjust to his disgruntled, baggage-filled Crown Prince character, but I'm not totally sold… yet. I can be patient.
As for the flower boys, there isn't much more to say because there wasn't too much focus on them, but let's hope this turns around starting next week.
Because how cute was:
And…
And…
And so on.
Final Thoughts
The first two episodes moved at a good pace even though we were introduced to the rest of the hwarang boys near the end. The drama was entertaining for the most part and much of this is owed to the acting abilities of Park Seo Joon and Lee Kwang Soo. There really weren't too many dull moments or scenes that dragged on longer than they should have. It was packed with elements that were necessary to carry on with the rest of the drama.
Some won't like the fact that there weren't enough appearances by the eye-candy, but it didn't bother me too much.
The only thing I'm worried about is that this script seems a bit too predictable. I hope this is not the case, but the characters themselves may be enough to distract from this. I'm also hoping there are some twists and other plot elements that we can expect later on, but for now, I'm willing to wait it out to see what the flower-boys have in store for us!
"Hwarang" airs every Monday and Tuesday. Make sure to catch the Viki Exclusive!
Hey Soompiers, what are your thoughts so far on Hwarang? Let me know in the comments below!
binahearts is a Soompi writer who can be most often seen singing her heart out at karaoke, walking her dog, or indulging in dessert. Her current obsessions include Song Joong Ki, BIGBANG, "Goblin" and "Weightlifting Fairy Kim Bok Joo." Make sure you follow binahearts on Instagram as she journeys through her latest Korean crazes!
How does this article make you feel?